Buckley and Phillips
The fragrance & aromatherapy manufacturer turned to MYOB Exo when they were after a new management system
Watching companies blossom into their full potential after the implementation of their MYOB ERP system reaffirms the importance of the work that we do at Kilimanjaro Consulting. Buckley and Phillips represent just one of those success stories that needed to be shared.
Who is Buckley and Philips?
As one of Australia's leading manufacturers of fragrance and aromatherapy products, Buckley and Phillips began in in 1972 producing candles from a backyard shed in Melbourne using a DOS-based accounting package. However, with their product range diversifying into soaps, incense, essential oils and many more, the business knew that their simple processes were incapable of keeping up.
Finding the needle in the haystack.
After 15 years of outgrowing their system and extensive research into ERP and software alternatives, Buckley and Phillips said stumbled upon MYOB Exo at the point of giving up hope. Realising that MYOB had evolved from an earlier version to now handle a bill of materials and the functionality that they required, she knew that this was the option to go for.
Which changes did the business see?
Buckley and Phillips took full advantage of the customisability of their new software, building in reports and designing work orders that suited them. Additionally, the company saw tremendous changes across reporting, cost efficiencies, and staff empowerment as employees really got to know the product and its benefits.
How are they now?
With Buckley and Phillips feeling comfortable in their new MYOB Exo ERP system, they've seen efficiencies and savings across multiple dimensions of their business. "We knew when we chose Exo that MYOB, with its established brand name and network of implementation partners, would be a safe bet" – Phillips
How do I achieve a successful MYOB Exo implementation?
A successful MYOB Exo Implementation depends on 3 critical risk:
Software Risk
Implementer risk
Self-Inflicted Risk
You can reduce your risk by selecting the right implementation partner. Although there are many different partners to choose from, you need the one that will work with you every step of the way. Managing risk is an important part of an implementation; selecting a low-risk partner is critical to a lifetime of success with your Business Management system.
Kilimanjaro Consulting ticks all the boxes when it comes to choosing the right partner:
Kilimanjaro Consulting is the largest and most experienced implementer of MYOB's Enterprise-level business management, accounting, payroll, and workforce management solutions: MYOB Advanced and MYOB Exo. We are experienced, low-risk implementers, helping organisations improve efficiency in their businesses through the use of clever, innovative, and proven technology.
Free resources to help you further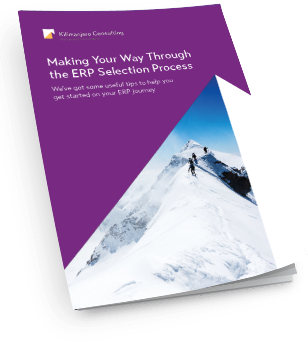 If you are ready to start your Business Management System journey, choose Kilimanjaro Consulting as your trusted implementation partner. If you don't know where to start, download our free E-Book that will take you through everything you need to consider and what to be wary of during this process.
Kilimanjaro Consulting is the largest implementer of MYOB's Business Management Software across Australia and New Zealand. We take the time to understand your business and only recommend the products that can meet your needs. To start a conversation about how MYOB Exo can improve efficiency in your organisation, email sales@kilimanjaro-consulting.com, or call 1300 857 464 (AU) or 0800 436 774 (NZ).