Daiwa Food Corporation
Under surmounting pressure, MYOB Exo became a trusted solution for Daiwa Food Corporation.
Daiwa Food Corporation faced rising pressure to maintain growing stock lists and fix conflicts in their existing systems. They recognised the potential that MYOB Exo could provide to improve efficiency. The implementation helped to resolve their issues, reduce costs, and better understand their business's strengths and weaknesses.
Who is Daiwa Food Corporation?
Daiwa Food Corporation (DFC) is one of Australia's major Japanese food importers and distributors. They supply an extensive range of authentic Japanese food products and consumables to the retail, catering, and hospitality industries. They are based in Melbourne but operate in Sydney, Canberra, Brisbane, Gold Coast, Perth, and Adelaide.
What catalysed the switch to MYOB Exo?
Under the weight of their growing stock lists, DFC's system faced increasing pressure to deliver up-to-date inventory information. They were also struggling to integrate into their existing accounting software. This resulted in unnecessary data duplication and manual revisions to fix mistakes.
What changes followed the decision?
Following the implementation of MYOB Exo, DFC could lift its organisation to its full potential. They were able to pinpoint both areas of scrutiny as well as areas that were performing well. This allowed DFC to understand their workflows better and analyse areas for improvement, fostering continued growth.
How are they now?
DFC is now equipped with a better solution to meet their needs and can optimise the workflows within the business. They have integrated their system into a single database that tracks and traces stock and costs into one efficient workflow. MYOB Exo monitors exchange rate fluctuations with their international suppliers to help understand the true costs of the purchase orders. As a result, they now enjoy increased visibility of debtors and enforce stop-credits at the push of a button. Daiwa Food Corporation has gained a better grasp of its operations and optimised its workflow to be precise and efficient.
How do I achieve a successful MYOB Exo implementation?
A successful MYOB Exo Implementation depends on 3 critical risk:
Software Risk
Implementer risk
Self-Inflicted Risk
You can reduce your risk by selecting the right implementation partner. Although there are many different partners to choose from, you need the one that will work with you every step of the way. Managing risk is an important part of an implementation; selecting a low-risk partner is critical to a lifetime of success with your Business Management system.
Kilimanjaro Consulting ticks all the boxes when it comes to choosing the right partner:
Kilimanjaro Consulting is the largest and most experienced implementer of MYOB's Enterprise-level business management, accounting, payroll, and workforce management solutions: MYOB Advanced and MYOB Exo. We are experienced, low-risk implementers, helping organisations improve efficiency in their businesses through the use of clever, innovative, and proven technology.
Free resources to help you further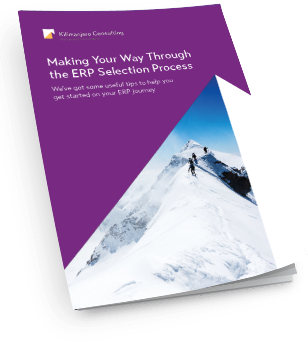 If you are ready to start your Business Management System journey, choose Kilimanjaro Consulting as your trusted implementation partner. If you don't know where to start, download our free E-Book that will take you through everything you need to consider and what to be wary of during this process.
To learn more about how MYOB Exo has helped Daiwa Food Corporation to make their complex company work more efficiently, download the PDF from the panel to the right. For more information about MYOB Exo, visit the main product page. Contact our team by emailing sales@kilimanjaro-consulting.com or call 1300 857 464 (AU) and 0800 436 774 (NZ). to discuss your unique requirements.