Elvin Group
MYOB Advanced established a solid platform for future growth by eliminating manual data entry, providing a single source of truth.
Kilimanjaro Consulting was formed to meet the growing demand for specialist services to plan and manage ERP implementations of, and support for MYOB Enterprise software. Through the clever use of creative, innovative and proven technology, we improve efficiency in businesses. Earlier this year, we partnered with The Elvin Group, a Construction and Engineering business, supplying and delivering concrete, who were beginning to feel the pain of multiple sources of data and inefficient, time-consuming processes.
Meet The Elvin Group
Starting as a humble Garden and Landscaping supplier in 1970, The Elvin Group are now efficiently and reliably supplying and delivering concrete throughout the ACT. The Elvin Group has been in the Australian market for over five decades. It has achieved success by focusing on its customers' needs, providing high-quality service and clear communication to all stakeholders. With growth came a need to move up from accounting software to enterprise software, unleashing the benefits of an ERP system.
Problems experienced in a growing business
Significant growth in a business is a cause for celebration. However, growth comes with its challenges. Working with 15 entities under one banner, The Elvin Group began feeling their business was disconnected. Employees were wasting time on manual data entry. Without an overarching system in place, the company did not have real-time insights, and this led to unverified decisions. Rather than slow their growth, The Elvin Group decided to look to an integrated system.
"We were entering the same piece of data in several systems, with significant amounts of manually downloading and manipulation of data in Excel. It was a big timewaster," Managing Director Barry Innes says.
Elvin Group's Trusted Implementation partner
Kilimanjaro Consulting is ANZ's largest, most experienced, and most skilled team. When Elvin Group decided to implement MYOB Advanced, they chose Kilimanjaro Consulting as their partner of choice. We worked to understand Elvin Group's workflows and customise the software to meet their specific needs. We follow a structured implementation methodology, and combined with the skills, knowledge and support of our team; we are able to guide you through the implementation process. At Kilimanjaro Consulting, we pride ourselves on being technology Sherpas, focused on building long-term relationships with clients and maintaining that partnership as their business grows. We take pride in Elvin Group's success and look forward to our continued partnership.
The Solution: MYOB Advanced
Guided by independent advice, The Elvin Group began looking at options to manage a larger, more complex business. The new system needed to integrate easily with their existing ordering and tracking solution. When deciding on an implementation partner, The Elvin Group chose Kilimanjaro Consulting, MYOB's largest and most experienced implementation partner.
Kilimanjaro followed their own unique implementation methodology, first analysing the "current state" of The Elvin Group, and then proposing a "future state" to improve efficiency and overcome the challenges. For the Elvin Group, MYOB Advanced was able to provide a solid platform for future growth. The cloud-based system matched their wish list perfectly. It was clear the solution was going to provide a single source of truth.
"They were very professional and took their time to understand the business, I'd just say they were outstanding" enthuses Barry.
A look into Elvin Group with MYOB Advanced
Kilimanjaro was able to understand the pain points and address the needs. With their new MYOB Advanced system in place, The Elvin Group now enjoy:
An empowered workforce: automation has freed up staff to work on higher-value tasks
Real-time insights – Management can make better, faster decisions
Experiences that matter – Invoicing is simplified and less prone to error.
To read more about the challenges The Elvin Group were facing before implementing MYOB Advanced, and what the system was able to do for their business, download the free detailed case study below.
How do I achieve a successful MYOB Advanced implementation?
A successful MYOB Advanced Implementation depends on 3 critical risk:
Software Risk
Implementer risk
Self-Inflicted Risk
You can reduce your risk by selecting the right implementation partner. Although there are many different partners to choose from, you need the one that will work with you every step of the way. Managing risk is an important part of an implementation; selecting a low-risk partner is critical to a lifetime of success with your Business Management system.
Kilimanjaro Consulting ticks all the boxes when it comes to choosing the right partner:
Kilimanjaro Consulting is the largest and most experienced implementer of MYOB's Enterprise-level business management, accounting, payroll, and workforce management solutions: MYOB Advanced and MYOB Exo. We are experienced, low-risk implementers, helping organisations improve efficiency in their businesses through the use of clever, innovative, and proven technology.
Free resources to help you further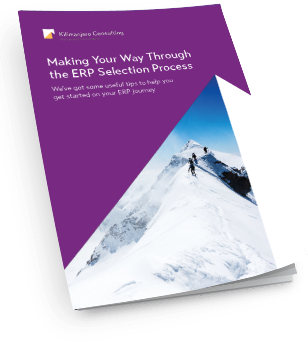 If you are ready to start your Business Management System journey, choose Kilimanjaro Consulting as your trusted implementation partner. If you don't know where to start, download our free E-Book that will take you through everything you need to consider and what to be wary of during this process.
Kilimanjaro Consulting is the largest implementer of MYOB's Business Management Software across Australia and New Zealand. We take the time to understand your business and only recommend the products that can meet your needs. To start a conversation about how MYOB Exo can improve efficiency in your organisation, email sales@kilimanjaro-consulting.com, or call 1300 857 464 (AU) or 0800 436 774 (NZ).