Engel Australia
Automate and centralise your company data in MYOB Advanced
Engel Australia had stringent reporting requirements, being part of a publicly owned, overseas company. MYOB Advanced met its audit and governance needs while also supporting its nationwide distribution and retail network.
Who is Engel Australia?
Engel Australia produces portable fridges and freezers for your car or garage. They are owned by a publicly listed company in Japan but produce a product that is iconic in the Australian market. They manage warehouses all over Australia and supply some of the country's largest retailers.
What catalysed the switch to MYOB Advanced?
Engel was operating with financial software that was far better suited to a smaller company. They did not have timely access to their information and were keeping track of stock in the warehouse via faxed run-sheets. As they are also owned by a publicly listed company, they needed to follow strict reporting and audit compliance requirements, which made it increasingly difficult with their current software.
What changes followed the decision?
MYOB Advanced could easily handle the high transaction numbers, as well as provide the flexibility, accessibility, and transparency that Engel needed. MYOB Advanced could also allow for an unlimited number of users, meaning that anyone in the company could access their data at any time, reducing the manual work done between locations.
How are they now?
The shift to the more intuitive, automated, and centralised system in MYOB Advanced has created astonishing time savings. They are looking at further improving their efficiency by creating a customer portal for their clients to log on and purchase stock. This would streamline the fulfilment process and save even more time. The cloud-based nature of MYOB Advanced also removes the location dependence of their old system.
How do I achieve a successful MYOB Advanced implementation?
A successful MYOB Advanced Implementation depends on 3 critical risk:
Software Risk
Implementer risk
Self-Inflicted Risk
You can reduce your risk by selecting the right implementation partner. Although there are many different partners to choose from, you need the one that will work with you every step of the way. Managing risk is an important part of an implementation; selecting a low-risk partner is critical to a lifetime of success with your Business Management system.
Kilimanjaro Consulting ticks all the boxes when it comes to choosing the right partner:
Kilimanjaro Consulting is the largest and most experienced implementer of MYOB's Enterprise-level business management, accounting, payroll, and workforce management solutions: MYOB Advanced and MYOB Exo. We are experienced, low-risk implementers, helping organisations improve efficiency in their businesses through the use of clever, innovative, and proven technology.
Free resources to help you further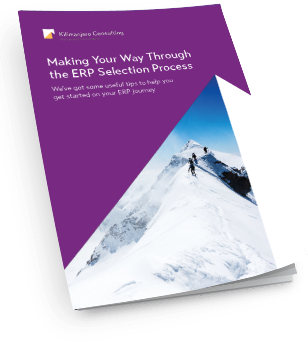 If you are ready to start your Business Management System journey, choose Kilimanjaro Consulting as your trusted implementation partner. If you don't know where to start, download our free E-Book that will take you through everything you need to consider and what to be wary of during this process.
Kilimanjaro Consulting is the largest implementer of MYOB's Business Management Software across Australia and New Zealand. We take the time to understand your business and only recommend the products that can meet your needs. To start a conversation about how MYOB Advanced can improve efficiency in your organisation, email sales@kilimanjaro-consulting.com or call 1300 857 464 (AU) or 0800 436 774 (NZ).