Kurrajong Kitchen
The continuous improvement mindset, and rapid growth of Kurrajong Kitchen made MYOB Advanced an easy fit.
Their constant growth and need for high-accuracy data motivated Kurrajong Kitchens to take a new perspective on the role of enterprise software in the business. The implementation of MYOB Advanced gave them unprecedented insight and accountability between their different entities.
Who is Kurrajong Kitchen?
Kurrajong Kitchen is a fast-growing food and beverage wholesaler and distributor. The company has many facets that cover manufacturing, sales and distribution, and white-labelled baking. They have grown from selling cellophane-wrapped flatbreads from a family restaurant to supplying Australia's largest supermarkets and Virgin Australia.
What catalysed the switch to a bigger software?
Kurrajong Kitchen has been growing over the last two decades of business. As a result, they outgrew the capability of their previous software, MYOB AccountRight Premier. Bringing together all aspects of their multiple companies took significant time, and they still fell short of capturing the full scope of the business. Kurrajong Kitchen needed something overarching that would let them improve in business, technology, stock management, and cash flow. Add-ons to MYOB Advanced, such as ezyCollect, help to improve cash flow by chasing late payments automatically and effectively.
Which changes followed the decision?
After considering many other solutions, MYOB Advanced was the natural choice, as it could maintain continuity from MYOB AccountRight while still giving them the extra power of an upgraded system. MYOB Advanced can support Wholesale Distribution organisations to improve efficiency with tailored, industry-specific functionality. It integrated the multiple companies' data seamlessly, allowing Kurrajong Kitchens to more tightly track their ingredients and better manage their variances.
How are they now?
Seeing the overarching picture is now achievable at the push of a button, and the more data they enter into the system, the clearer that picture becomes.
Kurrajong Kitchens' continuous improvement mindset means that they are always looking for new ways to optimise their use of MYOB Advanced.  Recognising the depth and flexibility of the system, they plan to integrate their retailers' systems and make use of the CRM module to improve marketing practices in the future.
How do I achieve a successful MYOB Advanced implementation?
A successful MYOB Advanced Implementation depends on 3 critical risks:
Software Risk
Implementer risk
Self-Inflicted Risk
You can reduce your risk by selecting the right implementation partner. Although there are many different partners to choose from, you need the one that will work with you every step of the way. Managing risk is an important part of an implementation; selecting a low-risk partner is critical to a lifetime of success with your Business Management system.
Kilimanjaro Consulting ticks all the boxes when it comes to choosing the right partner:
Kilimanjaro Consulting is the largest and most experienced implementer of MYOB's Enterprise-level business management, accounting, payroll, and workforce management solutions: MYOB Advanced and MYOB Exo. We are experienced, low-risk implementers, helping organisations improve efficiency in their businesses through the use of clever, innovative, and proven technology.
Free resources to help you further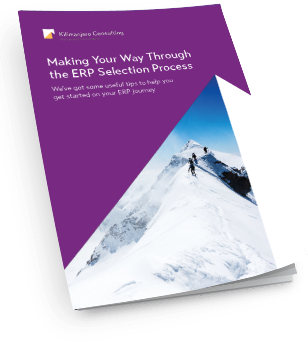 If you are ready to start your Business Management System journey, choose Kilimanjaro Consulting as your trusted implementation partner. If you don't know where to start, download our free E-Book that will take you through everything you need to consider and what to be wary of during this process.
Kilimanjaro Consulting is the largest implementer of MYOB's Business Management Software across Australia and New Zealand. We take the time to understand your business and only recommend the products that can meet your needs. To start a conversation about how MYOB Advanced can improve efficiency in your organisation, email sales@kilimanjaro-consulting.com, or call 1300 857 464 (AU) or 0800 436 774 (NZ).