Nextt Group
MYOB Advanced supports Nextt Group, so Nextt can support their clients
With a growing nationwide presence, Nextt Group were having trouble processing and understanding its large volume of transactions. Thanks to MYOB Advanced, they can take the focus off their financial system and put it back on their clients.
Who is Nextt Group?
Nextt Group is a multi-company organisation with over 2500 staff. They provide professional service support for people with mental and physical disabilities across NSW, Victoria, Queensland, and South Australia. They value understanding their client's positions and how they can best meet their needs.
What catalysed the switch to MYOB Advanced?
With funding coming from a mix of sources, like NDIS and HomeCare, and the group running more than a dozen different annual programmes. Nextt saw an immense strain on their old accounting software as they continued experiencing major growth. Their error rate was increasing, and they did not have the time to reconcile the mistakes. Furthermore, their regional centres could not access data in a timely manner, impacting their performance. There was very little genuine understanding of their financial performance, becoming a real problem for an organisation that prided itself on understanding.
What changes followed the decision?
Thanks to MYOB Advanced, Nextt have a centralised database, so their regional centres now have access to data in real-time. This can be consolidated when reporting aligns their financial and operational data more easily. MYOB Advanced's reporting capabilities also allow Nextt's financial teams to drill down through different areas to focus on what they are doing right and what needs improving.
How are they now?
Thanks to the complete connectivity promoted by MYOB Advanced, physical paperwork has been reduced by approximately 60%. Debtor and creditor management, invoicing, and receipting have all been streamlined. MYOB Advanced can easily handle the large volume of transactions across its many operating locations. Compliance and auditability, which is important when dealing with government organisations, have also improved. Nextt has turned its focus back to its customers, allowing them to continue their growth without worrying about financial performance and reporting.
How do I achieve a successful MYOB Advanced implementation?
A successful MYOB Advanced Implementation depends on 3 critical risk:
Software Risk
Implementer risk
Self-Inflicted Risk
You can reduce your risk by selecting the right implementation partner. Although there are many different partners to choose from, you need the one that will work with you every step of the way. Managing risk is an important part of an implementation; selecting a low-risk partner is critical to a lifetime of success with your Business Management system.
Kilimanjaro Consulting ticks all the boxes when it comes to choosing the right partner:
Kilimanjaro Consulting is the largest and most experienced implementer of MYOB's Enterprise-level business management, accounting, payroll, and workforce management solutions: MYOB Advanced and MYOB Exo. We are experienced, low-risk implementers, helping organisations improve efficiency in their businesses through the use of clever, innovative, and proven technology.
Free resources to help you further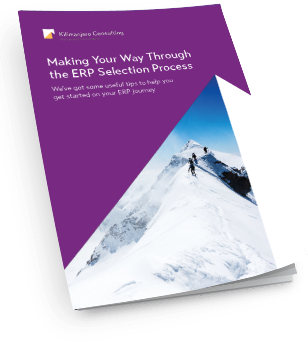 If you are ready to start your Business Management System journey, choose Kilimanjaro Consulting as your trusted implementation partner. If you don't know where to start, download our free E-Book that will take you through everything you need to consider and what to be wary of during this process.
Kilimanjaro Consulting is the largest implementer of MYOB's Business Management Software across Australia and New Zealand. We take the time to understand your business and only recommend the products that can meet your needs. To start a conversation about how MYOB Advanced can improve efficiency in your organisation, email sales@kilimanjaro-consulting.com or call 1300 857 464 (AU) or 0800 436 774 (NZ).