Razor
MYOB Advanced gave Razor the visibility necessary for a growing international manufacturer.
With the need for an integrated ERP system that reflected the complexity of a growing business, MYOB Advanced delivered the valuable real-time insights Razor International required to overcome logistical challenges.
Who is Razor International?
Razor International is a manufacturer that provides state-of-the-art electronic and automated control systems for semitrailers and transport vehicles. Their innovative intelligence systems are used by 50,000 trucks Australia-wide to keep transport drivers safe on the job.
What catalysed the switch to MYOB Advanced?
As their business continued to grow and expand overseas, the complexity of stock and level of inventory challenges also grew. The old system presented logistical issues and a lack of visibility in maintaining factories domestically and internationally. The inability to access real-time data and stay up to date with the day-to-day business also presented a large challenge. These blind spots resulted in Razor being unable to provide customers with the quality service they knew they were capable of.
What changes followed the decision?
The implementation of MYOB Advanced Business allowed Razor to streamline its cross-border logistics. The switch enabled the company's manufacturing, inventory management, and accounting data previously separated across six different warehouses to be transferred into a singular centralised system. The benefits were immediately obvious, with employees able to provide customers and business personnel with real-time insights into stock levels, dispatch information, and fulfilment timeframes at every business level.
How are they now?
Switching to MYOB Advanced enabled Razor International to gain visibility and insight across the organisation. Customised dashboards can flag and correct potential issues or concerns before they become a problem. Real-time insights and improved quality of service have empowered Razor employees with the tools to build strong customer relationships. The cloud-based system has recently also allowed the business to go paperless and focus on the continued successful international and domestic expansion.
How do I achieve a successful MYOB Advanced implementation?
A successful MYOB Advanced Implementation depends on 3 critical risk:
Software Risk
Implementer risk
Self-Inflicted Risk
You can reduce your risk by selecting the right implementation partner. Although there are many different partners to choose from, you need the one that will work with you every step of the way. Managing risk is an important part of an implementation; selecting a low-risk partner is critical to a lifetime of success with your Business Management system.
Kilimanjaro Consulting ticks all the boxes when it comes to choosing the right partner:
Kilimanjaro Consulting is the largest and most experienced implementer of MYOB's Enterprise-level business management, accounting, payroll, and workforce management solutions: MYOB Advanced and MYOB Exo. We are experienced, low-risk implementers, helping organisations improve efficiency in their businesses through the use of clever, innovative, and proven technology.
Free resources to help you further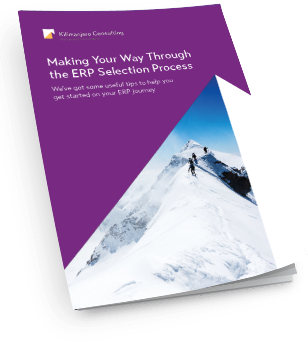 If you are ready to start your Business Management System journey, choose Kilimanjaro Consulting as your trusted implementation partner. If you don't know where to start, download our free E-Book that will take you through everything you need to consider and what to be wary of during this process.
Kilimanjaro Consulting is the largest implementer of MYOB's Business Management Software across Australia and New Zealand. We take the time to understand your business and only recommend the products that can meet your needs. To start a conversation about how MYOB Advanced can improve efficiency in your organisation, email sales@kilimanjaro–consulting.com, or call 1300 857 464 (AU) or 0800 436 774 (NZ).