Riley Industrial and Marine Sales
MYOB Exo was the best suited solution for RIMS' needs- supportive, easy to use and cost-effective
At Kilimanjaro Consulting, we believe in both nurturing and celebrating the success of others. So when Riley industries and Marine Sales (RIMS) gained invaluable freedoms and efficiencies from their implementation of MYOB Exo, we felt obliged to share their story.
Who is Riley Industrial and Marine Sales?
RIMS is a specialised engineering business known for its ability to blend innovation and diversity when solving hydraulic and pneumatic problems. From the company's establishment in Hobart in 1981, RIMS was focused on servicing and repairing the local industrial and marine market when their business began to turn upwards into the growing demand.
What catalysed the switch?
As a rapidly expanding business with multiple sites and relationships with some of Australia's leading suppliers, RIMS was facing increased pressure to better manage their internal data and sales processes. The accounting and payroll system, Attache, had served the business for the better part of 8 years. Yet, with slow and unreliable systems and a lack of local support, RIMS knew that if they didn't make a change soon, their business would come to a standstill.
Which changes followed the decision?
RIMS embarked on an extensive ERP search over 18 months, finding fault after fault before finally settling on MYOB Exo Business. The nature of it, that being user-friendly, configurable, instantaneous, and flexible, was what initially attracted the engineering business as well as being what gave them invaluable freedom.
Additionally, RIMS then underwent a vast process of rebuilding their systems from the ground up from both a user and hardware point of view. This involved close support from the implementation team for almost 6 weeks, proving the infinite value of localised support from industry experts as they ironed out almost all their previous issues.
How are they now?
A few years down the line, RIMS are taking advantage of a plethora of benefits from their new MYOB Exo system, allowing them to develop as a professional industry supplier and as an efficient business.
How do I achieve a successful MYOB Exo implementation?
A successful MYOB Exo Implementation depends on 3 critical risk:
Software Risk
Implementer risk
Self-Inflicted Risk
You can reduce your risk by selecting the right implementation partner. Although there are many different partners to choose from, you need the one that will work with you every step of the way. Managing risk is an important part of an implementation; selecting a low-risk partner is critical to a lifetime of success with your Business Management system.
Kilimanjaro Consulting ticks all the boxes when it comes to choosing the right partner:
Kilimanjaro Consulting is the largest and most experienced implementer of MYOB's Enterprise-level business management, accounting, payroll, and workforce management solutions: MYOB Advanced and MYOB Exo. We are experienced, low-risk implementers, helping organisations improve efficiency in their businesses through the use of clever, innovative, and proven technology.
Free resources to help you further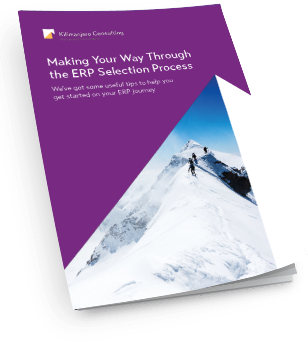 If you are ready to start your Business Management System journey, choose Kilimanjaro Consulting as your trusted implementation partner. If you don't know where to start, download our free E-Book that will take you through everything you need to consider and what to be wary of during this process.
Kilimanjaro Consulting is the largest implementer of MYOB's Business Management Software across Australia and New Zealand. We take the time to understand your business and only recommend the products that can meet your needs. To start a conversation about how MYOB Exo can improve efficiency in your organisation, email sales@kilimanjaro-consulting.com, or call 1300 857 464 (AU) or 0800 436 774 (NZ).