Warren Saunders Insurance Brokers
An upgrade to MYOB Advanced saw improvements to business processes and audit compliance.
Kilimanjaro Consulting (then Enprise Solutions) assisted Warren Saunders Insurance Brokers with the transition to MYOB Advanced. This resulted in improvements in efficiency and the customer experience.
Who is Warren Saunders Insurance Brokers?
Warren Saunders Insurance Brokers (WSIB) help customers to assess risk and provide the best options for their insurance needs. They firmly believe in the foundations of trust and integrity. Trusted relationships are invaluable to their longevity and client success as a broker.
What catalysed the switch to MYOB Advanced?
WSIB was using a manual bookkeeping process, which led to wasted time and a higher error rate. Automating these manual processes would be invaluable for the organisation's future. So, they sought out an implementation partner they could trust to alleviate their risk and provide the best advice. Kilimanjaro Consulting (then Enprise Solutions) was their partner of choice. The team recommended MYOB Advanced Business to meet the organisation's needs. Our structured methodology minimises risks to ensure a smoother implementation – an approach that aligns well with WSIB's core values.
Warren Saunders Insurance Brokers' Trusted Implementation partner
Kilimanjaro Consulting is ANZ's largest, most experienced, and most skilled team. When WSIB decided to implement MYOB Advanced, they chose Kilimanjaro Consulting as their partner of choice. We worked to understand WSIB's workflows and customise the software to meet their specific needs. We follow a structured implementation methodology, and combined with the skills, knowledge and support of our team; we are able to guide you through the implementation process. At Kilimanjaro Consulting, we pride ourselves on being technology Sherpas, focused on building long-term relationships with clients and maintaining that partnership as their business grows. We take pride in WSIB's success and look forward to our continued partnership.
What changes followed the decision for Warren Saunders Insurance Brokers?
Following the implementation of MYOB Advanced Business, WSIB has greater transparency of their transactional data. The software has the functionality to generate insightful reports faster and easier than before, eliminating the need for manual input and streamlining their organisational processes.
External auditors can also view data in a read-only licence, reducing the time it takes for manual audits without compromising client security. This speeds up the entire audit process, maintains industry compliance, and keeps WSIB one step ahead of the competition. With the gold-standard support they have received from Kilimanjaro Consulting, WSIB modernized its business processes to improve efficiency and reduce the need for cumbrous manual inputs.
How are they now?
WSIB can now better assess its organisation's needs within an intuitive platform that provides dynamic and actionable data in real time. With the assistance of Kilimanjaro Consulting, they successfully integrated a cloud-based Business Management solution that could address the organisation's needs now and into the future.
This implementation was completed before Enprise Solutions and Kilimanjaro Consulting merged. The original implementation team was, at that time, a part of Enprise Solutions. After the merger, Kilimanjaro Consulting has become the largest and most experienced implementer of MYOB's Enterprise Solutions across Australia and New Zealand. The Kilimanjaro Consulting team continues to support Warren Saunders Insurance Brokers to improve efficiency with the clever use of innovative and proven technology.
How do I achieve a successful MYOB Advanced implementation?
A successful MYOB Advanced Implementation depends on 3 critical risk:
Software Risk
Implementer risk
Self-Inflicted Risk
You can reduce your risk by selecting the right implementation partner. Although there are many different partners to choose from, you need the one that will work with you every step of the way. Managing risk is an important part of an implementation; selecting a low-risk partner is critical to a lifetime of success with your Business Management system.
Kilimanjaro Consulting ticks all the boxes when it comes to choosing the right partner:
Kilimanjaro Consulting is the largest and most experienced implementer of MYOB's Enterprise-level business management, accounting, payroll, and workforce management solutions: MYOB Advanced and MYOB Exo. We are experienced, low-risk implementers, helping organisations improve efficiency in their businesses through the use of clever, innovative, and proven technology.
Free resources to help you further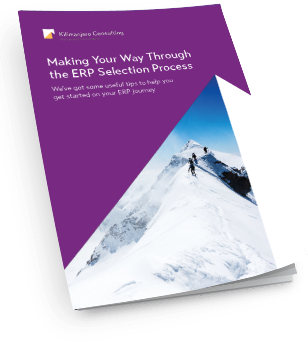 If you are ready to start your Business Management System journey, choose Kilimanjaro Consulting as your trusted implementation partner. If you don't know where to start, download our free E-Book that will take you through everything you need to consider and what to be wary of during this process.
Kilimanjaro Consulting is the largest implementer of MYOB's Business Management Software across Australia and New Zealand. We take the time to understand your business and only recommend the products that can meet your needs. To start a conversation about how MYOB Exo can improve efficiency in your organisation, email sales@kilimanjaro-consulting.com, or call 1300 857 464 (AU) or 0800 436 774 (NZ).