Zenith Payments
Crucial to the success of Zenith Payments, MYOB Advanced has seamlessly managed the high volume and robust reporting requirements
When they integrated new customer login portals to their online platform, Zenith Payments realised they would need a more sophisticated ERP solution to properly interface with them. MYOB Advanced has saved countless hours of manual data entry, and given faster and more reliable reporting, driving their rapid growth.
Who are Zenith Payments?
A financial technology company, Zenith Payments process hundreds of thousands of transactions a month for their payments and pre-paid cards businesses. They value, high energy, innovation, and integrity in their work and with their partners.
What catalysed the switch to MYOB Advanced?
A new online client portal was unable to correctly interface with their current software option. This led to a large amount of manual data entry, which hindered the company's growth and overwhelmed the finance team. Without real-time financial reporting, the team was unable to gain insight with either speed or detail. MYOB Advanced is also highly customisable, allowing the implementation of many Add-Ons to create a bespoke ERP solution for Zenith Payments.
Zenith Payments' Trusted Implementation partner
Kilimanjaro Consulting is ANZ's largest, most experienced, and most skilled team. When Zenith Payments decided to implement MYOB Advanced, they chose Kilimanjaro Consulting as their partner of choice. We worked to understand Zenith Payments' workflows and customise the software to meet their specific needs. We follow a structured implementation methodology, and combined with the skills, knowledge and support of our team; we are able to guide you through the implementation process. At Kilimanjaro Consulting, we pride ourselves on being technology Sherpas, focused on building long-term relationships with clients and maintaining that partnership as their business grows. We take pride in Zenith Payments' success and look forward to our continued partnership.
What changes followed the decision?
Since implementing MYOB Advanced, Zenith Payments have been able to easily manage over 140000 transactions per month, factoring in different payment methods, pricing profiles, channels, and revenue types. They can identify trends as they are happening allowing quick responses and proactive strategies.
How are they now?
The new style of reporting has allowed the development and implementation of additional expansionary strategies, and a focus on Business Process Improvement. The Business Development Managers can give customers more detail about their businesses, and the Finance department is able to work more efficiently, even with a relatively small team. They have seen significant, continued growth, and are looking to continue utilising MYOB Advanced as efficiently and accurately as they can.
This implementation was completed before Enprise Solutions and Kilimanjaro Consulting merged. The original implementation team was, at that time, a part of Enprise Solutions. After the merger, Kilimanjaro Consulting has become the largest and most experienced implementer of MYOB's Enterprise Solutions across Australia and New Zealand. The Kilimanjaro Consulting team continues to support Zenith Payments to improve efficiency with the clever use of innovative and proven technology.
How do I achieve a successful MYOB Advanced implementation?
A successful MYOB Advanced Implementation depends on 3 critical risk:
Software Risk
Implementer risk
Self-Inflicted Risk
You can reduce your risk by selecting the right implementation partner. Although there are many different partners to choose from, you need the one that will work with you every step of the way. Managing risk is an important part of an implementation; selecting a low-risk partner is critical to a lifetime of success with your Business Management system.
Kilimanjaro Consulting ticks all the boxes when it comes to choosing the right partner:
Kilimanjaro Consulting is the largest and most experienced implementer of MYOB's Enterprise-level business management, accounting, payroll, and workforce management solutions: MYOB Advanced and MYOB Exo. We are experienced, low-risk implementers, helping organisations improve efficiency in their businesses through the use of clever, innovative, and proven technology.
Free resources to help you further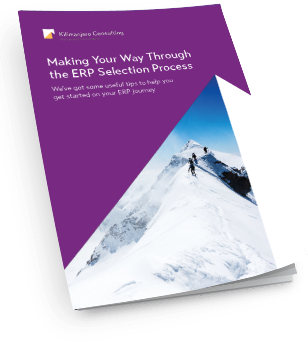 If you are ready to start your Business Management System journey, choose Kilimanjaro Consulting as your trusted implementation partner. If you don't know where to start, download our free E-Book that will take you through everything you need to consider and what to be wary of during this process.
Kilimanjaro Consulting is the largest implementer of MYOB's Business Management Software across Australia and New Zealand. We take the time to understand your business and only recommend the products that can meet your needs. To start a conversation about how MYOB Advanced can improve efficiency in your organisation, email sales@kilimanjaro-consulting.com, or call 1300 857 464 (AU) or 0800 436 774 (NZ).