Matrix Items in MYOB Advanced
MYOB Advanced Tips and Tricks #9
In MYOB Advanced Release 2020.3, a new type of inventory item is now available – referred to as Matrix Items. Matrix type inventory items typically have two or more attributes that make each SKU unique. Colour, Size, Capacity, and Material are all attributes that can be designated.
In many ERP systems, managing inventory with multiple attributes can become challenging. Changing just a single attribute of the same item requires new and separate inventory records. In MYOB Advanced, both Stock and Non-Stock items can be flagged as Matrix items, enabling users to create a new set of stock items quickly and easily by taking advantage of higher-level template settings.
How do I create Matrix Items?
To make use of Matrix Items, the functionality first needs to be enabled in the Enable / Disable features screen. Select Matrix items located in the Inventory and Order Management Group.
In the following example we will trace how Matrix Items are created and used. The scenario relates to mobile phones where there are various models frequently released in different colour and capacity options.
In this instance, attributes will be required for capacity and size.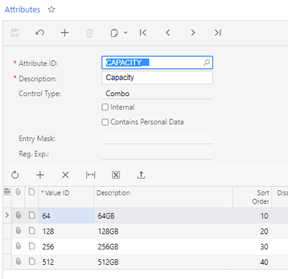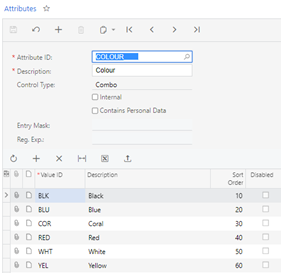 The attributes must have the combo control type.
**Tip: Consider the length of the Value ID when creating these attributes, as they will impact the Inventory Item ID further down the path.
The respective item class is then required to have the item attributes specified.

**Tip: The category of "Variant" indicates that this attribute can be used in generating matrix items.
Creating template items
A Template Item is now required to be created. Note that Template Items cannot be added to Accounts Receivable, Accounts Payable, Purchase Order or Sales Order documents.
When creating a Template Item, first specify the Item Class under the General Settings.
Under the Attribute Configuration specify how the matrix item, its code and description, is to be built by referencing the attributes.
First, select the attributes to be used
Specify which attributes is be set as the default Column and Row
Specify how the Inventory ID is to be formulated when creating new items
Specify how the Inventory Description to be formulated when creating new items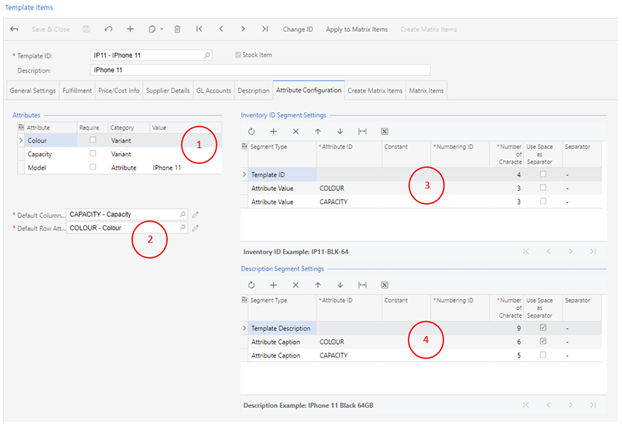 This screen can also be used to quickly apply updates to details and replicate these changes to all inventory items that were created from this template.
Using the Create Matrix Items screen
The Create Matrix Items screen enables the selection of different combinations of Colours and Capacity that may be released.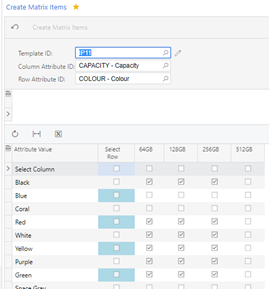 Selecting the Create Matrix Items button will provide a series of inventory items to be confirmed for creation of each of the selected combinations.
Note there is a constraint on the length of the inventory item key. If the inventory code to be created exceeds the specified maximum, then the item key length may need to be increased.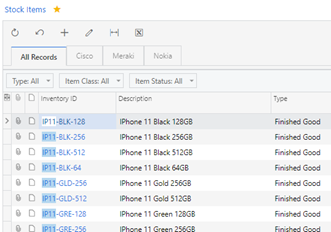 Matrix Items in Purchase and Sales Orders
Working with Matrix items has now become easier with tools now available on the Purchase Order and Sales Order screens enabling the user to quickly select each required combination of SKU.
An Add Matrix Item button will be visible on the grid Header of these screens.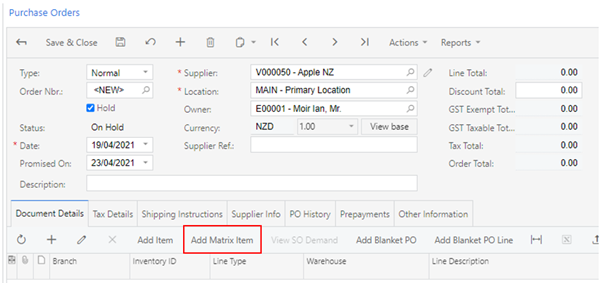 Selecting the Add Matrix item button, then selecting the required Template ID and the option to Open Matrix View, enables the user to quickly select the required quantity of each combination to add to their Purchase Order or Sales Order.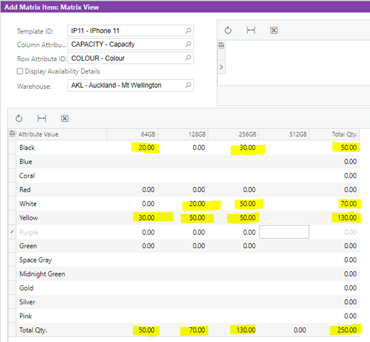 Interested in other ways to optimise MYOB Advanced?
Check out our handy MYOB Advanced Tips and Tricks blogs here:
Matrix Items in MYOB Advanced
We hope these tips and tricks were helpful to you! If you have any questions about Matrix Items in MYOB Advanced, our friendly team is here to help. Call us on 1300 857 464 (AU) or 0800 436 774 (NZ), or send us an email.
Alternatively, for a comprehensive overview of all of our best MYOB Advanced 'hacks' in one place, you can download our PDF from the panel on the right – The Ultimate Compilations of Tips and Tricks!