The Global Search Function in MYOB Advanced
MYOB Advanced Tips and Tricks #12
MYOB Advanced is an integrated business management system that gathers data across your entire operation. Whether it is reduced administration time, greater inventory control, or real-time reporting, MYOB Advanced will improve efficiency in your business. However, finding the exact screen or piece of data within this vast network can be challenging. MYOB Advanced's Global Search allows you to quickly search for a particular piece of data in your system, regardless of where it may be located. Save time trawling through the depths of your system and instantly find what you are looking for, with the Global Search function.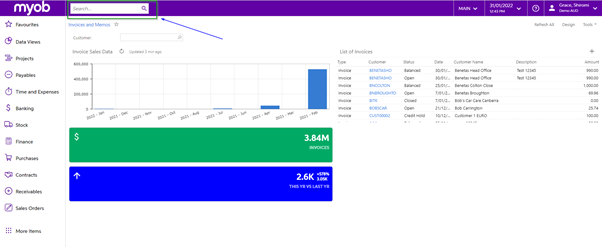 When you type a keyword or phrase in the search box, the results found in the system may include any of the following:
MENU Items

Forms
Reports
Dashboards
Pivot tables
Generic Inquiry

Transaction and Profiles

Vendors
Customers
Prospects
Employees

Help Topics
Files

Documents
Notes attached to system records
An Accounts Payable Example of the MYOB Advanced Search Function
Let's say you are an Accounts Payable (AP) Clerk and want to enter some AP Bills. Rather than navigating through the Payable workspace, or my Favourites workspace, you can use the Universal Search to find the Bills and Adjustments form.
You can achieve this by simply entering 'bill' in the search box and selecting the appropriate result.
Search results from the MENU ITEMS tab
The Menu Items tab is the first visible when making a search and categorises the different menus in MYOB Advanced. This makes finding the right screen or forms fast and simple, instead of having to navigate through other menus.
For this example, there are 24 menu items that contain the word bill. Not only does the system displays all items that contain the word bill in it but also categorises these items under the appropriate menu or workspace it appears from.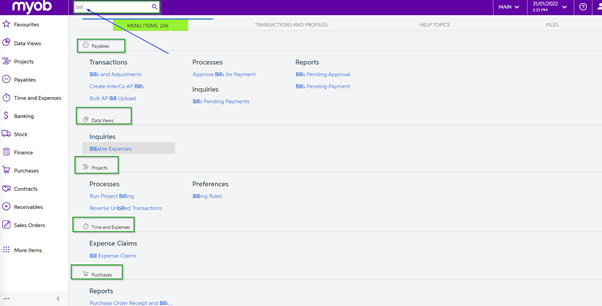 Results from the TRANSACTION AND PROFILES tab
The system will list all documents, transactions, and profiles that have the word 'bill' in them.
You can drill into the appropriate document to view details with a simple click.
Due to the wide search in this example, the Transactions and Profiles tab will find a customer name with Bill, a Sales Order with the name Bill, an Invoice, and a Payment all with the name bill.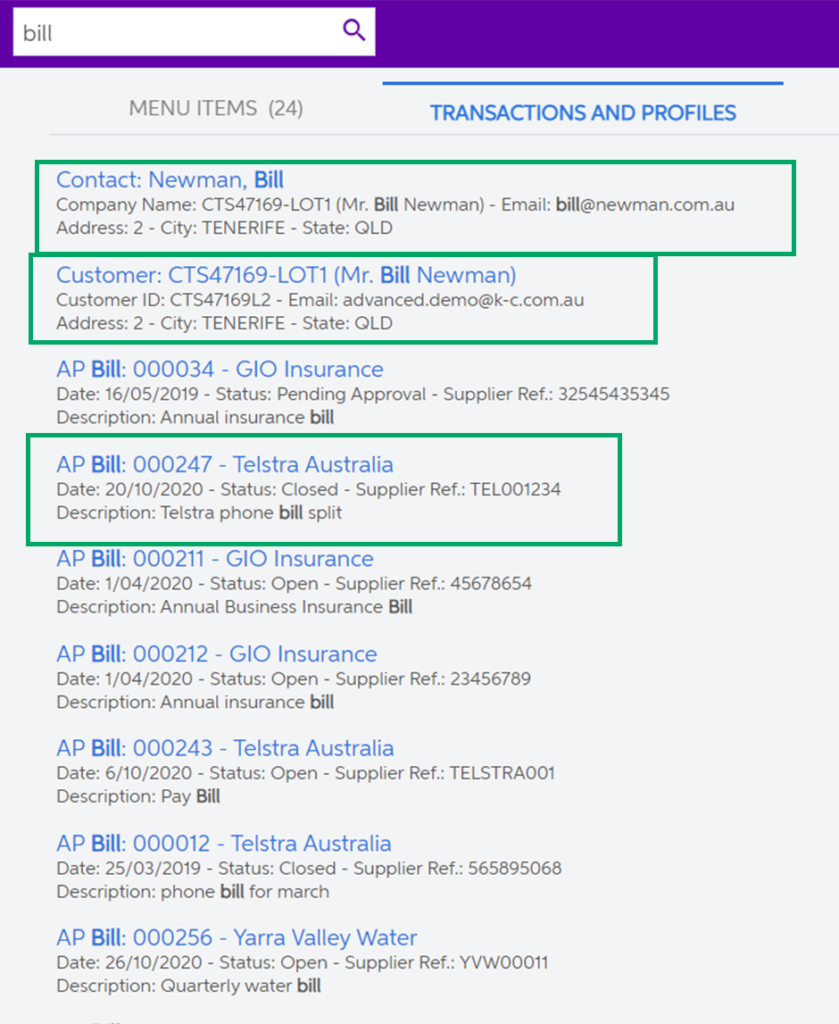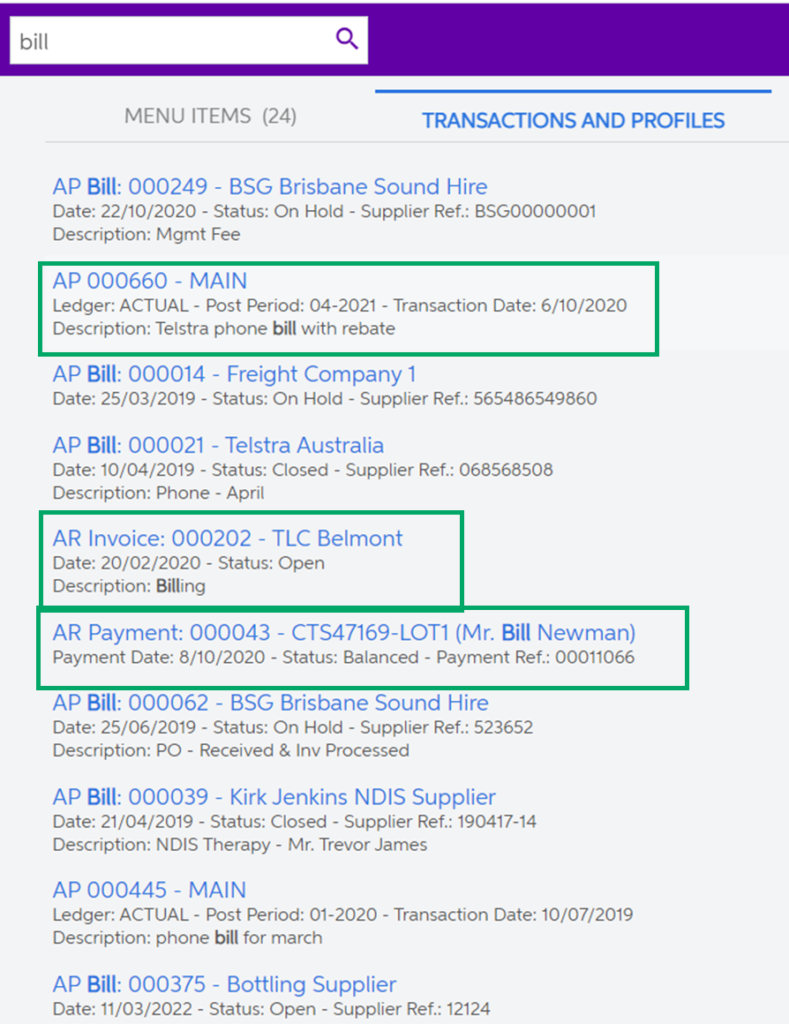 Search results from the HELP TOPICS tab
If at any time you need some guidance, MYOB has incorporated a help button to help you solve some problems yourself. Before checking with support, see if you can find the solution in the Help menus within MYOB Advanced. The help is context-sensitive, so the specific help information displayed depends on the working area you are in when you click on the help. You can learn more about finding help in MYOB Advanced through our dedicated article, here.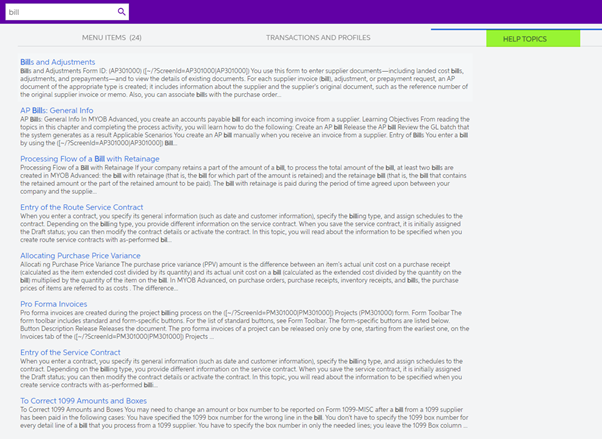 Search results on the FILES tab
The files tab displays results from attached or uploaded documents. This includes files such as a PDF, Excel spreadsheet, Word document, or an Image. Although this search is directed to the document, MYOB Advanced will allow you to search for the attachments globally. In just milliseconds, MYOB Advanced can search through over a million records and documents.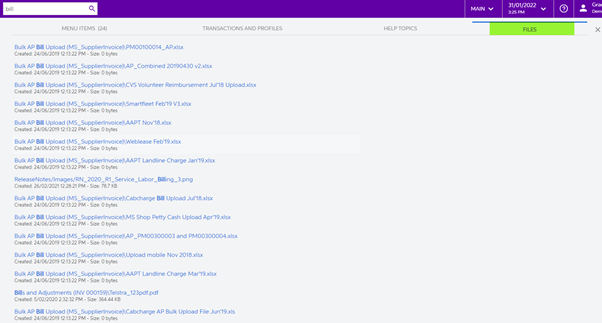 Interested in other ways to optimise MYOB Advanced?
Check out our handy MYOB Advanced Tips and Tricks blogs here:
The Global Search Function in MYOB Advanced
We hope these tips and tricks were helpful to you! If you have any questions about Global Search in MYOB Advanced, our friendly team is here to help. Call us on 1300 857 464 (AU) or 0800 436 774 (NZ), or send us an email.