Abode Living
Abode Living got into bed with MYOB Exo, finding improvements in their retail division and website.
Abode Living needed a system that could bring all their retail data into one place, synchronising their website and stock data. MYOB Exo was customisable and functional – and they have seen an improvement in efficiency following the implementation.
Who is Abode Living?
Abode Living is a family business operating in Melbourne since the early 1990s. They strive for world-class quality and never settle for the second best. Abode Living takes pride in manufacturing high-quality bed linen directly in Melbourne. For bespoke orders, they work with the best European craftsmen. They source their materials from across the globe to ensure they are producing the finest quality products.
What catalysed the switch to MYOB Exo?
Abode had previously used another ERP system to manage their stock, CRM, and storefront. However, their website could not be connected to this system. They struggled to duplicate and update their data across so many disconnected places. Abode needed a system to bring all their data into one place and create a connected source of truth. Other ERP platforms could not meet their customisation requirements. So, Abode Living chose MYOB Exo to take their company into the future.
What changes followed the decision?
MYOB Exo had all the functionality that Abode Living needed without being too complicated to use. Their staff quickly became confident using their new system and taking advantage of their powerful new system. By connecting MYOB Exo to their website, they have been able to report on their stock figures in real time. With this new view of their data, they are getting access to important information that can further increase their efficiency.
How are they now?
MYOB Exo has also increased its stock count and inventory control confidence. Without maintaining their data across different systems, the team makes fewer errors. The time they save is spent working to improve the business. Abode Living has not looked back since it implemented MYOB Exo. They continue to customise their site to take advantage of new functions or find more efficiency improvements. Having successfully implemented MYOB Exo in their retail division, Abode Living is now looking at the scope for including their manufacturing division.
How do I achieve a successful implementation?
A successful implementation depends on managing three critical risks:
Software Risk
Implementer risk
Self-Inflicted Risk
You can reduce your risk by selecting the right implementation partner. Although there are many different partners to choose from, you need the one that will work with you every step. Managing risk is an essential part of an implementation, selecting a low-risk partner is critical to a lifetime of success with your Business Management system.
Kilimanjaro Consulting ticks all the boxes when it comes to choosing the right partner:
Kilimanjaro Consulting is the largest and most experienced implementer of MYOB's Enterprise-level business management, accounting, payroll, and workforce management solutions: MYOB Advanced and MYOB Exo. We are experienced, low-risk implementers, helping organisations improve efficiency in their businesses through the use of clever, innovative, and proven technology.
Free resources to help you further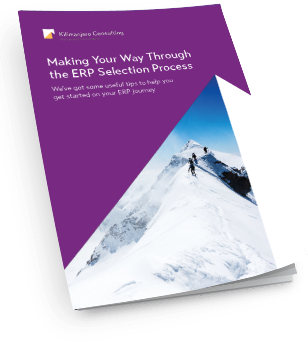 If you are ready to start your Business Management System journey, choose Kilimanjaro Consulting as your trusted implementation partner. If you don't know where to start, download our free E-Book that will take you through everything you need to consider and what to be wary of during this process.
Kilimanjaro Consulting is the largest implementer of MYOB's Business Management Software across Australia and New Zealand. We take the time to understand your business and only recommend products that can meet your needs. To start a conversation about how MYOB Business Management Software can improve efficiency in your organisation, email sales@kilimanjaro-consulting.com, or call 1300 857 464 (AU) or 0800 436 774 (NZ).