Abyss
Abyss credits Exo for its improved efficiencies and reduction in hours and errors
Who is Abyss?
Abyss Distribution is an importer and wholesaler of skateboarding gear. Having run MYOB Premier for a significant part of their business' journey, Abyss noticed that their data file was growing larger than their system could handle. It became slow and inefficient, meaning that Abyss' hopes of integrating third-party software applications alongside Premier, such as Sales Matric or Scan Packaging, were even further out of the reach.
What catalysed the switch to MYOB Exo?
Abyss' Managing Director, Paul Horsey, spent 14 months looking into a number of potential successors to Premier, including SAP. With a clear focus on stock purchasing or currency and invoicing, the organisations main objective was to find an integrated size colour matrix module. The existing system always had a huge amount of duplicate data entry involved which was a challenge since they sold so many similar products by size and colour. The only way to seriously improve the invoicing speed was to use a size matrix module. The problem they faced was finding one that was fully incorporated within a sales order and accounting software package. In the end, MYOB Exo was chosen not only due to its built-in size colour matrix functionality, but due to its trusted brand name and reasonable price.
Which changes followed the decision?
Approximately a year after MYOB Exo was implemented, the team at Abyss had only praise for the benefits that the new system had brought for the organisation. Abyss made the most of MYOB Exo's capacity to integrate other software applications. Sales Matrix was the first to join the Abyss software family, and the organisation is now focusing on incorporating EDI and Scan Packing in order to augment the product and sales process. However, the largest improvement seen from the implementation was the reduction in invoicing time and errors.
How are they now?
From the outset, the key requirements for this new solution needed to be stock purchasing, currency and invoicing, and an integrated size colour matrix module, and it's safe to say that MYOB Exo gave Abyss all of this and more. MYOB exo was a valuable investment for the team at Abyss and has enabled them to grow heir business tenfold.
How do I achieve a successful MYOB Exo implementation?
A successful MYOB Exo Implementation depends on 3 critical risk:
Software Risk
Implementer risk
Self-Inflicted Risk
You can reduce your risk by selecting the right implementation partner. Although there are many different partners to choose from, you need the one that will work with you every step of the way. Managing risk is an important part of an implementation; selecting a low-risk partner is critical to a lifetime of success with your Business Management system.
Kilimanjaro Consulting ticks all the boxes when it comes to choosing the right partner:
Kilimanjaro Consulting is the largest and most experienced implementer of MYOB's Enterprise-level business management, accounting, payroll, and workforce management solutions: MYOB Advanced and MYOB Exo. We are experienced, low-risk implementers, helping organisations improve efficiency in their businesses through the use of clever, innovative, and proven technology.
Free resources to help you further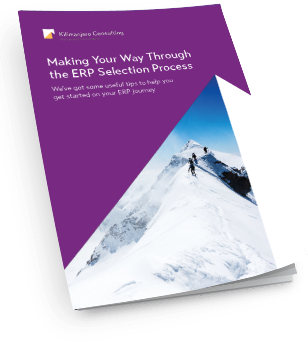 If you are ready to start your Business Management System journey, choose Kilimanjaro Consulting as your trusted implementation partner. If you don't know where to start, download our free E-Book that will take you through everything you need to consider and what to be wary of during this process.
Kilimanjaro Consulting is the largest implementer of MYOB's Business Management Software across Australia and New Zealand. We take the time to understand your business and only recommend the products that can meet your needs. To start a conversation about how MYOB Exo can improve efficiency in your organisation, email sales@kilimanjaro-consulting.com, or call 1300 857 464 (AU) or 0800 436 774 (NZ).