Making the Transition from MYOB AccountRight to MYOB Exo or MYOB Advanced
Overcome the pain of your current software and move to a fully featured Business Management System.
Learn more about the power of your software
The MYOB User Groups sessions are a great opportunity to meet, connect, and share experiences with fellow MYOB users and experts. This September, the half-day events are happening in Melbourne, Sydney, Auckland, and Online for MYOB Advanced and MYOB Exo. The theme of these events is Analyse! Uncover Insights. Discover how to leverage hidden insights in your MYOB system, use data to make better decisions, and stand apart from your competition.
Editors Note: This article was originally published in May 2013. It has been reviewed and updated to provide the most relevant and accurate information. Please enjoy this article and feel free to share your feedback with us.
If we think back to the late 1990s, many businesses were changing from receipts in shoeboxes and carbon invoice books to an unfamiliar digital interface where they had to learn about debtors, creditors, and a general ledger. The natural progression for larger, more complex businesses is to now move to fully integrated financial and business management software such as MYOB Advanced Business and MYOB Exo Business.
The transition from small financial software to more complex and comprehensive Business Management software is often a consideration for managers or business owners. This is frequently fuelled by the realisation that their evolving requirements have surpassed the functionality of their current accounting system.
Upgrading MYOB AccountRight Premier
Moving from MYOB AccountRight or MYOB Premier to the next level of MYOB products like MYOB Advanced Business or MYOB Exo Business is motivated by the need for specific functionality and controls. These more complex product suites can provide that.
Organisations looking to make this change will also be feeling pain in other areas of their operation such as:
A lack of visibility of their entire operations, with siloed data stored across different databases and spreadsheets
Slow and tedious manual tasks that prevent employees from being able to focus on their primary roles,
The timeliness of their reporting
Limited control over individual accessibility, visibility, and security with limited auditability and compliance attributes of the current system,
An inability to properly integrate add-on products into the core system requires manual duplication of data across disparate systems, leading to errors and inefficiencies.
Make sure your data survives the transition to an MYOB Enterprise solution
Typically, when you transition from MYOB AccountRight into the ERP space, your transactional history would be left behind in your old system. Your ERP system is designed to become a single source of truth for your data. To ensure a smooth MYOB implementation, our team at Kilimanjaro Consulting has developed a tool that can import your transactional data out of MYOB AccountRight and into your new MYOB Enterprise software. If required, we can even access your historical backups and import that data as well. As every implementation, company, and transition is different, our team of consultants will help you to determine if the use of this tool is right for you. The possibility exists that you can hit the ground running when you go live and leverage the full power of your data and your history in the new reporting and accounting suites.
Take your Connected Services with you
You may be using applications that provide specific functionality above and beyond your basic requirements. A business management platform like MYOB Advanced or MYOB Exo can support the integration of specific applications that you use to meet your needs. So, you can keep your best-of-breed third-party products and upgrade the rest of your organisation. With Kilimanjaro Consulting as your implementation partner of choice, you can continue using the same add-on products and integrate them into your new ERP software. This makes your transition as smooth as possible – with your teams able to continue working efficiently from go-live.
In addition, we also provide a variety of best-of-breed connected services, supported by integration into both MYOB Advanced Business and MYOB Exo Business. These independent add-ons are designed to improve the standard functionality of your software and make your new system even more powerful. Add-ons provide enhanced functionality across a range of industries and requirements, from Job Costing to Inventory Management, Debtor Control and more.
Discover our extensive range of our recommended and supported add-on's and the benefits of integration with your new Business Management System.
---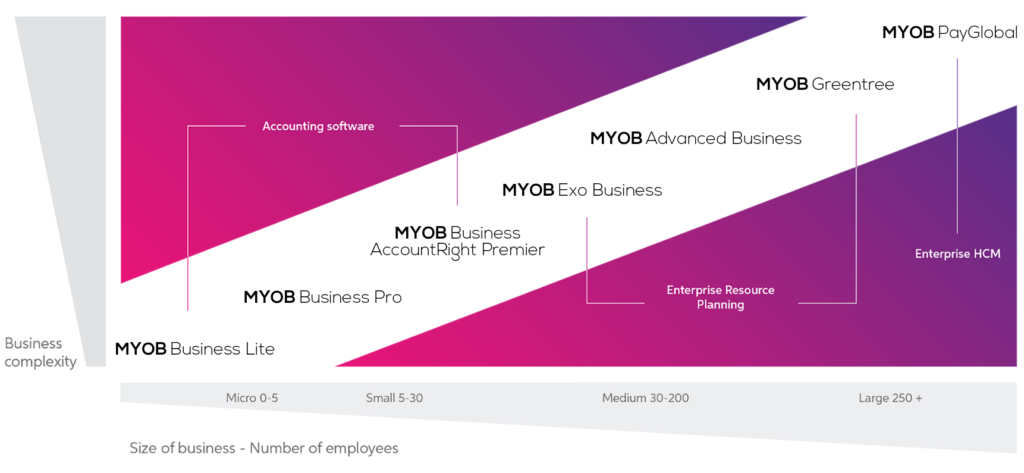 MYOB Exo vs MYOB Advanced: What you should consider
MYOB Advanced Business (powered by Acumatica) is a SaaS (Software as a Service) platform that is relatively new to the ERP midmarket. It is a configurable and customisable solution based in the cloud – so you can access your data anywhere and at any time. With broad functionality for larger Tier 3 and Tier 2 businesses, the real strength of this software lies in its General Ledger functionality and configurable workflows. MYOB's Enterprise team reaped the benefits of a successful transition to MYOB Advanced. They reduced their manual workload and brought together a previously fragmented software ecosystem.
MYOB Exo Business is a mature ERP software system in the MYOB family. It is a complete, integrated financial and business management system. The range of MYOB Exo Business modules supports finance, job costing, fixed assets, point of sales, customer relationship management, consolidation, and intercompany reporting. MYOB Exo is Australasian software made and designed for Australian and NZ businesses to help them succeed. It can be either on-premise or hosted. Find out the difference between Hosted vs SaaS here.
Making the transition from MYOB AccountRight to MYOB Exo or MYOB Advanced allows you to stay with the same software provider but gives you access to more functionality and features to support your growing business.
Let's have a look at MYOB Exo Business vs MYOB Advanced Business and the key differences:
Auditability – Full audit trail
The ability to edit recorded financial transactions is a feature not favoured by auditors. Yes, it's a feature, not a design flaw. When we weigh up MYOB Exo Business vs MYOB Advanced Business, a true audit trail for transactions impacting your profit and loss and balance sheets is provided. There is also the separation of responsibilities and enforcement of delegated authority limits. Your auditors and accountants love this. Users may find this frustrating at first, but it is something you get used to, and the bonus is that you can be sure that the printed/emailed invoice that your customer holds is the same that your accounting system holds. There is some flexibility around this issue and should be discussed in detail with your MYOB consultant.
Period Based Accounting
You've probably never really noticed it but running reports in MYOB AccountRight relies on date selection. With MYOB Exo Business or MYOB Advanced Business, you can run most reports by Periods. Some reports also allow for date selection in addition to periods. Periods are defined by date range, and you have the flexibility to create as many financial periods in a year as you require. You can post back to prior periods, regardless of the transaction date, thus ensuring that your revenue occurs in the same period as your expense if revenue matching is required.
Reporting functions in MYOB Exo Business vs MYOB Advanced Business
When comparing the reporting suite found in AccountRight vs MYOB Exo and MYOB Advanced, you can see that the latter are far more extensive and customisable.
MYOB Exo Business comes with around 400 standard reports. These are customisable using the inbuilt report writer, and many will need tweaking to your specific business requirements. The General Ledger also comes with its own report writer. This is easy to use and doesn't require in-depth knowledge of the underlying database. Dashboards and widgets are available and can be configured to show critical reports all in one place. Sales Analysis Designer and SSRS (SQL Server Reporting Services) Reports providing even more functionality.
The Sales Analysis Designer is a popular reporting tool, as it allows for slicing and dicing your data without requiring report writing skills.
MYOB Advanced Business has several reporting options from inbuilt report writers, GL report writers, screen enquiries, dashboards, and Pivot Tables. Not For Profit organisation Living My Way successfully transitioned from MYOB AccountRight to MYOB Advanced and were able to achieve an automated reporting process to meet their complex needs.
OData feeds and PowerBI integration provide further reporting options. However, when looking at MYOB Exo Business vs MYOB Advanced Business, only MYOB Advanced gives you full functionality from any device, anytime anywhere.
On-Screen, enquiries are becoming a standard way to report within ERP's rather than having to run reports to printer or screen. Kilimanjaro Consulting offers courses on report writing for both MYOB Exo Business and MYOB Advanced Business.
Read the complete list of differences between MYOB Advanced Business and MYOB Exo Business to understand which product would best suit your organisation's complex needs.
Features that MYOB Advanced Business users cannot live without:
Intercompany Consolidation
MYOB Advanced Business uses the concept of an "entity". You can have multiple branches, divisions, or even companies within a single database. No need for consolidating financials outside of the system.
Multi-Currency
Designed to support companies operating across multiple countries, MYOB Advanced Business easily manages bank accounts in multiple currencies and all other intricacies associated with different taxation regimes.
Mobility and remote access
Being a true cloud solution, MYOB Advanced Business can be accessed from anywhere, on any device. Learn more about being mobile with MYOB Advanced.
Workflows
The configurable workflow engine means you can automate repetitive procedures according to your business processes. This also allows for separation of duties along with the master and transactional approval workflows.
Security and Permissions
Access permissions can be narrowly defined per user or user group, right down to the field level in any screen. Row-level security allows one to control the visibility of certain data to certain users. Also, MYOB Advanced Business now has Two Factor Authentication as an added layer to ensure your data is secure in the cloud.
Features that MYOB Exo Business users cannot live without:
MYOB Exo Grids – Copy to clipboard or ODBC Links
Most of the data on MYOB Exo's screens can be copied and pasted into MS Excel©. The possibilities from there are endless. If you are still using MYOB AccountRight, then you are missing out on this feature. Also, you can link MS Excel©. directly to the database. Click on "Refresh Data", and your favourite report has the latest info.
Ability to have multiple Transactions Screens open at one time
MYOB Exo Business Users can have multiple invoices/sales orders/purchase orders open or in progress at the same time, allowing you to multitask more effectively. Users may have found it limiting in MYOB AccountRight to only have up to 8 windows at one time, and only be able to process one invoice at a time.
Sales Analysis Designer
A great sales reports in MYOB AccountRight was the Sales Analysis, which listed the 12-month sales for stock items. MYOB Exo's Sales Analysis Designer hasthis with the ability to add groupings to this report, filter stock codes, branches, locations. As a result, for MYOB Exo Business users, the report possibilities are endless.
Multiple Stock Locations
The core software intuitively deals with multiple stock locations. Using the Blue Echidna or Evexo add-ons, MYOB Exo will even allow multiple bin locations and scan picking. Read more about Multi-Stock locations here.
Multi-Currency
One of MYOB Exo's greatest strengths compared to AccountRight is the ease with which multicurrency is handled, in Accounts Payable, Accounts Receivable and General Ledger. Learn more about multi-currency here.
On Costs Calculation
MYOB Exo Business handles the calculation for the landed cost of your stock within the software. Therefore, you no longer need MS Excel spreadsheets to help you work out how much to add to your suppliers' invoices. MYOB Exo takes care of the calculation and all of the required G/L entries too. This includes multi-currency calculations.
Taking the next step
When transitioning from MYOB AccountRight to a fully functioning Business Management Platform, it is important to understand the differences and level of skills required. MYOB Exo Business and MYOB Advanced Business are designed for larger, more complex organisations. They require a skilled implementation partner to support and train you through all implementation phases: Design, Build, User Acceptance Testing and Go-live. The goal is to get it right the first time. If there are specific features/processes that you are currently using in your MYOB software, and you can't live without them, speak to us about them. Do not let it hinder your decision to progress to the next level of software. The ambitious transition from the MYOB AccountRight Suite to MYOB Exo Business or MYOB Advanced Business is a big step. Many companies are now outgrowing the MYOB AccountRight Suite of products and progressing towards the next natural step: MYOB Enterprise Solutions (Exo and Advanced).
Free resources to help you further
Download our free Capability Matrix to see the full functionality of MYOB Exo vs MYOB Advanced. Discover what functions you could benefit from when you upgrade from MYOB Premier or MYOB AccountRight.
If you are at the beginning of your ERP journey and you aren't sure where to start, download our free Ebook that will take you through everything you need to consider and what to be wary of during this process.
Call us for a demo today on 1300 857 464 (AU) or 0800 436 774 (NZ), or send us an email at sales@kilimanjaro-consulting.com. Let us advise you regarding a move to more functional financial software.