ActivTec Solutions
An MYOB Advanced Implementation helps to take ActiveTec Solutions to the next level.
With their growing success, ActivTec required a Business Management System to boost them to the next level. By implementing MYOB Advanced Business, ActivTec were able to automate processes and improve efficiency within their organisation.
Who are ActivTec Solutions?
ActivTec Solutions provide specialist maintenance and repair of equipment for the health industry. This operation has them dealing with aged care facilities, disability and nursing homes, and hospitals across Australia. ActivTec trains its technicians in electrical, engineering, and other trade-specific qualifications so that they can ensure quality, reliability, and service to their clients.
What catalysed the switch to MYOB Advanced Business?
ActivTec has tripled in size over the last three years. They now employ over a hundred staff, including 60 on-the-road technicians, with stock across six different warehouses. Their previous accounting software, MYOB AccountRight, could not keep up with the added complexity that came with this growth. For ActivTec, it was time to upgrade to a solution like MYOB Advanced Business that could grow with their organisation and meet their rapidly changing needs.
What changes followed the decision?
With MYOB Advanced Business, ActivTec can access their data in real-time, providing accurate information across different departments. This allows them to make informed decisions in a timely, dynamic manner.
Previously, MYOB AccountRight struggled to accurately manage its inventory, especially across multiple locations. Now, their inventory system has been streamlined and automated. With each warehouse and each van set up as a stock location, the team has real-time visibility of inventory movements and can automatically redistribute and replenish used parts. This keeps their team mobile and supported to bring the highest level of service to their customers.
How are they now?
Following the MYOB Advanced Business implementation, ActivTec can continue to flourish without any growing pains. They have streamlined their business processes and introduced automation so that the team focus on what is really important. ActivTec is now better positioned to achieve its business goals with increased efficiencies across its entire operation.
How do I achieve a successful MYOB Advanced implementation?
A successful MYOB Advanced Implementation depends on 3 critical risk:
Software Risk
Implementer risk
Self-Inflicted Risk
You can reduce your risk by selecting the right implementation partner. Although there are many different partners to choose from, you need the one that will work with you every step of the way. Managing risk is an important part of an implementation; selecting a low-risk partner is critical to a lifetime of success with your Business Management system.
Kilimanjaro Consulting ticks all the boxes when it comes to choosing the right partner:
Kilimanjaro Consulting is the largest and most experienced implementer of MYOB's Enterprise-level business management, accounting, payroll, and workforce management solutions: MYOB Advanced and MYOB Exo. We are experienced, low-risk implementers, helping organisations improve efficiency in their businesses through the use of clever, innovative, and proven technology.
Free resources to help you further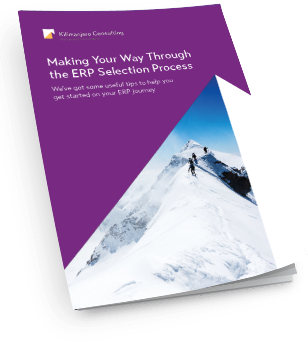 If you are ready to start your Business Management System journey, choose Kilimanjaro Consulting as your trusted implementation partner. If you don't know where to start, download our free E-Book that will take you through everything you need to consider and what to be wary of during this process.
Kilimanjaro Consulting is the largest implementer of MYOB's Business Management Software across Australia and New Zealand. We take the time to understand your business and only recommend the products that can meet your needs. To start a conversation about how MYOB Advanced can improve efficiency in your organisation, email sales@kilimanjaro-consulting.com or call 1300 857 464 (AU) or 0800 436 774 (NZ).