Aquatherm
International pipe manufacturers needed the power of MYOB Exo to improve their efficiency.
Aquatherm import custom manufactured pipes for their customers. They leverage MYOB Exo to gain better stock control, enhanced reporting, and better customer management.
Who are Aquatherm?
Aquatherm is the leading supplier of polypropylene pipe systems for the water and heating sectors. A global company, they import stock from overseas and distribute it across Australia. They have an expanded stock range covering an array of industries and uses and need to manage foreign exchange calculations.
What catalysed the switch to MYOB Exo?
Aquatherm started to transition from MYOB Premier to MYOB Exo when they realised their old system could not handle the complexity of their company. They struggled with foreign currency conversions and could not mark custom costs like freight against a stock item in a purchase. Due to the difficulty in extracting information from their system, reports were often obsolete as soon as they were finished. Aquatherm desperately needed a better way to visualise and analyse their data.
What changes followed the decision for Aquatherm?
MYOB Exo's stock system functionality was the standout attraction for Aquatherm. Their foreign exchange needs were also met by their new ERP. Thanks to its additional power, MYOB Exo could speed up its processing times, as it could not handle the high volume of data. The reporting capability was vastly superior to their old system, giving them greater analytical insight into their data.
How are they now?
The depth of reporting in MYOB Exo has made a significant impression and continues to give Aquatherm new ways to appreciate their position. They can calculate profitability by branch and location, something not possible in their old system. They could also leverage customisations, especially to the Retail and CRM modules. A more sophisticated level of stock reporting enables Aquatherm to differentiate between a stock that is landed and a stock still in transport. Their more sophisticated retail and CRM system allows them to set up customer rebate groups, special prices, and pre-payment arrangements – whilst reporting on all these transactions.
How do I achieve a successful MYOB Exo implementation?
A successful MYOB Exo Implementation depends on 3 critical risk:
Software Risk
Implementer risk
Self-Inflicted Risk
You can reduce your risk by selecting the right implementation partner. Although there are many different partners to choose from, you need the one that will work with you every step of the way. Managing risk is an important part of an implementation; selecting a low-risk partner is critical to a lifetime of success with your Business Management system.
Kilimanjaro Consulting ticks all the boxes when it comes to choosing the right partner:
Kilimanjaro Consulting is the largest and most experienced implementer of MYOB's Enterprise-level business management, accounting, payroll, and workforce management solutions: MYOB Advanced and MYOB Exo. We are experienced, low-risk implementers, helping organisations improve efficiency in their businesses through the use of clever, innovative, and proven technology.
Free resources to help you further.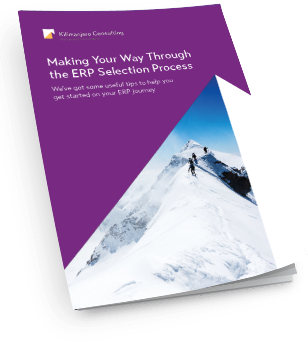 If you are ready to start your Business Management System journey, choose Kilimanjaro Consulting as your trusted implementation partner. If you don't know where to start, download our free E-Book that will take you through everything you need to consider and what to be wary of during this process.
Kilimanjaro Consulting is the largest implementer of MYOB's Business Management Software across Australia and New Zealand. We take the time to understand your business and only recommend products that can meet your needs. To start a conversation about how MYOB Exo can improve efficiency in your organisation, email sales@kilimanjaro-consulting.com or call 1300 857 464 (AU) or 0800 436 774 (NZ).