Broadway Liquor
Speed up your processes and give you company the room to grow with MYOB Advanced
Broadway Liquor's old accounting software was slow and out of date. They had issues moving stock between warehouses and the industry-specific taxes they needed to account for. The move to MYOB Advanced gave them the speed and flexibility they needed with the custom functionality to support their complex business.
Who is Broadway Liquor?
Broadway Liquor has existed in the Australian market since 1981 they began importing Spanish wines. They have expanded its operations over the last 40 years to sell to bottle shops, restaurants, and other fields in the hospitality industry. They are a nationwide business with different warehousing and distribution needs.
What catalysed the switch to MYOB Advanced?
The alcohol industry is affected by several taxes and fees, so Broadway Liquor needed a capable system to handle these requirements. Their old system was becoming quite slow, unable to handle multiple warehouse sites with different sales prices, discount groups, and sales representatives. It required a significant effort to verify that everything was being entered into their system correctly. MYOB Advanced was chosen as it offered good value for money and was easy to use without compromising its reporting power. However, most importantly, it could meet all their industry-specific requirements.
What changes followed the decision?
The cloud-based access was a big upside for a growing family business with a sales team that often works remotely. MYOB Advanced has undergone in-depth customisation during implementation to account for industry-specific elements such as WET (Wine Equalisation Tax). MYOB Advanced can handle and account for complex taxes, even submitting Taxable Payments Annual Reports (TPAR) directly to the ATO.
How are they now?
While Broadway Liquor initially used both systems in parallel during the transition phase, they are now one hundred per cent moved to MYOB Advanced Business. They have enjoyed the transferrals of stock between warehouses, noting dramatic time savings over their old processes and reduced errors. They are able to access key information from anywhere and at any time, speeding up their processes and improving customer service. They are focused on growth into the future and the power they can still see in MYOB Advanced.
How do I achieve a successful MYOB Advanced implementation?
A successful MYOB Advanced Implementation depends on 3 critical risk:
Software Risk
Implementer risk
Self-Inflicted Risk
You can reduce your risk by selecting the right implementation partner. Although there are many different partners to choose from, you need the one that will work with you every step of the way. Managing risk is an important part of an implementation; selecting a low-risk partner is critical to a lifetime of success with your Business Management system.
Kilimanjaro Consulting ticks all the boxes when it comes to choosing the right partner:
Kilimanjaro Consulting is the largest and most experienced implementer of MYOB's Enterprise-level business management, accounting, payroll, and workforce management solutions: MYOB Advanced and MYOB Exo. We are experienced, low-risk implementers, helping organisations improve efficiency in their businesses through the use of clever, innovative, and proven technology.
Free resources to help you further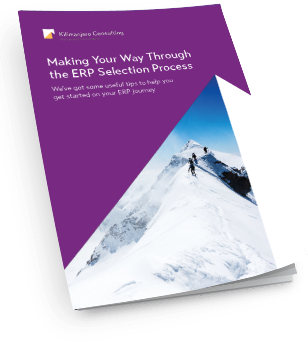 If you are ready to start your Business Management System journey, choose Kilimanjaro Consulting as your trusted implementation partner. If you don't know where to start, download our free E-Book that will take you through everything you need to consider and what to be wary of during this process.
To learn more about how MYOB Advanced has helped Broadway Liquor to speed up its processes and continue its nationwide growth, download the PDF below. If you are looking for more information you can visit the MYOB Advanced page here or contact us at sales@kilimanjaro-consulting.com and reach us by phone at 1300 857 464 (AU) or 0800 436 774 (NZ).