Catering Industries
Kilimanjaro Consulting served up MYOB Exo to Catering Industries
Catering Industries is established in over 75 sites across Canberra, Sydney and Melbourne, and has over 700 employees. Started in 1977, they are one of Australia's largest, most recognised catering providers.
The business used MYOB Premier for the better part of a decade but found it had its limitations due to a large number of transactions and users going through the system.
Catering Industries' Trusted Implementation partner
Kilimanjaro Consulting is ANZ's largest, most experienced, and most skilled team. When Catering Industries decided to implement MYOB Exo, they chose Kilimanjaro Consulting as their partner of choice. We worked to understand Catering Industries' workflows and customise the software to meet their specific needs. We follow a structured implementation methodology, and combined with the skills, knowledge and support of our team; we are able to guide you through the implementation process. At Kilimanjaro Consulting, we pride ourselves on being technology Sherpas, focused on building long-term relationships with clients and maintaining that partnership as their business grows. We take pride in Catering Industries' success and look forward to our continued partnership.
What set MYOB Exo apart was the opportunity to work with Kilimanjaro, and what set Kilimanjaro apart was our determination to find a solution to meet Catering Industries' needs.
To understand the company's requirements, Kilimanjaro set about undertaking a detailed review to be discussed with Catering Industries. "By assessing and understanding Catering Industries' needs, we ensured we were on the same page and could provide the best solution possible", said Kilimanjaro's Managing Director Ronnie Baskind.
"With 75 facilities nationwide, it was critical for Catering Industries to attain accurate, detailed costings in each site's P&L. The P&L systems are used so extensively and specifically, and this was all through the configuration of MYOB Exo. The knowledge of these requirements could only be attained through a thorough, detailed design phase", said our Director of Operations, Jason Fegan.
This customisable configuration is the best part of MYOB Exo for Catering Industries.
How do I achieve a successful MYOB Exo implementation?
A successful MYOB Exo Implementation depends on 3 critical risk:
Software Risk
Implementer risk
Self-Inflicted Risk
You can reduce your risk by selecting the right implementation partner. Although there are many different partners to choose from, you need the one that will work with you every step of the way. Managing risk is an important part of an implementation; selecting a low-risk partner is critical to a lifetime of success with your Business Management system.
Kilimanjaro Consulting ticks all the boxes when it comes to choosing the right partner:
Kilimanjaro Consulting is the largest and most experienced implementer of MYOB's Enterprise-level business management, accounting, payroll, and workforce management solutions: MYOB Advanced and MYOB Exo. We are experienced, low-risk implementers, helping organisations improve efficiency in their businesses through the use of clever, innovative, and proven technology.
Free resources to help you further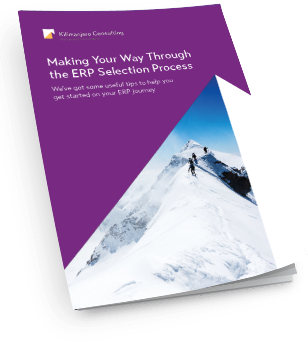 If you are ready to start your Business Management System journey, choose Kilimanjaro Consulting as your trusted implementation partner. If you don't know where to start, download our free E-Book that will take you through everything you need to consider and what to be wary of during this process.
Kilimanjaro Consulting is the largest implementer of MYOB's Business Management Software across Australia and New Zealand. We take the time to understand your business and only recommend the products that can meet your needs. To start a conversation about how MYOB Exo can improve efficiency in your organisation, email sales@kilimanjaro-consulting.com, or call 1300 857 464 (AU) or 0800 436 774 (NZ).