Catering Industries
Kilimanjaro Consulting configured MYOB Exo to maximise Catering Industries' financial tracking flexibility across the entire organisation.
Catering Industries outgrew its existing MYOB Premier software. They needed a new system and the right partner to implement it. As the number 1 MYOB partner, Kilimanjaro Consulting provided a personalised and implementation service for Catering Industries to get the best value from MYOB Exo.
Who is Catering Industries?
Catering Industries is a major catering provider in Australia, serving clients in aged care, education, and business. Established in 1977, the company has grown to be one of the largest in the country. Catering Industries operates in New South Wales, the ACT, and Victoria, with 75 sites and over 700 employees. Managing finances for a business of this size was a continual challenge requiring suitable software.
What catalysed the switch to MYOB Exo?
Catering Industries had been using MYOB Premier, and the management team had a positive experience using it in the earlier stages of growth. However, as time passed, MYOB Premier struggled to keep up with the large number of transactions and the ever-growing volume of customer records. The Catering Industries' management team could not analyse and explore their data, and reports required a significant amount of manual work to produce.
Catering Industries' Trusted Implementation Partner
Kilimanjaro Consulting has the largest, most experienced, and most skilled team of MYOB Exo consultants across Australia and New Zealand. When Catering Industries decided to implement MYOB Exo, they chose Kilimanjaro Consulting as their partner of choice. We worked to understand Catering Industries' workflows and customise the software to meet their specific needs. Our team follows a structured implementation methodology. Combined with our skills, knowledge and support, we can guide you smoothly through the implementation process. At Kilimanjaro Consulting, we pride ourselves on being technology Sherpas, focused on building long-term relationships with clients and maintaining that partnership as their business grows. We take pride in Catering Industries' success and look forward to our continued partnership.
What changes followed this decision?
The customisations made within MYOB Exo allowed Catering Industries to view profit and loss statements for each of their 75 sites. Our team further tailored these reports to be like their old report designs, so that the transition was as smooth as possible.
Catering Industries now view both posted and unposted General Ledger (GL) transactions in their profit and loss reports, allowing different sites to close their month at different times. This saves valuable time for the Catering Industries finance team without compromising data accuracy and timeliness across the organisation.
MYOB Exo's custom SQL server reporting services made these new features possible. Catering Industries can now run its session and exception reports live for each site, allowing them to identify errors as soon as they appear.
How are they now?
Catering Industries have quickly and easily adapted to using MYOB Exo. Through communication and collaboration with their trusted software partner, Kilimanjaro Consulting, the MYOB Exo implementation has achieved the desired outcome for Catering Industries.
For Catering Industries, the best MYOB Exo feature is in its configurability. MYOB Exo allowed for easily accessible databases that let Catering Industries work their way, making costs easier and quicker to analyse and extract – saving hours of end-of-month processes.
In the short term, Catering Industries was worried about its need for extra staff. But in the long term, they know MYOB Exo won't suffer from Catering Industries' continued growth and will be able to accommodate accordingly.
How do I achieve a successful MYOB Exo implementation?
A successful MYOB Exo Implementation depends on 3 critical risk:
Software Risk
Implementer risk
Self-Inflicted Risk
You can reduce your risk by selecting the right implementation partner. Although there are many different partners to choose from, you need the one that will work with you every step of the way. Managing risk is an important part of an implementation; selecting a low-risk partner is critical to a lifetime of success with your Business Management system.
Kilimanjaro Consulting ticks all the boxes when it comes to choosing the right partner:
Kilimanjaro Consulting is the largest and most experienced implementer of MYOB's Enterprise-level business management, accounting, payroll, and workforce management solutions: MYOB Advanced and MYOB Exo. We are experienced, low-risk implementers, helping organisations improve efficiency in their businesses through the use of clever, innovative, and proven technology.
Free resources to help you further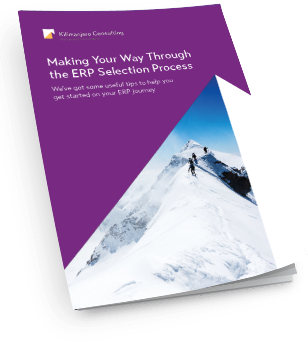 If you are ready to start your Business Management System journey, choose Kilimanjaro Consulting as your trusted implementation partner. If you don't know where to start, download our free E-Book that will take you through everything you need to consider and what to be wary of during this process.
Kilimanjaro Consulting is the largest implementer of MYOB's Business Management Software across Australia and New Zealand. We take the time to understand your business and only recommend the products that can meet your needs. To start a conversation about how MYOB Exo can improve efficiency in your organisation, email sales@kilimanjaro-consulting.com, or call 1300 857 464 (AU) or 0800 436 774 (NZ).