Chapman Grove Wines
This WA wine company credits Exo for increased visibility and continuous growth
Chapman Grove Wines is a privately owned company based in Western Australia. Having only been founded in 2005, the winery has twice been awarded five stars by James Halliday in his Australian Wine Companion and was rated in his 'Best of the Best' list of Margaret River Wineries, Australian Cabernet Producers and Australian Chardonnay Producers.
Achieving such success came with business growth. Therefore, the company turned to researching Enterprise Resource Planning software, as they knew about its plethora of desirable functionalities to support their business processes.
What catalysed the switch?
Albeit a young company at the time, Chapman Grove Wines had significant export markets, contract sales staff in Western Australia and Victoria, distributors in Queensland and NSW – and wine stored in five warehouses across Australia. However, with the task of tracking orders and stick levels falling onto one person, managing director Ron Fraser, the company knew that they needed a reliable and robust accounting system.
What was critical for Chapman Grove Wines was integrated stock control, component costing of products, and customised reporting. Therefore, having looked at multiple options, it appeared there was no match for MYOB Exo thanks to its broad functionality and reasonable pricing.
Which changes followed the decision?
Within a few days of the initial installation, the users had a basic understanding of how to use the software.
"The system keeps an audit trail of everything you input, so it can be a bit daunting at first – not wanting to make a mistake. But once you understand how to 'undo' your entries, your confidence grows." – Ron Fraser
Chapman Grove Wines additionally noticed multiple opportunistic areas throughout their systems, one such opportunity being the development of a report to calculate and track Wine Equalisation Tax applicable to all sales.
"From time to time the Australian Taxation Office requests additional information from us in support of our business activity statements. Not only do they take confidence from the fact that we use Exo," he says, "but the instant visibility MYOB Exo gives us through its various reports means we can quickly and easily access any data on the business we need to" – Ron Fraser
How are they now?
Chapman Grove Wines is a story of true success, growing from a start up to a business with interstate operations and warehousing in just 4 years.
"And we don't want to stop now," says Fraser – "we want to keep growing". "MYOB Exo gives us the ability to keep doing that, letting us scale things up to match the growth in our business."
How do I achieve a successful MYOB Exo implementation?
A successful MYOB Exo Implementation depends on 3 critical risk:
Software Risk
Implementer risk
Self-Inflicted Risk
You can reduce your risk by selecting the right implementation partner. Although there are many different partners to choose from, you need the one that will work with you every step of the way. Managing risk is an important part of an implementation; selecting a low-risk partner is critical to a lifetime of success with your Business Management system.
Kilimanjaro Consulting ticks all the boxes when it comes to choosing the right partner:
Kilimanjaro Consulting is the largest and most experienced implementer of MYOB's Enterprise-level business management, accounting, payroll, and workforce management solutions: MYOB Advanced and MYOB Exo. We are experienced, low-risk implementers, helping organisations improve efficiency in their businesses through the use of clever, innovative, and proven technology.
Free resources to help you further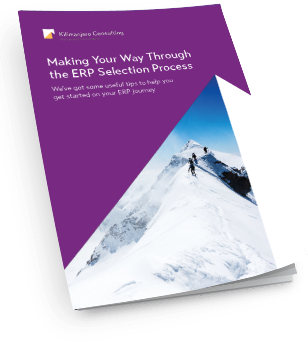 If you are ready to start your Business Management System journey, choose Kilimanjaro Consulting as your trusted implementation partner. If you don't know where to start, download our free E-Book that will take you through everything you need to consider and what to be wary of during this process.
Kilimanjaro Consulting is the largest implementer of MYOB's Business Management Software across Australia and New Zealand. We take the time to understand your business and only recommend the products that can meet your needs. To start a conversation about how MYOB Exo can improve efficiency in your organisation, email sales@kilimanjaro-consulting.com, or call 1300 857 464 (AU) or 0800 436 774 (NZ).