Codecom
Future-proof and cloud-based MYOB Advanced met all of Codecom's needs
Codecom is a telecommunications company that endeavours to stay at the cutting edge of its fast-moving industry. MYOB Advanced is the future-proof, cloud-based solution they needed to improve efficiency and stay ahead of their competition.
Who is Codecom?
Codecom is a manufacturer and supplier of telecommunications equipment based in Melbourne and the Gold Coast. Their work covers major commercial installations, including structured cabling, fibre optic cabling and the supply of equipment and accessories.
What catalysed the switch to MYOB Advanced?
Codecom strives to match every aspect of its business to the service provided to its clients. They needed industry-leading business management software to match their industry-leading telecommunications hardware and services. However, Codecom were seeing strain from their current solution. The many manual processes and a lack of visibility were hurting its efficiency.
What changed for Codecom after the decision?
In order to stay ahead of the curve for as long as possible, Codecom looked to the cloud. The functionality of MYOB Advanced met many of their needs and was based in the cloud. The scope of MYOB Advanced allowed Codecom to have direct control over its special pricing groups. This stronger CRM suite and an online customer portal resulted in better stock control.
How are they now?
MYOB Advanced has streamlined many processes and improved the accuracy of Codecom's inventory and pricing. Staff can access this data in real-time with multiple branches and working locations. This ensures accurate costing, invoicing, and inventory is available anytime and anywhere to meet customers' demands. The resulting increase in productivity has decreased the days to receive invoice payments. This has improved cash flow and lifted their bottom line.
How do I achieve a successful MYOB Advanced implementation?
A successful MYOB Advanced Implementation depends on 3 critical risk:
Software Risk
Implementer risk
Self-Inflicted Risk
You can reduce your risk by selecting the right implementation partner. Although there are many different partners to choose from, you need the one that will work with you every step of the way. Managing risk is an important part of an implementation; selecting a low-risk partner is critical to a lifetime of success with your Business Management system.
Kilimanjaro Consulting ticks all the boxes when it comes to choosing the right partner:
Kilimanjaro Consulting is the largest and most experienced implementer of MYOB's Enterprise-level business management, accounting, payroll, and workforce management solutions: MYOB Advanced and MYOB Exo. We are experienced, low-risk implementers, helping organisations improve efficiency in their businesses through the use of clever, innovative, and proven technology.
Free resources to help you further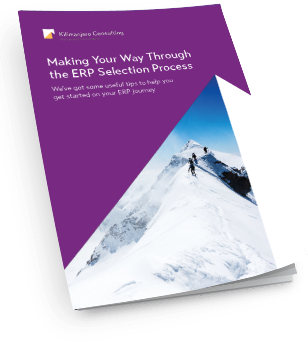 If you are ready to start your Business Management System journey, choose Kilimanjaro Consulting as your trusted implementation partner. If you don't know where to start, download our free E-Book that will take you through everything you need to consider and what to be wary of during this process.
Kilimanjaro Consulting is the largest implementer of MYOB's Business Management Software across Australia and New Zealand. We take the time to understand your business and only recommend the products that can meet your needs. To start a conversation about how MYOB Advanced can improve efficiency in your organisation, email sales@kilimanjaro-consulting.com or call 1300 857 464 (AU) or 0800 436 774 (NZ).