DGR Global
MYOB Advanced helps DGR Global to break new ground
DGR Global is an unfathomably complex entity that contains as many as 70 interlinked companies across multiple jurisdictions and companies. Implementing MYOB Advanced has allowed them to reap the benefits of tighter audit compliance and once-click reporting.
Who are DGR Global?
DGR Global are a parent company to over 70 individual mining companies. They turn mining opportunities into self-sufficient companies and manage these companies over all stages of their growth. DGR Global's scope covers Australia to Canada and England with many companies listed on the various stock exchanges.
What catalysed the switch to MYOB Advanced?
While each entity would work largely independent of each other, DGR Global required a holistic group-wide view. However, the complex nature of their structure meant that AccountRight was not powerful enough to handle all of the incoming data. End of month reports would take the entire month to produce, with the team having to work manually in Excel. Increased audit requirements of the listed companies also placed huge pressures on the team's workload.
What changes followed the decision?
MYOB Advanced combined an intuitive user experience with the right amount of functionality – all at the right price. DGR Global now has almost instant access to their data thanks to one click reporting. The system is also scalable, so that their smaller companies are not overwhelmed with the full power of the ERP at the beginning of their life; but only when they have grown large enough to need it.
How are they now?
The reporting that used to take the finance team of four 320 hours, now takes only 80. The team can now analyse and ask questions of their data in real time. This automation and efficiency upgrade has had ripple effects throughout their business. E-invoicing has made transactions between their companies seamless and audit compliant. MYOB Advanced can also automatically convert currency based on a supplier's location – saving the team even more time. Overall, MYOB Advanced has given DGR Global the power and freedom to better use the data they are capturing, without being bogged down in the admin that comes with managing 70 different companies.
How do I achieve a successful MYOB Advanced implementation?
A successful MYOB Advanced Implementation depends on 3 critical risk:
Software Risk
Implementer risk
Self-Inflicted Risk
You can reduce your risk by selecting the right implementation partner. Although there are many different partners to choose from, you need the one that will work with you every step of the way. Managing risk is an important part of an implementation; selecting a low-risk partner is critical to a lifetime of success with your Business Management system.
Kilimanjaro Consulting ticks all the boxes when it comes to choosing the right partner:
Kilimanjaro Consulting is the largest and most experienced implementer of MYOB's Enterprise-level business management, accounting, payroll, and workforce management solutions: MYOB Advanced and MYOB Exo. We are experienced, low-risk implementers, helping organisations improve efficiency in their businesses through the use of clever, innovative, and proven technology.
Free resources to help you further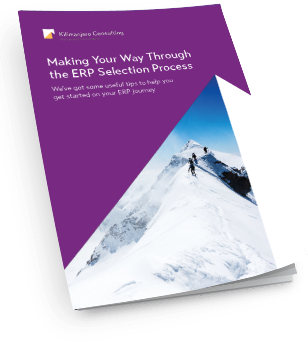 If you are ready to start your Business Management System journey, choose Kilimanjaro Consulting as your trusted implementation partner. If you don't know where to start, download our free E-Book that will take you through everything you need to consider and what to be wary of during this process.
Kilimanjaro Consulting is the largest implementer of MYOB's Business Management Software across Australia and New Zealand. We take the time to understand your business and only recommend the products that can meet your needs. To start a conversation about how MYOB Advanced can improve efficiency in your organisation, email sales@kilimanjaro-consulting.com, or call 1300 857 464 (AU) or 0800 436 774 (NZ).