Kellock Pots
Kellock Pots are growing a strong future within MYOB Advanced
Kellock Pots and Planters have been growing for 20 years, distributing pots across Australia. They relied on manual, out-of-date inventory tracking and customer management. MYOB Advanced improved its processes and will continue to see long-term benefits.
Who are Kellock Pots?
Kellock Pots and Planters are specialist importers and distributors of authentic, decorative pots and planter boxes. They import from many different Asian and European locations and South Africa and have clients across NSW, Victoria, Queensland, and South Australia. To match the fast demand of landscapers across the country, they always need to carry a significant amount of stock.
What catalysed the switch to MYOB Advanced?
As they must keep a lot of stock on hand, they needed a strong system for inventory management. However, they needed a top-class Customer Relationship Management (CRM) tool to get ahead of the game. MYOB Advanced had strong support for both of these functions.
What changes followed the decision?
Kellock now has full visibility of its stock position and incoming orders. The automotive power of MYOB Advanced also means that remittances and reminder emails are sent automatically, saving time from the manual input. The AR team has an instant drill-down on every customer profile to see each correspondence. This has saved the team an estimated day per week in debt collection. However, on the opposite side of the spectrum, having such detailed customer information so readily available has led to an unprecedented level of personalised service.
How are they now?
MYOB Advanced has brought discipline to Kellock Pots in the way they operate. It has brought consistency to their customer process. By creating mailing lists inside MYOB Advanced, they keep their customers informed. Their inventory management processes are also improved through improved warehouse tracking, they have the right stock in the right place at the right time, which improves their bottom line.
How do I achieve a successful MYOB Advanced implementation?
A successful MYOB Advanced Implementation depends on 3 critical risk:
Software Risk
Implementer risk
Self-Inflicted Risk
You can reduce your risk by selecting the right implementation partner. Although there are many different partners to choose from, you need the one that will work with you every step of the way. Managing risk is an important part of an implementation; selecting a low-risk partner is critical to a lifetime of success with your Business Management system.
Kilimanjaro Consulting ticks all the boxes when it comes to choosing the right partner:
Kilimanjaro Consulting is the largest and most experienced implementer of MYOB's Enterprise-level business management, accounting, payroll, and workforce management solutions: MYOB Advanced and MYOB Exo. We are experienced, low-risk implementers, helping organisations improve efficiency in their businesses through the use of clever, innovative, and proven technology.
Free resources to help you further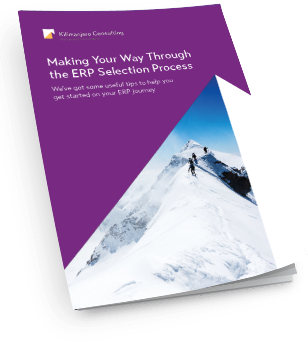 If you are ready to start your Business Management System journey, choose Kilimanjaro Consulting as your trusted implementation partner. If you don't know where to start, download our free E-Book that will take you through everything you need to consider and what to be wary of during this process.
Kilimanjaro Consulting is the largest implementer of MYOB's Business Management Software across Australia and New Zealand. We take the time to understand your business and only recommend the products that can meet your needs. To start a conversation about how MYOB Advanced can improve efficiency in your organisation, email sales@kilimanjaro-consulting.com or call 1300 857 464 (AU) or 0800 436 774 (NZ).