Marnong Estate
MYOB Advanced keeps pace with this growing organisation
Marnong Estate struggled with double handling data across its many disparate systems. MYOB Advanced allowed the organisation to continue functioning as normal but gave a complete and detailed view of each entity.
Who is Marnong Estate?
Marnong Estate is a world-class tourism facility just 35 minutes North of the Melbourne CBD. They occupy a heritage homestead with a rich history and maintain a resort facility, vineyard, brewery, and agribusiness. They initially intended to create a legacy asset for the community. However, Marnong Estate has grown rapidly after finding a niche in its market.
What catalysed the switch to MYOB Advanced?
Marnong Estate leveraged many disparate programs to manage its business. While individually, they all served their purpose, the lack of integration left room for improvement. They were double handling data and could not get the complete picture of their business. MYOB Advanced is a fully featured business management solution that can provide coverage for your entire organisation. Marnong Estate realised they could have improved the big picture visibility thanks to MYOB Advanced. The flexible subaccount and organisational structure still allow for the management of individual entities.
What changed at Marnong Estate following the decision?
MYOB Advanced offered flexibility on a large scale. It provided Marnong Estate with the tools it needed to grow the business. MYOB Advanced is a scalable platform that captures data across the entire organisation and manages its complex accounts structure.
How are they now?
MYOB Advanced has made daily tasks more efficient, while also providing the extra detail that Marnong Estate needed. Each arm of the business can operate independently, with the data being pooled into the main MYOB Advanced system for an overarching view. They are looking to include even more integrations in the future, bringing in enhanced capability for the whole business.
How do I achieve a successful MYOB Advanced implementation?
A successful MYOB Advanced Implementation depends on 3 critical risk:
Software Risk
Implementer risk
Self-Inflicted Risk
You can reduce your risk by selecting the right implementation partner. Although there are many different partners to choose from, you need the one that will work with you every step of the way. Managing risk is an important part of an implementation; selecting a low-risk partner is critical to a lifetime of success with your Business Management system.
Kilimanjaro Consulting ticks all the boxes when it comes to choosing the right partner:
Kilimanjaro Consulting is the largest and most experienced implementer of MYOB's Enterprise-level business management, accounting, payroll, and workforce management solutions: MYOB Advanced and MYOB Exo. We are experienced, low-risk implementers, helping organisations improve efficiency in their businesses through the use of clever, innovative, and proven technology.
Free resources to help you further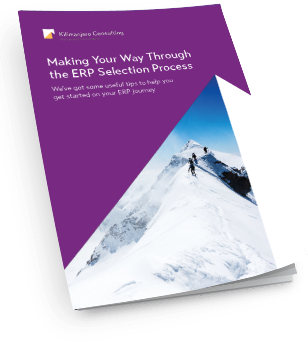 If you are ready to start your Business Management System journey, choose Kilimanjaro Consulting as your trusted implementation partner. If you don't know where to start, download our free E-Book that will take you through everything you need to consider and what to be wary of during this process.
Kilimanjaro Consulting is the largest implementer of MYOB's Business Management Software across Australia and New Zealand. We take the time to understand your business and only recommend the products that can meet your needs. To start a conversation about how MYOB Advanced can improve efficiency in your organisation, email sales@kilimanjaro-consulting.com or call 1300 857 464 (AU) or 0800 436 774 (NZ).