Setpoint
An innovative company required an innovative solution, and MYOB Exo was the perfect fit.
Setpoint was feeling the pain of an unoptimized and slow reporting process. However, following the implementation of MYOB Exo, its finance team can now use their data in real time.
Who are SetPoint?
Setpoint is a leading provider of quality building automation and energy management systems. They are well-recognised as specialists in green building projects and systems integrations. Setpoint also supplies products for the HVAC, Electrical, Refrigeration, and Industrial sectors. They are looking towards a greener, more environmentally efficient future for their industry and company.
What catalysed the switch to MYOB Exo?
Setpoint found that the reporting functionality of their old business management system had become very restrictive. They did not have access to up-to-date data, relying on scripts running overnight to pull information out of their General Ledger. Exporting data from their system was also difficult and slowed down many financial processes. MYOB was a renowned local ERP software provider, another bonus for Setpoint, which highly values local support.
What changes followed the decision for SetPoint?
Innovation was important to Setpoint, and they wanted their new ERP system to reflect that. MYOB Exo's long list of features met all their requirements. MYOB's focus on continual development and improvement of the product was also desirable. Setpoint was happy that MYOB Exo could keep up with the needs of their changing industry.
How are SetPoint now?
Setpoint has enjoyed the intuitive use of MYOB Exo and the power of its reporting functionality. MYOB Exo is set up to collect data simultaneously from their 3 offices, and as a result, they can build reports with accurate real-time data. The system's flexibility also allows more modules to be added as needed, allowing MYOB Exo to be their business management system now and into the future.
This implementation was completed before Enprise Solutions and Kilimanjaro Consulting merged. The original implementation team was, at that time, a part of Enprise Solutions. After the merger, Kilimanjaro Consulting has become the largest and most experienced implementer of MYOB's Enterprise Solutions across Australia and New Zealand. The Kilimanjaro Consulting team continues to support Setpoint in improving efficiency with the clever use of innovative and proven technology.
How do I achieve a successful MYOB Exo implementation?
A successful MYOB Exo Implementation depends on 3 critical risk:
Software Risk
Implementer risk
Self-Inflicted Risk
You can reduce your risk by selecting the right implementation partner. Although there are many different partners to choose from, you need the one that will work with you every step of the way. Managing risk is an important part of an implementation; selecting a low-risk partner is critical to a lifetime of success with your Business Management system.
Kilimanjaro Consulting ticks all the boxes when it comes to choosing the right partner:
Kilimanjaro Consulting is the largest and most experienced implementer of MYOB's Enterprise-level business management, accounting, payroll, and workforce management solutions: MYOB Advanced and MYOB Exo. We are experienced, low-risk implementers, helping organisations improve efficiency in their businesses through the use of clever, innovative, and proven technology.
Free resources to help you further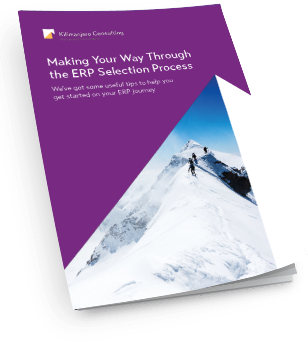 If you are ready to start your Business Management System journey, choose Kilimanjaro Consulting as your trusted implementation partner. If you don't know where to start, download our free E-Book that will take you through everything you need to consider and what to be wary of during this process.
Kilimanjaro Consulting is the largest implementer of MYOB's Business Management Software across Australia and New Zealand. We take the time to understand your business and only recommend products that can meet your needs. To start a conversation about how MYOB Advanced can improve efficiency in your organisation, email sales@kilimanjaro-consulting.com or call 1300 857 464 (AU) or 0800 436 774 (NZ).