New Features of MYOB Exo
The latest improvements to MYOB Exo in version 2021.2
Job Costing – Right-Click Functionality
This release adds a new customisation ability to the right-click functionality in the Job Costing module of MYOB Exo. You can now add or remove different options from the right-click menu.
This can be edited in MYOB Exo Config, but if you need help making these changes, please reach out to one of our consultants. To remove an option, simply unclick any option in the Editor Window that should not be available. Once you save and refresh your settings, these options will be removed. To preserve the functionality of previous versions, all options will be ticked by default.
The reconfigurability is based on user profiles, so you can customise access to certain functions on a user-by-user basis. This is especially important if you need to restrict the use of options like cancel line or write-off line. The profile settings can also be changed based on the specific Job Costing Tab, making user permissions even more flexible.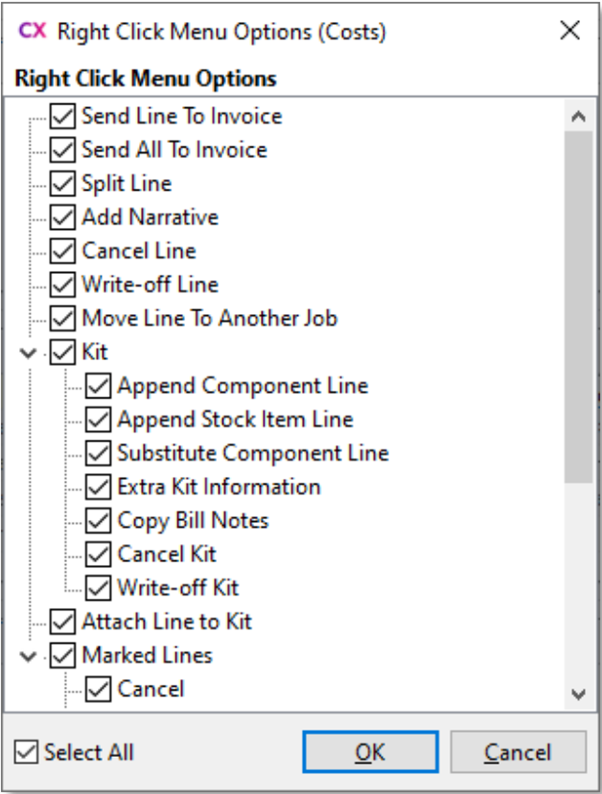 Support for the Payment Times Reporting Scheme
The Payment Times Reporting Scheme aims to improve payment times for small businesses in Australia. It also brings in mandatory reporting for businesses with annual revenue in excess of $100million. These companies must report on their payment times and terms to their small business suppliers. The scheme attempts to provide transparency around large businesses' payment performance while also creating an incentive for improved payment times and practices.
As of version 2021.2, the Payment Times Reporting utility is available in MYOB Exo. By adding the utility to dropdown menus, you can collect the necessary details to generate a file that can be uploaded to the PTRS web portal. The utility also lets you verify and update the Creditor accounts that qualify as a small business for the purposes of PTRS.
For more information about the Payment Times Reporting Scheme, visit the website here.
New Extra Fields Customisation
This new release also adds the ability to change the available Extra Fields on a Sales Order, depending on the orders type. These Extra Fields can be added to the following Sales Order types:
Opportunity History
Inwards Goods
Stock Location
Extra Fields can be customised to collect extra information about your customers or speed up internal processes. These fields can be customised to speed up shipping by preselecting freight options, leaving additional comments on the order or including cubic volumes to automatically calculate shipping costs or pallet requirements.
Integrations add new features to MYOB Exo
One of MYOB Exo's strengths lies in its integration with third-party (add-on) products. These products are designed to enhance the functionality of your system, extending, and supporting native functionality so that you can make better decisions. Integrating these products into your system removes the need for manual data duplication and reduces overall error rates.
Build a truly custom MYOB Exo system – with new features and functionality – for your organisation by integrating add-on products that meet your specific, additional requirements. Kilimanjaro Consulting recommends and supports integrations with the following connected services:
The integrator for MYOB Exo – SynKit
If you already use a 3rd party web-based application for specific functionality but want it integrated into MYOB Exo, then SynKit is your solution. Developed by the experts at Kilimanjaro Consulting, SynKit leverages the application's open API to push and pull live data between your two systems. With SynKit, you can take advantage of unique integrations that your competition will be unable to access, such as:
HubSpot or Salesforce as a best-of-breed CRM,
Shopify, Magento, or Woo Commerce for your e-commerce platform,
SmartFreight to automate and streamline distribution and shipping, or
simPRO or AroFlo for job management, time capture, and field services.
SynKit can integrate MYOB Exo with any 3rd party application with an open API. Contact our team to learn more.
Are you using the latest version of MYOB Exo?
MYOB Exo has a long and rich history, from its early days as ExoNet up to the latest releases. Each new version adds new features and functions to your already powerful system. The latest update to the software will always give you benefits over the older versions. Added functionality may be as simple as an improved workflow, a new widget, a tidier report, or more complex functionality like Bank Feeds. Access to these features is included in your Annual Licence Fee (ALF), so you are missing out on added value by not keeping your system up to date. By regularly updating your software, you ensure your team maintains a reliable, powerful platform to suit your organisation for years to come.
Visit our MYOB Exo Version History page to read all the latest updates and features.
Using the latest version of MYOB Exo gives you access to these new features, as well as many others. If you would like to upgrade your MYOB Exo software, then contact our team to discuss your options. Send an email to our friendly team at sales@kilimanjaro-consulting.com, or call 1300 857 464 (AU) or 0800 436 774 (NZ).