Soul Origin
MYOB Advanced connected each franchise, providing a single overview of the company.
Soul Origin is Australia's fastest growing fresh food franchise. It offers a healthy fast food option with a fantastic selection of gourmet sandwiches, wraps, salads and more! The first Soul Origin store opened in 2011. Five years down the track they now have 52 stores open throughout NSW, the ACT, QLD and Victoria. In addition, Soul Origin has plans to expand to 200 franchises across the country by 2019. To facilitate rapid growth, the company felt it was time to invest in the infrastructure and internal software solutions to manage their expansion.
The problem
While this type of rapid growth is great for business, it can cause issues. Especially when it comes to managing and reporting financials. Many businesses who are at this stage of growth realise that their current financial software simply can't handle the pace. A franchise business model means running multiple business units simultaneously. Which makes it extremely important to have access to bookkeeping and payroll software that simplifies accounting without limiting features. In the beginning, Soul Origin chose MYOB AccountRight which was perfectly suited to manage all branches individually at the time.
Soul Origin's Trusted Implementation partner
Kilimanjaro Consulting is ANZ's largest, most experienced, and most skilled team. When Soul Origin decided to implement MYOB Advanced, they chose Kilimanjaro Consulting as their partner of choice. We worked to understand Soul Origin's workflows and customise the software to meet their specific needs. We follow a structured implementation methodology, and combined with the skills, knowledge and support of our team; we are able to guide you through the implementation process. At Kilimanjaro Consulting, we pride ourselves on being technology Sherpas, focused on building long-term relationships with clients and maintaining that partnership as their business grows. We take pride in Soul Origin's success and look forward to our continued partnership.
Solution
Facing rapid growth, Soul Origin realised they needed a system that could be accessed across the country. By bringing MYOB Advanced together with MYOB AccountRight, Soul Origin was able to see the benefits of this technology within franchises. Working in the cloud meant that they were able to make decisions fast and efficiently. A smooth implementation of MYOB Advanced by Kilimanjaro Consulting, followed by integration with MYOB AccountRight meant that each franchise is connected, providing a single overview of the company. Soul Origin has gone from having simple and time-consuming reporting, spending many hours on manual processes, to using this precious time to focus on customers and having live visibility across every branch.
How do I achieve a successful MYOB Advanced implementation?
A successful MYOB Advanced Implementation depends on 3 critical risk:
Software Risk
Implementer risk
Self-Inflicted Risk
You can reduce your risk by selecting the right implementation partner. Although there are many different partners to choose from, you need the one that will work with you every step of the way. Managing risk is an important part of an implementation; selecting a low-risk partner is critical to a lifetime of success with your Business Management system.
Kilimanjaro Consulting ticks all the boxes when it comes to choosing the right partner:
Kilimanjaro Consulting is the largest and most experienced implementer of MYOB's Enterprise-level business management, accounting, payroll, and workforce management solutions: MYOB Advanced and MYOB Exo. We are experienced, low-risk implementers, helping organisations improve efficiency in their businesses through the use of clever, innovative, and proven technology.
Free resources to help you further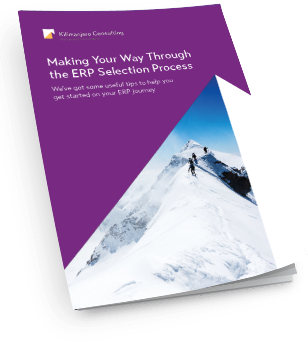 If you are ready to start your Business Management System journey, choose Kilimanjaro Consulting as your trusted implementation partner. If you don't know where to start, download our free E-Book that will take you through everything you need to consider and what to be wary of during this process.
Kilimanjaro Consulting is the largest implementer of MYOB's Business Management Software across Australia and New Zealand. We take the time to understand your business and only recommend the products that can meet your needs. To start a conversation about how MYOB Exo can improve efficiency in your organisation, email sales@kilimanjaro-consulting.com, or call 1300 857 464 (AU) or 0800 436 774 (NZ).