Winton
Winton gains productivity and business potential with MYOB Advanced
Winton was looking for an ERP solution to automate consolidation and provide customised reporting. MYOB Advanced was the answer to their search, with customisation enabling improved efficiency and access to specific real-time insights.
Who is Winton?
Winton is an NZX and ASX-listed group of 30+ companies specialising in developing integrated and fully master-planned communities. Winton focuses on the details and always aims to be the best by design. They have a portfolio of more than 7,500 residential lots, dwellings, apartment units and retirement village units.
What catalysed the switch to MYOB Advanced?
The company structure added a layer of complexity to its financial operations. The Winton Group is made up of many subsidiaries operating at once. However, they only had a small finance team to keep track of everything. Due to the nature of their business, incoming sales were unpredictable and reliant on external factors. While the financial systems of the individual businesses had been managed using MYOB AccountRight, the organisation had wholly outgrown it. They required a centralised, integrated system. They required more robust functionality than their current system would allow while also being able to automate tedious tasks. MYOB Advanced was the cloud-based business management solution they were looking for.
What changes followed the decision?
With MYOB Advanced Business, Winton moved from having 30+ MYOB AccountRight sites to a single, integrated setup. The Velixo reporting add-on also automated consolidation across the entire enterprise. MYOB Advanced's customisation enabled staff to create unique sales reports and uncover powerful insights from one single truth source. Templates in MYOB Advanced led to efficiency improvements in their settlement process. Automated bank feeds were crucial to Winton's software switch, saving their finance team time and stress at month's end.
How are they now?
Winton has been able to future-proof their workflows and increase potential with MYOB Advanced. They are preparing an IPO for listing, which has required a large amount of information gathering with a short turnaround. MYOB Advanced has made this process smoother and quicker than ever before. Automated consolidation provides senior leadership with high-level, real-time insights that were unavailable. MYOB Advanced has changed the entire team's day-to-day requirements, meaning they can focus their energy on value-adding in other business areas.
How do I achieve a successful MYOB Advanced implementation?
A successful MYOB Advanced Implementation depends on 3 critical risk:
Software Risk
Implementer risk
Self-Inflicted Risk
You can reduce your risk by selecting the right implementation partner. Although there are many different partners to choose from, you need the one that will work with you every step of the way. Managing risk is an important part of an implementation; selecting a low-risk partner is critical to a lifetime of success with your Business Management system.
Kilimanjaro Consulting ticks all the boxes when it comes to choosing the right partner:
Kilimanjaro Consulting is the largest and most experienced implementer of MYOB's Enterprise-level business management, accounting, payroll, and workforce management solutions: MYOB Advanced and MYOB Exo. We are experienced, low-risk implementers, helping organisations improve efficiency in their businesses through the use of clever, innovative, and proven technology.
Free resources to help you further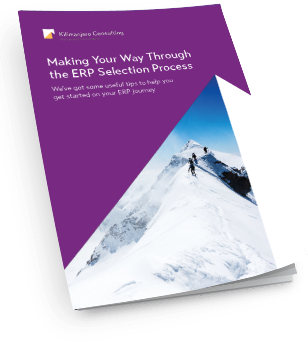 If you are ready to start your Business Management System journey, choose Kilimanjaro Consulting as your trusted implementation partner. If you don't know where to start, download our free E-Book that will take you through everything you need to consider and what to be wary of during this process.
Kilimanjaro Consulting is the largest implementer of MYOB's Business Management Software across Australia and New Zealand. We take the time to understand your business and only recommend the products that can meet your needs. To start a conversation about how MYOB Advanced can improve efficiency in your organisation, email sales@kilimanjaro-consulting.com, or call 1300 857 464 (AU) or 0800 436 774 (NZ).