MYOB Exo is looking better than ever
With an upgraded user interface and DPI scaling, MYOB Exo has never looked better.
The MYOB Exo User Experience has undergone a dramatic overhaul with the release of version 2020.1. Now, with the recent release of version 2021.1, the entire system is seeing the benefit of the enhanced look and feel of the modern MYOB Exo. Your favourite ERP system really is looking better than ever.
Does MYOB Exo really need a change?
MYOB have always made the functionality of MYOB Exo their paramount focus. Adding additional capacity to the system sets your business up for the future, giving you the confidence that you can use MYOB Exo while your company continues to grow.
Advances in I.T. equipment, such as monitor resolutions and customer and industry feedback, meant that the visual side of MYOB Exo needed an upgrade to keep the system modern, up to date and future focussed. All in all, the look was simplified and brought into line with MYOB's other desktop products.
The new look of MYOB Exo
You would never have known your favourite system needed an overhaul until you saw it for yourself. There are visual improvements across all of the MYOB Exo Business modules. From new fonts to new toolbars and menu icons to improved layouts, every screen has seen an update.
The fonts are clearer and easier to read, matching the fonts throughout the Microsoft Windows Suite. It is clearer even when zoomed in so that you can see the benefit alongside the DPI scaling.
The toolbar and menu icons are flatter and larger. They have also been made clearer, and you can hover your mouse over any icon to find a label. You will always know what every icon is for, and you are always able to access the functions you need.
In terms of increased accessibility, dropdown menus have been added on several screens to consolidate related functions and toolbar buttons in one place. This leaves the toolbar clear and clean while also grouping functions in easy-to-find locations.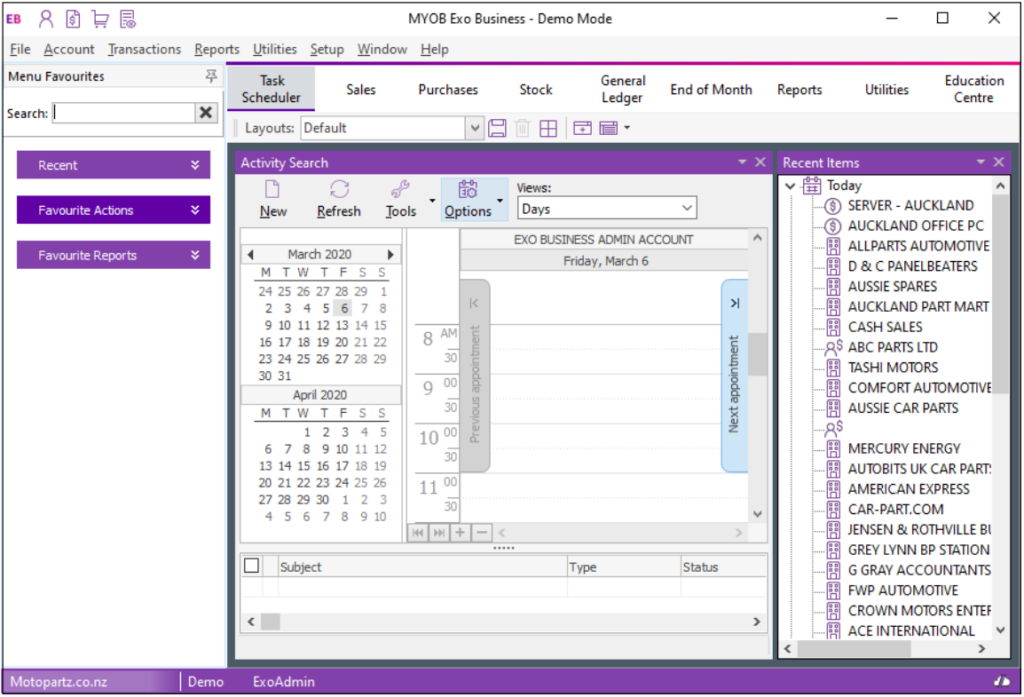 See the benefit of the new scaling DPI
MYOB Exo will now match the Dots Per Inch (DPI) from your computer's display settings. This will automatically resize text and logos for your viewing comfort. Now you can appreciate the full breadth of visual changes, no matter what size of the screen or display you are using.
Ready to use the new modern look in your business?
For a closer look at these new visual upgrades, watch a short video from the most recent User Groups. Our Service Delivery Manager – Kate Cramer – takes us through the scaling DPI as well as the new look and feel of MYOB Exo.
How can software solutions improve real businesses?
The Arcadia Corporation successfully transitioned into the cloud and achieved a single, efficient platform from which they now manage Accounts, Inventory Management and CRM. Moving from MYOB Exo to MYOB Advanced improved functionality and provided end-to-end management of its products. Additionally, integrations with their core business management system enhanced visibility and simplified reporting for the finance and sales teams.
Learn more about the real benefits of moving your organisation into the cloud by reading the case study here.
These visual upgrades are only available in the latest versions of MYOB Exo. Along with the aesthetic upgrades to the newest versions, you also get access to the newest functionality. To upgrade your MYOB Exo system, contact us at sales@kilmanjaro-consulting.com or 1300 857 464 (AU) or 0800 436 774 (NZ).