Australian Custom Pipes
MYOB Exo solved pain points and improved transparency for the swiftly growing business.
Australian Custom Pipes, owned and directed by Dennis Jones, is a New South Wales-based manufacturer and supplier of pipes, fittings and fabrications. Their machinery produces custom orders that fulfil the needs of homes and buildings Australia wide. However, their stellar 15-year track record of solid growth driven by quality, price and service was being held back by software that was not up to the task. Thus, MYOB Exo stepped up to the plate.
What catalysed the switch to MYOB Exo?
With increasing complexities including an inventory list with thousands of units of raw materials and more than 500 pipes and fittings, they realised that they needed to upgrade their business software to keep up with their aggressive growth strategy.
"We had numerous Excel spreadsheets and a bit of everything, everywhere. With more customers and a bigger sales team, we needed better visibility and control over every aspect of the business" – Dennis Jones, Managing Director.
Which changes followed the decision?
Kilimanjaro's Exo consultant, Terelou Lazarte, conducted a series of workshops with the team to uncover their pain points and map their ideal future state.
"Our urgent focus was on greater visibility of stock across multiple warehouses, customised reporting and more insights into sales opportunities" – Terelou Lazarte, Senior Consultant.
The business went live with MYOB Exo in July 2018, gaining benefits such as customised reporting tools, visibility of stock across multiple warehouses, cost controls and insights into sales opportunities. Additionally, MYOB Exo was tightly integrated with MS Outlook© to automate routine communications, allowing customers to receive immediate details about the order progress.
How are Australian Custom Pipes now?
The implementation of MYOB Exo for Australian Custom Pipes saw significant results with the company increasing their sales conversion rates, improving transparency of the production process and gaining real cost control benefits. The single, integrated business software solution solved the company's pain points which were constraining growth.
Adams Pest Control is one of the oldest pest control companies in Australia. Formed in 1944, it now has a staff of more than 90 and includes recognisable brands like Peter the Possum Man.
The organisation was using a DOS-based mainframe system to record sales and process general ledger accounting. It was stable enough but offered almost no transparency in the business.
Adams Pest Control fired off a quick email to MYOB outlining their situation and almost immediately got a reply saying 'we've got a product and we can help you'." That product was MYOB Exo.
They chose MYOB Exo because of it's scalability, and it's terrific value for money.
How do I achieve a successful MYOB Exo implementation?
A successful MYOB Exo Implementation depends on 3 critical risk:
Software Risk
Implementer risk
Self-Inflicted Risk
You can reduce your risk by selecting the right implementation partner. Although there are many different partners to choose from, you need the one that will work with you every step of the way. Managing risk is an important part of an implementation; selecting a low-risk partner is critical to a lifetime of success with your Business Management system.
Kilimanjaro Consulting ticks all the boxes when it comes to choosing the right partner:
Kilimanjaro Consulting is the largest and most experienced implementer of MYOB's Enterprise-level business management, accounting, payroll, and workforce management solutions: MYOB Advanced and MYOB Exo. We are experienced, low-risk implementers, helping organisations improve efficiency in their businesses through the use of clever, innovative, and proven technology.
Free resources to help you further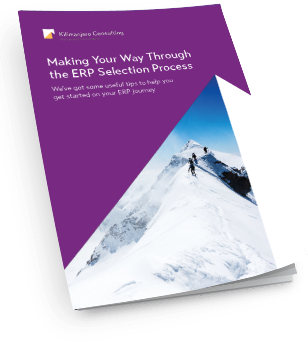 If you are ready to start your Business Management System journey, choose Kilimanjaro Consulting as your trusted implementation partner. If you don't know where to start, download our free E-Book that will take you through everything you need to consider and what to be wary of during this process.
Kilimanjaro Consulting is the largest implementer of MYOB's Business Management Software across Australia and New Zealand. We take the time to understand your business and only recommend the products that can meet your needs. To start a conversation about how MYOB Exo can improve efficiency in your organisation, email sales@kilimanjaro-consulting.com, or call 1300 857 464 (AU) or 0800 436 774 (NZ).