High Duty Plastics
MORE MX enabled High Duty Plastics to fully optimise their manufacturing operations.
High Duty Plastics has reduced its planning and dispatch times by more than a third. Integrating MORE MX – manufacturing, scheduling, and capacity planning software with MYOB Exo streamlined and automated their manufacturing workflows.
Who are High Duty Plastics?
High Duty Plastics (HDP) is a long-established Kiwi-owned company with a reputation for designing, developing, producing, and delivering progressive and innovative solutions. Their work ranges from one-off projects to high-volume production. HDP has one of the most advanced workshops in the country with a raft of modern equipment, including CNC lathes, CNC machining centres, CNC routers, 3-D printers, robotic welders, and laser cutting/engraving machines. They service many industries, including transport, forestry, dairy, and hydropower. High Duty Plastics is a family-owned business that strives for customer satisfaction and short lead times.
What catalysed the switch to MORE MX?
High Duty Plastics had previously struggled with maintaining a comprehensive view of their data, meaning they were left spending more time tracking down answers and less time taking action. They needed software that could store all the information in an accessible, user-friendly format and provide the customisation that the production company needed.
What changes followed the decision?
High Duty Plastics now uses MORE MX integrated with MYOB Exo to plan all production in one central place. With every organisation member going to one place for their information, they immediately saw efficiency improvements, from the start of the order to dispatch. The central system, MORE MX, has provided accurate forecasts and job times, letting them get ahead and plan for the future.
How are they now?
High Duty Plastics has reaped the benefits of integrating MORE MX. They no longer struggle with their previous system's uncertainty and lack of visibility. It has provided a central storage system for all the information any team member in the organisation might need for any job on the floor. Improvements in planning and dispatching processes have alleviated time-consuming manual tasks. Benefits are not only seen by team members but in measurable results. MORE MX has led to a 35-40% time-saving increase from order to dispatch. As a result of the MORE MX integration with MYOB Exo Business, High Duty Plastics can provide their services to more customers increasing their revenue potential.

This implementation was completed before Enprise Solutions and Kilimanjaro Consulting merged. The original implementation team was, at that time, a part of Enprise Solutions. After the merger, Kilimanjaro Consulting has become the largest and most experienced implementer of MYOB's Enterprise Solutions across Australia and New Zealand. The Kilimanjaro Consulting team continues to support High Duty Plastics to improve efficiency with the clever use of innovative and proven technology.
How do I achieve a successful implementation?
A successful implementation depends on managing 3 critical risks:
Software Risk
Implementer risk
Self-Inflicted Risk
You can reduce your risk by selecting the right implementation partner. Although there are many different partners to choose from, you need the one that will work with you every step of the way. Managing risk is an important part of an implementation, selecting a low-risk partner is critical to a lifetime of success with your Business Management system.
Kilimanjaro Consulting ticks all the boxes when it comes to choosing the right partner:
Kilimanjaro Consulting is the largest and most experienced implementer of MYOB's Enterprise-level business management, accounting, payroll, and workforce management solutions: MYOB Advanced and MYOB Exo. We are experienced, low-risk implementers, helping organisations improve efficiency in their businesses through the use of clever, innovative, and proven technology.
Free resources to help you further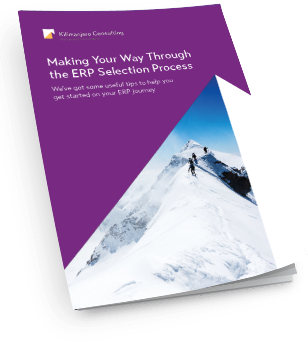 If you are ready to start your Business Management System journey, choose Kilimanjaro Consulting as your trusted implementation partner. If you don't know where to start, download our free E-Book that will take you through everything you need to consider and what to be wary of during this process.
To learn more about how MORE MX Integrated with MYOB Exo Business has helped High Duty Plastics to make their complex manufacturing company work more efficiently, download the PDF from the panel to the right. For more information about MYOB Exo, visit the main product page. Contact our team at sales@kilimanjaro-consulting.com or call 1300 857 464 (AU) or 0800 436 774 (NZ) to discuss your unique requirements.