Lifestyle Home Maintenance
Automating tasks with MYOB Advanced Business helped Lifestyle Home Maintenance to improve efficiency.
From lawn care to landscape maintenance, Lifestyle Home Maintenance's complex structure made efficient work increasingly challenging. Following the implementation of MYOB Advanced Business, they could streamline workflows and spend their time focusing on more critical areas of the company.
Who is Lifestyle Home Maintenance?
Lifestyle Home Maintenance (LHM) is a Brisbane-based property maintenance company dedicated to servicing the real estate and body corporate industries. Within three months, the business went from offering basic lawn care to many maintenance services across its network of property managers. In a few short years, the business has grown exponentially. They deploy a growing team to all parts of Brisbane, helping their clients with various jobs and projects. This field team is supported by an administration team that manages enquiries, quotes, bookings, and payments at the highest level of service.
What catalysed the switch to MYOB Advanced Business?
The original goal of LHM was to account for the high-volume, low-value jobs that were not currently being serviced in the market. However, the swift growth of the company and the sheer volume of work were causing strains on their system. They needed a new solution that was able to grow alongside them. When they explored all of the features of MYOB Advanced, LHM knew that this was the future-proof solution that could meet their needs.
What changes followed the implementation?
Automation was a considerable benefit to LHM's administration team. Processes that would take 40 minutes on average were now done in approximately 5. Reports that would take 8 hours to complete were now done in less than a minute, all at the push of a button.
LHM also required a product that worked with their operational service, ServiceM8. With MYOB Advanced Business, it became easier to collate client reports and examine more specific areas of each property. With these detailed insights, easily accessible from the system, LHM could make better decisions and drive growth.
How are they now?
Following the MYOB Advanced Business implemented and taking advantage of the benefits of automation, the administrative workload has been reduced by 80%. LHM is now better equipped to take on the sheer volume of jobs and can even look to expand its service offering. Today, the business can increase the size of its field team and is now on track to expand into other areas of Australia – all while being fully supported by MYOB Advanced Business.
How do I achieve a successful MYOB Advanced implementation?
A successful MYOB Advanced Implementation depends on 3 critical risk:
Software Risk
Implementer risk
Self-Inflicted Risk
You can reduce your risk by selecting the right implementation partner. Although there are many different partners to choose from, you need the one that will work with you every step of the way. Managing risk is an important part of an implementation; selecting a low-risk partner is critical to a lifetime of success with your Business Management system.
Kilimanjaro Consulting ticks all the boxes when it comes to choosing the right partner:
Kilimanjaro Consulting is the largest and most experienced implementer of MYOB's Enterprise-level business management, accounting, payroll, and workforce management solutions: MYOB Advanced and MYOB Exo. We are experienced, low-risk implementers, helping organisations improve efficiency in their businesses through the use of clever, innovative, and proven technology.
Free resources to help you further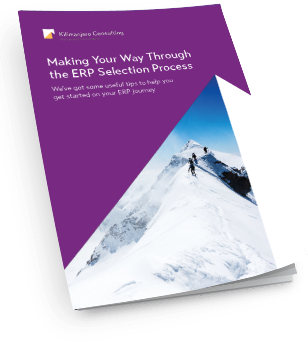 If you are ready to start your Business Management System journey, choose Kilimanjaro Consulting as your trusted implementation partner. If you don't know where to start, download our free E-Book that will take you through everything you need to consider and what to be wary of during this process.
Kilimanjaro Consulting is the largest implementer of MYOB's Business Management Software across Australia and New Zealand. We take the time to understand your business and only recommend the products that can meet your needs. To start a conversation about how MYOB Advanced can improve efficiency in your organisation, email sales@kilimanjaro-consulting.com or call 1300 857 464 (AU) or 0800 436 774 (NZ).