Mint Payments
Moving to MYOB Advanced has improved productivity and efficiency at Mint Payments
At Kilimanjaro Consulting, one of our goals of doing business is to watch other companies achieve their own. MYOB Advanced has made previously unreachable goals of efficiency and success become a reality for many businesses, and such was the case with multi-national IT company, Mint Payments.
Who is Mint Payments?
Founded in 2005 with a diverse employee base, Mint Payments provides organisations and businesses with the ability to accept, process and manage in-person, online and mobile payments. In essence, their purpose is to remove the hassle and risk our of card and electronic payment transactions. However, with increased demand for their services, the company began to grow, and it became clearer and clearer that an upgrade in their systems processes was an absolute necessity.
What catalysed the switch?
From using a base level system for 7 years, Mint Payments was running into a number of issues through a lack of automation and general support from their providers. With the finance team complaining and their efficiency plummeting, the CFO at Mint Payments, David Owyong, jumped at the opportunity after being referred to MYOB Advanced by a client of theirs.
Being attracted to the broad range of functions, in particular the employee portal for expenses and purchase requests as well as the beneficial cloud capabilities, Mint Payments realized that they "would be able to get that same enterprise grade solution but at a fraction of the cost with MYOB Advanced" – David Owyong.
Mint Payment's Trusted Implementation partner
Kilimanjaro Consulting is ANZ's largest, most experienced, and most skilled team. When Mint Payment decided to implement MYOB Advanced, they chose Kilimanjaro Consulting as their partner of choice. We worked to understand Mint Payment's workflows and customise the software to meet their specific needs. We follow a structured implementation methodology, and combined with the skills, knowledge and support of our team; we are able to guide you through the implementation process. At Kilimanjaro Consulting, we pride ourselves on being technology Sherpas, focused on building long-term relationships with clients and maintaining that partnership as their business grows. We take pride in Mint Payment's success and look forward to our continued partnership.
Which changes followed the decision?
Having operations based in Australia, New Zealand and Singapore, Mint Payments noticed the benefits of unlimited accessibility straight away. Additionally, with the strong presence of Kilimanjaro's Support team, the team at Mint Payments received the testing, training and final reconciliation that they needed to make the most out of their system.
"What we really liked about Kilimanjaro was their genuine interest in our business and what we do, and how that eventually translated into a solution" – David Owyong
How are they now?
When Mint Payments compared their previous system with its newfound ERP solution, MYOB Advanced, the company can only reel off a long list of improvements. Experiencing new and major efficiencies from powerful automation, system scalability and user-friendliness, as well as from having a better vale ERP solution at a simple price point, has rocketed Mint Payment into a world of business that they had previously deemed impossible
How do I achieve a successful MYOB Advanced implementation?
A successful MYOB Advanced Implementation depends on 3 critical risk:
Software Risk
Implementer risk
Self-Inflicted Risk
You can reduce your risk by selecting the right implementation partner. Although there are many different partners to choose from, you need the one that will work with you every step of the way. Managing risk is an important part of an implementation; selecting a low-risk partner is critical to a lifetime of success with your Business Management system.
Kilimanjaro Consulting ticks all the boxes when it comes to choosing the right partner:
Kilimanjaro Consulting is the largest and most experienced implementer of MYOB's Enterprise-level business management, accounting, payroll, and workforce management solutions: MYOB Advanced and MYOB Exo. We are experienced, low-risk implementers, helping organisations improve efficiency in their businesses through the use of clever, innovative, and proven technology.
Free resources to help you further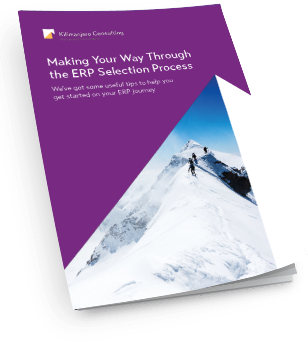 If you are ready to start your Business Management System journey, choose Kilimanjaro Consulting as your trusted implementation partner. If you don't know where to start, download our free E-Book that will take you through everything you need to consider and what to be wary of during this process.
Kilimanjaro Consulting is the largest implementer of MYOB's Business Management Software across Australia and New Zealand. We take the time to understand your business and only recommend the products that can meet your needs. To start a conversation about how MYOB Advanced can improve efficiency in your organisation, email sales@kilimanjaro-consulting.com, or call 1300 857 464 (AU) or 0800 436 774 (NZ).