Get Mobile with MYOB Advanced
Your MYOB Advanced, anywhere, anytime.
For most businesses, having access to the right information, on time, and across the entire company is crucial for good management. Management Teams and Executives are constantly in need of adequate information, here and now. Not having access to real-time information of what is happening in your company becomes frustrating. At Kilimanjaro, we understand this as you aren't able to make important decisions based on facts. Thankfully, MYOB software gives businesses this accessibility.
What is MYOB Advanced?
MYOB Advanced (powered by Acumatica) is a cloud-based ERP system that covers all aspects of your company, whenever and wherever you are. Using MYOB Advanced removes the hassle of storing information directly on a computer on-site and gives your entire business access to what is most important right at your fingertips. This means that your business gains flexibility with a scalable management solution, which is designed to grow with your business.
Why your business needs MYOB Advanced
Connectivity and Access
Imagine having access to the information you need in your company, anywhere, from any device: tablet, smartphone or laptop. Whether you are at the airport, travelling across the country or simply working from home, you have the ability to make important decisions and act accordingly 24/7.
No Hardware Costs
Are you looking at your IT management and asking why is this costing so much effort? On-premise software might not be ideal for you, with the associated hardware, administration and maintenance requirements. MYOB Advanced is a solution that doesn't require any of the above resources. The software is subscription based meaning you pay what you use for. Deployed via SaaS, and hosted on Amazon Web Services (AWS) means it can be accessed from any web browser on any Internet-connected device.
Security in MYOB Advanced
You never have to worry about whether your information in secure. Backups are automatic at no extra charge. All transactional data is backed up daily on a 30-day backup schedule. MYOB takes the privacy and security of their clients' business data very seriously and with the support from the Kilimanjaro Team, you are in safe hands.
No Downtime
There is nothing more frustrating than being restricted to your system due to constant upgrades and outdated versions. When using MYOB Advanced, maintenance and upgrades happen according to a schedule, in the cloud. There is no downtime to upgrade your system with the latest features. Everything is run over-night, so your ERP system is kept up-to-date and you have access to your company information whenever you need.
More Automation, More Real-Time Analysis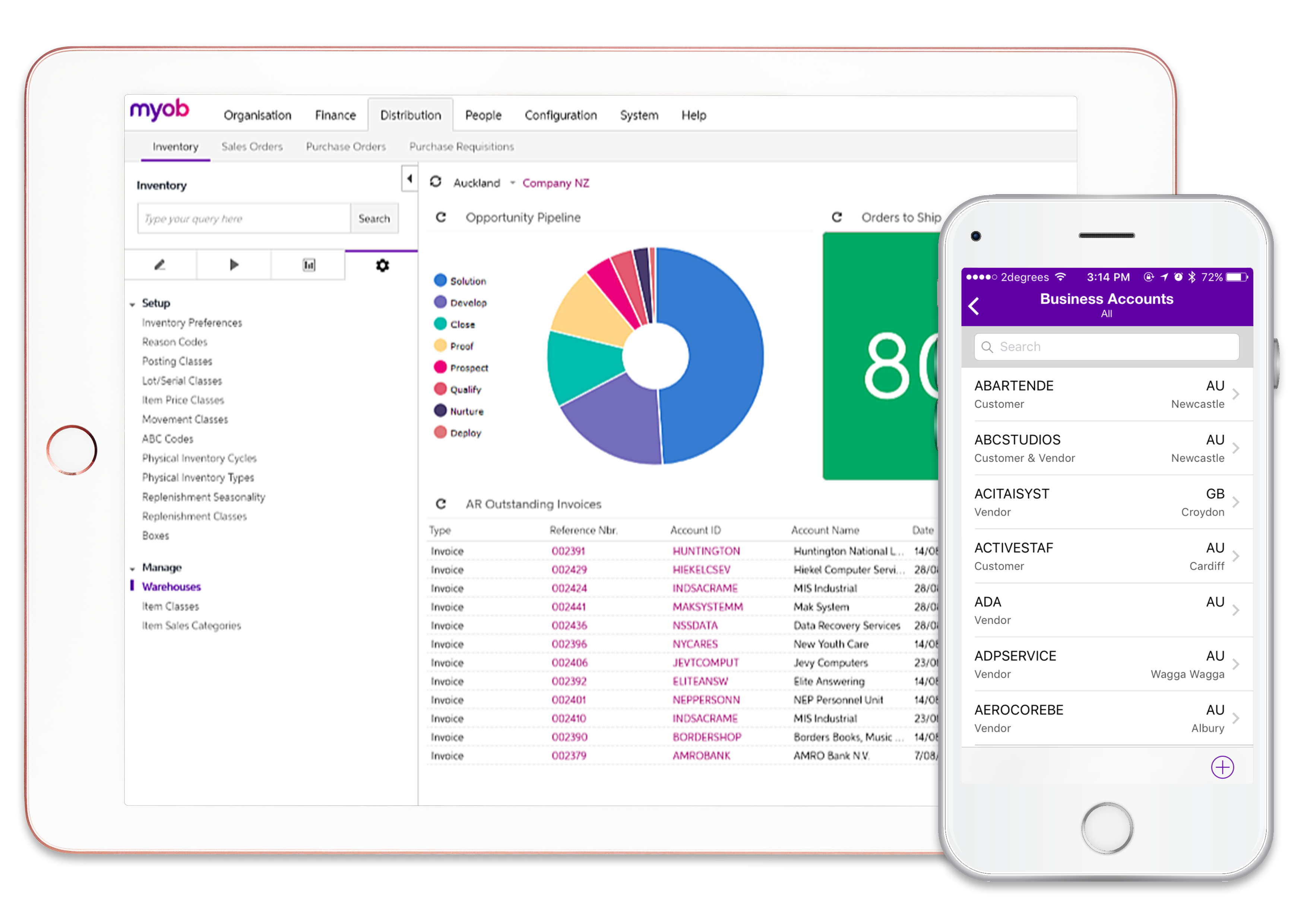 Tired of manually entering data to extract reports? Easily set up automation that will process data on your preferred schedule and you can log in to see the results. Dashboards can show you the state of your business at a glance, or provide more in-depth reporting. This means you can monitor your cash flow, your daily sales or identify your most profitable products.
Mobility
MYOB Advanced is the right ERP solution for any growing business that wants to increase work efficiencies while reaping the benefits of being in the cloud.  Working in the cloud means possibilities are virtually endless. Mint Payments implemented MYOB Advanced to take advantage of the extra functionality and flexibility of the cloud. If you are looking for even more mobility, download the OntheGo app on your devices and you can enter expense claims while you're out, create cases, approve documents and update contacts; wherever you are. You will never have to worry about wasting time on the commute home again. If you have ever felt your commutes are a waste of time, now you can use it for all of the above and concentrate on more important things while working from the office.
Boost your mobility with MYOB add-on solutions.
Add-on solutions are specifically developed to solve a problem for its target market. There are many cloud-based add-on products that can be deeply integrated to your MYOB system. This allows your team to use the best software for their role, while maintaining MYOB Advanced as the single source of truth of data across your organisation. Consider these add-on products to improve efficiency in different areas in your business:
Talk to a trusted advisor today
Is your business growing? Would it benefit from the scalability and a secure cloud-based application for multiple users? Consider MYOB Advanced. Work whenever you want to work, anytime, anywhere.
To hear what other businesses have experienced after implementing MYOB Advanced into their business, check out our MYOB Advanced case studies here.
No matter what stage of growth you are at, choosing the right implementation partner for your business is just as important as the software. Look no further than MYOB's Number One Partner. Contact us today for a free, no-obligation consultation.
If you have any more enquiries, please email us at sales@kilimanjaro-consulting.com, or give us a call at 1300 857 464 (AU) or 0800 436 774 (NZ).