MYOB
MYOB drink their own champagne and engage Kilimanjaro Consulting to implement MYOB Advanced in their Enterprise Division
When MYOB's Enterprise division chose to implement their very own MYOB Advanced solution in-house, they only had one consultancy in mind for the project – Kilimanjaro Consulting. They needed maximum confidence to get it right – success was absolutely critical. Kilimanjaro's senior MYOB Advanced Team accepted the challenge, absorbing a mammoth brief, and set about delivering on this large project over 18 months.
Who is MYOB?
MYOB is a staple in the Australian and New Zealand business market, providing accounting software to new and growing businesses for almost 40 years. Over one million ANZ organisations trust MYOB's software to manage their business, from small to large and complex organisations. MYOB's Enterprise division focuses on multifaceted businesses and provides software to meet their specific, higher-level needs, compared to smaller businesses.
What catalysed the switch to MYOB Advanced?
MYOB Enterprise was born of several acquisitions, from Exonet (now MYOB Exo) in the early 2000s to Greentree in 2016. Each of these acquisitions came with its own systems, some of which were integrated, some had migrated data, and others were left in an independent, orphan state.
MYOB had started reaping the benefits of their investment in Acumatica, but the introduction of MYOB Advanced into their product offering also created additional challenges. The different revenue streams from this new subscription-based SaaS solution required different billing, support, reporting, and revenue models. They added additional tools to manage the requirements of this new product. Again, some of these were integrated, and some were not.
By 2018 the internal ecosystem of MYOB Enterprise included over 30 different systems and tools. It was highly fragmented and brought about many growing pains. Multiple manual processes relied on team members re-keying information from one system to another, and these aging systems decreased in performance and reliability. The lack of integration created disconnected data flows, and reporting was time-consuming and error-prone as there was no centralised data source. Like many of the organisations they serve, MYOB needed to become more connected and chose to implement MYOB Advanced to facilitate their growth.
What changes followed the decision?
The first major decision in the project was the selection of their implementation partner. MYOB needed to have confidence their unique requirements and ecosystem could be understood and brought together into one system. With the entire partner channel to choose from, MYOB selected Kilimanjaro Consulting as their implementation partner of choice. Kilimanjaro Consulting's experienced implementation team best understood the full breadth of MYOB's requirements and designed the appropriate solution to meet their needs. We leveraged our years of experience and structured methodology to produce the best result.
Watch the testimonial below to learn more about Kilimanjaro's role in the implementation of Project Evo.
MYOB's Trusted Implementation partner
Kilimanjaro Consulting is ANZ's largest, most experienced, and most skilled team. When MYOB decided to implement MYOB Advanced, they chose Kilimanjaro Consulting as their partner of choice. We worked to understand MYOB's workflows and customise the software to meet their specific needs. We follow a structured implementation methodology, and combined with the skills, knowledge and support of our team; we are able to guide you through the implementation process. At Kilimanjaro Consulting, we pride ourselves on being technology Sherpas, focused on building long-term relationships with clients and maintaining that partnership as their business grows. We take pride in MYOB's success and look forward to our continued partnership.
How are they now?
Following the completion of Project Evo in September 2021, all of MYOB's ERP customer records were in the same system for the first time since the purchase of Greentree. Thanks to the successful ERP implementation, the project resulted in increases in both efficiency and profitability. The overall benefits of Project Evo included:
An 80% reduction in processing time in targeted workflows. This included commission processing, upsells, opportunity entries, and billing. Opportunities can be entered in less than 60 seconds and be taken through to a quote in less than 3 minutes. External parties such as the channel partners can also self-serve in this process, taking on the process for themselves instead of waiting for an MYOB team member to be available.
1000's of hours of reporting time is saved per annum. This is due to automation of both inbuilt MYOB Advanced reporting, reporting within an integrated Business Intelligence tool, and reporting in the greater MYOB landscape.
Licensing fees have been reduced by $100K per annum as they are using fewer independent systems.
Personnel costs and headcount demand has also decreased by an estimated $600K per annum due to the automation introduced by MYOB Advanced. This has led to team sizes staying the same as the Enterprise division grew.
Scalability of the solution. MYOB Enterprise Division is growing rapidly, with no concerns about the ability of the Advanced system to handle the growth.
MYOB's Enterprise division has been able to continue its growth trajectory since the completion of Project Evo. Kilimanjaro Consulting was right there beside them every step of the way through implementation.
How do I achieve a successful MYOB Advanced implementation?
A successful MYOB Advanced implementation depends on managing 3 critical risks:
Software Risk
Implementer risk
Self-Inflicted Risk
You can reduce your risk by selecting the right implementation partner. Although there are many different partners to choose from, you need the one that will work with you every step of the way. Managing risk is an important part of an implementation; selecting a low-risk partner is critical to a lifetime of success with your Business Management system.
Kilimanjaro Consulting ticks all the boxes when it comes to choosing the right partner:
Kilimanjaro Consulting is the largest and most experienced implementer of MYOB's Enterprise-level business management, accounting, payroll, and workforce management solutions: MYOB Advanced and MYOB Exo. We are experienced, low-risk implementers, helping organisations improve efficiency in their businesses through the use of clever, innovative, and proven technology.
Free resources to help you further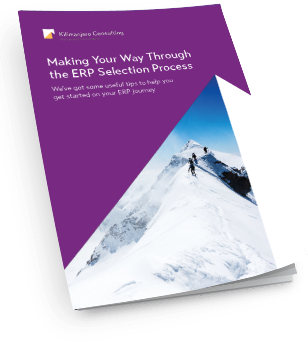 If you are ready to start your Business Management System journey, choose Kilimanjaro Consulting as your trusted implementation partner. If you don't know where to start, download our free E-Book that will take you through everything you need to consider and what to be wary of during this process.
Kilimanjaro Consulting is the largest implementer of MYOB's Business Management Software across Australia and New Zealand. We take the time to understand your business and only recommend the products that can meet your needs. To start a conversation about how MYOB Advanced can improve efficiency in your organisation, email sales@kilimanjaro-consulting.com, or call 1300 857 464 (AU) or 0800 436 774 (NZ).