Octet Finance
The highly specialised financial services company reaps the benefits of MYOB Advanced
MYOB Advanced has supported Octet Finance with its multi-company and multi-currency needs. They had previously been held back by a system that could not handle the complexity of their business and were spending a significant amount of time manually working with their data.
Who is Octet Finance?
Octet Finance is a financial services company specialising in loaning working capital to small and medium enterprises. They offer a Receivable Finance service. This covers a proportion of their client's invoices while they wait for customer payment. Octet enables its clients to purchase from suppliers worldwide and in multiple currencies.
What catalysed the switch?
Octet faced consolidation challenges with multiple operating companies across different regions and currencies. Their previous system could produce high-level financial statement analysis. However, it could not capture more detailed segmentation across its customers, products, and sales team. Reconciliations were becoming a significant problem for their outsourced accounting team. Octet could not get the depth of detailed reporting and analysis they required.
What changes followed the decision?
Octet brought its financial management in-house and gave it an integrated ERP system, including a full accounting package. MYOB Advanced worked for them straight away, supporting their multi-company, multi-currency needs. Their old system was also connected to MYOB Advanced via an API. This saved on having to manually upload old data into their new system.
How are they now?
MYOB Advanced gives Octect real-time visibility across the whole business. It has helped to support their forecasting and give stronger incentive programmes to the team. Everyone can have real-time visibility into their performance, regardless of their operating location. Octet is seeing a reduction in paper-based processing thanks to MYOB Advanced. They target becoming completely paper-free in the near future.
How do I achieve a successful MYOB Advanced implementation?
A successful MYOB Advanced Implementation depends on 3 critical risk:
Software Risk
Implementer risk
Self-Inflicted Risk
You can reduce your risk by selecting the right implementation partner. Although there are many different partners to choose from, you need the one that will work with you every step of the way. Managing risk is an important part of an implementation; selecting a low-risk partner is critical to a lifetime of success with your Business Management system.
Kilimanjaro Consulting ticks all the boxes when it comes to choosing the right partner:
Kilimanjaro Consulting is the largest and most experienced implementer of MYOB's Enterprise-level business management, accounting, payroll, and workforce management solutions: MYOB Advanced and MYOB Exo. We are experienced, low-risk implementers, helping organisations improve efficiency in their businesses through the use of clever, innovative, and proven technology.
Free resources to help you further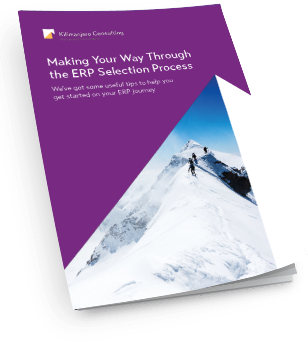 If you are ready to start your Business Management System journey, choose Kilimanjaro Consulting as your trusted implementation partner. If you don't know where to start, download our free E-Book that will take you through everything you need to consider and what to be wary of during this process.
Kilimanjaro Consulting is the largest implementer of MYOB's Business Management Software across Australia and New Zealand. We take the time to understand your business and only recommend the products that can meet your needs. To start a conversation about how MYOB Advanced can improve efficiency in your organisation, email sales@kilimanjaro-consulting.com or call 1300 857 464 (AU) or 0800 436 774 (NZ).