Screenrights
Complex and unusual data needs made MYOB Advanced the perfect fit for this multimedia organisation
Screenrights is a company with much more unusual needs from their data. MYOB was the best fit for them and has helped them to achieve success and growth following the implementation.
Who are Screenrights?
Screenrights are an Australian multimedia company. They broker the use of free-to-air broadcasts for educational purposes and then share the revenue between content creators based on what is being watched. Their pricing is based on student numbers, so they require multiple databases as well as custom-built in-house software.
What catalysed the switch to MYOB Advanced?
A significant reliance on manual work to produce end-of-month reports that were not even meaningful for a board's analysis was the primary reason that Screenrights looked to upgrade their system. They had a strong finance team that was wasting their time working in Excel to produce reports, instead of working strategically to better the company.
What changes followed the decision?
Thanks to the flexibility and integrated systems of MYOB Advanced, the same Screenrights finance team has seen an uplift in quality. They are better prepared to produce reports thanks to the removal of manual entry and MYOB Advanced's ability to slice and dice data. MYOB Advanced was also able to integrate with their custom-built software.
How are they now?
Thanks to the robust reporting functionality of MYOB Advanced, the finance reports are no longer on the board's agenda – and they can divert their time and energy to more important issues. Debt collection has also improved as the integrated system keeps the finance updated about new invoices raised by the licensing team. MYOB Advanced has led to an increase in quality across the board at Screenrights, without increasing their working hours.
How do I achieve a successful MYOB Advanced implementation?
A successful MYOB Advanced Implementation depends on 3 critical risk:
Software Risk
Implementer risk
Self-Inflicted Risk
You can reduce your risk by selecting the right implementation partner. Although there are many different partners to choose from, you need the one that will work with you every step of the way. Managing risk is an important part of an implementation; selecting a low-risk partner is critical to a lifetime of success with your Business Management system.
Kilimanjaro Consulting ticks all the boxes when it comes to choosing the right partner:
Kilimanjaro Consulting is the largest and most experienced implementer of MYOB's Enterprise-level business management, accounting, payroll, and workforce management solutions: MYOB Advanced and MYOB Exo. We are experienced, low-risk implementers, helping organisations improve efficiency in their businesses through the use of clever, innovative, and proven technology.
Free resources to help you further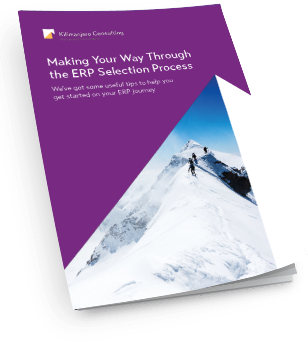 If you are ready to start your Business Management System journey, choose Kilimanjaro Consulting as your trusted implementation partner. If you don't know where to start, download our free E-Book that will take you through everything you need to consider and what to be wary of during this process.
Kilimanjaro Consulting is the largest implementer of MYOB's Business Management Software across Australia and New Zealand. We take the time to understand your business and only recommend the products that can meet your needs. To start a conversation about how MYOB Advanced can improve efficiency in your organisation, email sales@kilimanjaro–consulting.com, or call 1300 857 464 (AU) or 0800 436 774 (NZ).