Sunfresh Linen
Sunfresh Linen hang their old system out to dry and upgrade to MYOB Advanced
Sunfresh Linen was working in an outdated and inefficient system that could not handle its growth. MYOB Advanced brought all their data into one place, improving their reporting and customer service capability. This helped to grow the business into the future.
Who is Sunfresh Linen?
Queensland-based Sunfresh Linen has grown from a small laundry in Ipswich to one of the country's largest laundry and linen hire services. They expanded into the healthcare market in 2018. They now launder over 2.1 million pieces of laundry for some of Australia's hospitality and healthcare service companies.
What catalysed the switch to MYOB Advanced?
Their old system was sufficient when Sunfresh Linen was only a small business. But, as they grew, they needed more reporting, security, and general performance. Over time, the business attempted to integrate more and more external systems into its original system. However, the additions only slowed them down and split their data between several different systems.
What changed following the decision?
MYOB Advanced simplified its administration processes and let Sunfresh Linen operate more effectively. Implementing the Customer Self-Service portal allowed clients to place their orders online directly, speeding up order processing and saving on administration time. They now have all their data in one place, making their reporting faster and more accurate.
How are they now?
Sunfresh Linen has also improved its customer service and management processes. Having all their data readily available means, they have full visibility over each account and can communicate effectively with their clients. Tighter control over management approvals has improved data integrity and security and placed ownership and responsibility back on the correct people.
How do I achieve a successful MYOB Advanced implementation?
A successful MYOB Advanced Implementation depends on 3 critical risk:
Software Risk
Implementer risk
Self-Inflicted Risk
You can reduce your risk by selecting the right implementation partner. Although there are many different partners to choose from, you need the one that will work with you every step of the way. Managing risk is an important part of an implementation; selecting a low-risk partner is critical to a lifetime of success with your Business Management system.
Kilimanjaro Consulting ticks all the boxes when it comes to choosing the right partner:
Kilimanjaro Consulting is the largest and most experienced implementer of MYOB's Enterprise-level business management, accounting, payroll, and workforce management solutions: MYOB Advanced and MYOB Exo. We are experienced, low-risk implementers, helping organisations improve efficiency in their businesses through the use of clever, innovative, and proven technology.
Free resources to help you further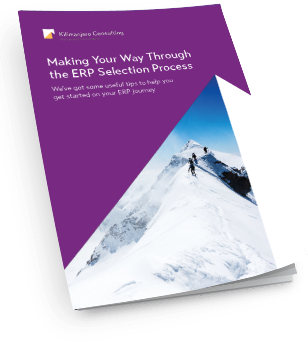 If you are ready to start your Business Management System journey, choose Kilimanjaro Consulting as your trusted implementation partner. If you don't know where to start, download our free E-Book that will take you through everything you need to consider and what to be wary of during this process.
Kilimanjaro Consulting is the largest implementer of MYOB's Business Management Software across Australia and New Zealand. We take the time to understand your business and only recommend the products that can meet your needs. To start a conversation about how MYOB Advanced can improve efficiency in your organisation, email sales@kilimanjaro-consulting.com or call 1300 857 464 (AU) or 0800 436 774 (NZ).