Tamarind Resources
MYOB Advanced Business provided the answer to Tamarind Resources' international challenges.
Tamarind Resources can now meet its international compliance requirements thanks to MYOB Advanced. The easy-to-understand platform gave them the capability to achieve its business goals.
Who is Tamarind Resources?
Tamarind Resources is a Malaysian-owned energy company. They have extensive technical expertise and knowledge surrounding the energy sector. They aim to become the leading independent oil and gas exploration business in Asia and Oceania. Tamarind has bridged international gaps for stakeholders and investors to help growth.
What catalysed the switch to MYOB Advanced Business?
In their pursuit of growth, Tamarind purchased permits for the Tui Oilfield near New Plymouth, New Zealand. But, the international compliance requirements were too complex for its business management system. They required a system to merge their financial data across countries, work in different currencies, and perform inter-branch transactions.
Kilimanjaro Consulting was the implementation partner of choice for Tamarind Resources. They trusted our advice to implement MYOB Advanced as the solution to manage their organisation.
Tamarind Resources' Trusted Implementation partner
Kilimanjaro Consulting is ANZ's largest, most experienced, and most skilled team. When Tamarind Resources decided to implement MYOB Advanced, they chose Kilimanjaro Consulting as their partner of choice. We worked to understand Tamarind Resources' workflows and customise the software to meet their specific needs. We follow a structured implementation methodology, and combined with the skills, knowledge and support of our team; we are able to guide you through the implementation process. At Kilimanjaro Consulting, we pride ourselves on being technology Sherpas, focused on building long-term relationships with clients and maintaining that partnership as their business grows. We take pride in Tamarind Resources' success and look forward to our continued partnership.
What changes followed the decision?
The Tamarind Resources team enjoy the freedom and flexibility of working in the cloud. They access their real-time data anywhere at any time. However, the financial strengths of MYOB Advanced Business also lead to efficiency improvements. The team can assign multiple base currencies to separate tenants in the organisation. This clarifies their financial position and streamlines the end-of-month process.
At the click of a button, MYOB Advanced Business generates the documentation needed to complete intercompany transactions. The team completes this process with greater efficiency and accuracy.
Tamarind Resources' data is available in a single consolidated view within MYOB Advanced. Management benefits from the easy-to-understand dashboards that help to visualise the company's position. Data from Malaysia and Singapore are also stored within a single source of truth. The graphs, tables and charts update in real time. The team sees the critical information first.
How are they now?
Tamarind Resources is now in a better position to fulfil its international goals. With MYOB Advanced Business, the organisation can access and view its data from one source. The multi-currency and intercompany sale functionalities improve the organisation's business processes. With these efficiency improvements, the organisation can focus on its growth in the future.
This implementation was completed before Enprise Solutions and Kilimanjaro Consulting merged. The original implementation team was, at that time, a part of Enprise Solutions. After the merger, Kilimanjaro Consulting has become the largest and most experienced implementer of MYOB's Enterprise Solutions across Australia and New Zealand. The Kilimanjaro Consulting team continues to support Tamarind Resources to improve efficiency with the clever use of innovative and proven technology.
How do I achieve a successful MYOB Advanced implementation?
A successful MYOB Advanced Implementation depends on 3 critical risk:
Software Risk
Implementer risk
Self-Inflicted Risk
You can reduce your risk by selecting the right implementation partner. Although there are many different partners to choose from, you need the one that will work with you every step of the way. Managing risk is an important part of an implementation; selecting a low-risk partner is critical to a lifetime of success with your Business Management system.
Kilimanjaro Consulting ticks all the boxes when it comes to choosing the right partner:
Kilimanjaro Consulting is the largest and most experienced implementer of MYOB's Enterprise-level business management, accounting, payroll, and workforce management solutions: MYOB Advanced and MYOB Exo. We are experienced, low-risk implementers, helping organisations improve efficiency in their businesses through the use of clever, innovative, and proven technology.
Free resources to help you further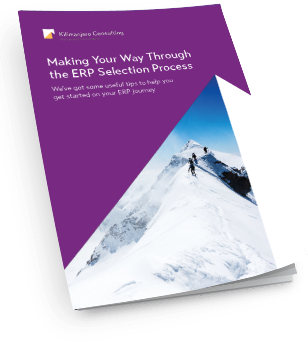 If you are ready to start your Business Management System journey, choose Kilimanjaro Consulting as your trusted implementation partner. If you don't know where to start, download our free E-Book that will take you through everything you need to consider and what to be wary of during this process.
Kilimanjaro Consulting is the largest implementer of MYOB Advanced across Australia and New Zealand. We take the time to understand your business and only recommend products that can meet your needs. To start a conversation about how MYOB Advanced Business can improve efficiency in your organisation, email sales@kilimanjaro-consulting.com or call 1300 857 464 (AU) or 0800 436 774 (NZ).