Thompson Group
Thompson Group are building their legacy with MYOB Advanced
MYOB Advanced is laying the foundations for future growth for an established New Zealand Based Engineering company. Thompson Group enjoys MYOB Advanced's whole company visibility and custom reporting that helps them make the best decisions for their organisation.
Who is Thompson Group?
Thompson Group is a New Zealand-based construction and engineering business that pride itself on taking projects from the very start to the finish line. Their team is involved across the entire construction process, from 3D design, steel fabrication, precast and construction to property management. Over the past four decades, Thompson Construction and Engineering has experienced exceptional growth. They are now one of the South Island's largest design and construction companies.
What catalysed the switch to MYOB Advanced?
The Thompson Group faced new challenges along with its rapid growth. Their old system lacked visibility across all facets of their organisation. Every year, the projects they secured were getting bigger and more complex, which meant more machinery and more staff needed. With so many moving parts and details to track, they wasted time duplicating data across different systems. Finding a platform that solved the lack of visibility and reports timeliness they had struggled with became important. Thompson Group needed an all-in-one software solution that could grow as the organisation changed and connect project management to financial performance.
Thompson Group's Trusted Implementation partner
Kilimanjaro Consulting is the largest, most experienced, and most skilled team across Australia and New Zealand. When Thompson Group decided to implement MYOB Advanced, they chose Kilimanjaro Consulting as their partner of choice. We worked to understand Thompson Group'sworkflows and customise the software to meet their specific needs. Our team combines a structured methodology with the skills, knowledge and support for a successful implementation. We can guide you through the implementation process. At Kilimanjaro Consulting, we pride ourselves on being technology Sherpas, focused on building long-term relationships with clients and maintaining that partnership as their business grows. We take pride in Thompson Group's success and look forward to our continued partnership.
What changes followed the decision?
By implementing MYOB Advanced Business, the Thompson Group has brought all its data to the surface in one system. The Thompson Group team had previously struggled to see their project's data in real-time. So, we built custom dashboards and reports that improved the visibility of their data. MYOB Advanced has also enabled Thompson group to be more analytical with its data and better track its fleet and equipment maintenance. The organisation can interface with various external data collection points through APIs, including Kynection for equipment management, alerts, and on-site scheduling. MYOB Advanced Construction is built specifically to improve efficiency in the construction industry. It gives you complete visibility over your operations, from costing to time management, compliance, and more. These efficiency improvements save time and costs for Thompson Group and their clients. The ability to prevent delays has brought peace of mind to the team.
How are they now?
MYOB Advanced Business has become critical to the company's future-proof plan and growth journey. They can now back-cost regularly with reliable, current data, improving the reliability of pricing for future projects. MYOB Advanced has managed bigger, more complex project costs and budgets in a system that seamlessly integrates with financials. They continue working with Kilimanjaro Consulting to further improve their processes and expand their system functionality. Thompson Group has built on their strong foundation and made MYOB Advanced Business a reliable core of its organisation. They are always finding new ways it can automate and improve efficiency at every stage of their process.
How do I achieve a successful MYOB Advanced implementation?
A successful MYOB Advanced Implementation depends on 3 critical risk:
Software Risk
Implementer risk
Self-Inflicted Risk
You can reduce your risk by selecting the right implementation partner. Although there are many different partners to choose from, you need the one that will work with you every step of the way. Managing risk is an important part of an implementation; selecting a low-risk partner is critical to a lifetime of success with your Business Management system.
Kilimanjaro Consulting ticks all the boxes when it comes to choosing the right partner:
Kilimanjaro Consulting is the largest and most experienced implementer of MYOB's Enterprise-level business management, accounting, payroll, and workforce management solutions: MYOB Advanced and MYOB Exo. We are experienced, low-risk implementers, helping organisations improve efficiency in their businesses through the use of clever, innovative, and proven technology.
Free resources to help you further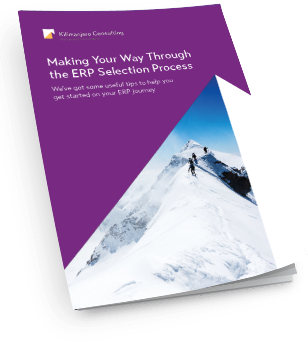 If you are ready to start your Business Management System journey, choose Kilimanjaro Consulting as your trusted implementation partner. If you don't know where to start, download our free E-Book that will take you through everything you need to consider and what to be wary of during this process.
Kilimanjaro Consulting is the largest implementer of MYOB's Business Management Software across Australia and New Zealand. We take the time to understand your business and only recommend the products that can meet your needs. To start a conversation about how MYOB Advanced can improve efficiency in your organisation, email sales@kilimanjaro-consulting.com or call 1300 857 464 (AU) or 0800 436 774 (NZ).