Toby's Estate
Toby's Estate worked cohesively with Kilimanjaro to assess their requirements and learn how EXO could help their business
Established in 1998, Toby's Estate functioned as a boutique supplier of Arabica Coffees. Today, they act as suppliers of both coffee and commercial equipment and are also educating future baristas through their Espresso School.
Toby's Estate was in need of a new management system to manage growth and was put in touch with Kilimanjaro Consulting. As with all clients, we began our journey with Toby's Estate by explaining our specialised methodology.
Toby's Estate's Trusted Implementation partner
Kilimanjaro Consulting is ANZ's largest, most experienced, and most skilled team. When Toby's Estate decided to implement MYOB Exo, they chose Kilimanjaro Consulting as their partner of choice. We worked to understand Toby's Estates' workflows and customise the software to meet their specific needs. We follow a structured implementation methodology, and combined with the skills, knowledge and support of our team; we are able to guide you through the implementation process. At Kilimanjaro Consulting, we pride ourselves on being technology Sherpas, focused on building long-term relationships with clients and maintaining that partnership as their business grows. We take pride in Toby's Estate's' success and look forward to our continued partnership.
The implementation pod, headed by Sean Eichholz, then delivered a structured plan which outlined which aspects were to be customised and how data would be migrated to the new MYOB Exo system.
Working together with the Toby's Estate team was a standout experience of the implementation process. "Toby's Estate had a clear idea as to their motivations and expectations for implementing a new ERP system. Thanks to this clear view, we were able to map out their required business processes and configure Exo to specifically suit their need. Our implementation mantra was 'keep it simple'; we wanted to lay a strong, structured foundation to the system that would easily allow for future growth", Sean recalls.
Sean is hugely complimentary of Toby's Estate and said "one of the best aspects of the implementation was the enthusiasm of the Toby's Estate team. They were extremely driven and found the system intuitive and easy to use."
Kilimanjaro's implementation of MYOB Exo has seen an immediate benefit for Toby's Estate in terms of increased visibility and improved efficiencies in stock control, warehouse and manufacturing processes.
How do I achieve a successful MYOB Exo implementation?
A successful MYOB Exo Implementation depends on 3 critical risk:
Software Risk
Implementer risk
Self-Inflicted Risk
You can reduce your risk by selecting the right implementation partner. Although there are many different partners to choose from, you need the one that will work with you every step of the way. Managing risk is an important part of an implementation; selecting a low-risk partner is critical to a lifetime of success with your Business Management system.
Kilimanjaro Consulting ticks all the boxes when it comes to choosing the right partner:
Kilimanjaro Consulting is the largest and most experienced implementer of MYOB's Enterprise-level business management, accounting, payroll, and workforce management solutions: MYOB Advanced and MYOB Exo. We are experienced, low-risk implementers, helping organisations improve efficiency in their businesses through the use of clever, innovative, and proven technology.
Free resources to help you further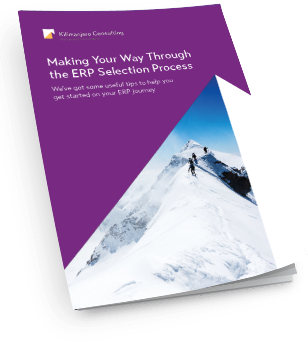 If you are ready to start your Business Management System journey, choose Kilimanjaro Consulting as your trusted implementation partner. If you don't know where to start, download our free E-Book that will take you through everything you need to consider and what to be wary of during this process.
To learn more about how MYOB Advanced Payroll has helped Living My Way to improve visibility and remove manual processes, download the PDF from the panel to the right. To learn more about the MYOB Advanced product, visit the page here. Contact our team at sales@kilimanjaro-consulting.com or call 1300 857 464 (AU) or 0800 436 774 (NZ) to discuss your unique requirements.