World Challenge Expedition
Simplifying complex GL and payroll requirements with MYOB Advanced
World Challenge's complex general ledger structure was too much to handle for their previous system. They needed a functional and robust payroll solution integrated into the accounting package. MYOB Advanced gave them this functionality, along with cloud-based access.
Who is World Challenge?
World Challenge organise seasonal international expeditions for students to experience exciting parts of the world in a safe environment. Their business is heavily seasonal. Depending on the time of year, they ebb and flow between 40 and 100 staff. They can take over 8000 students to over 40 destinations per year.
What catalysed the switch to MYOB Advanced?
World Challenge had outgrown its old system and required a solution to keep up with its dynamic payroll and HR requirements. They also have a complex general ledger setup to manage multiple subsidiary companies. Due to the outgoing nature of the company, a cloud-based solution would give them on-the-go access whenever they needed it.
What changes followed the decision?
The general ledger-centric nature of MYOB Advanced made it a suitable choice for World Challenge to fix its complex structure. It has given them the flexibility and functionality they needed for a price they could afford. Their audit process is benefitted from the drill-through functionality of MYOB Advanced's reports. They can also attach files and comments directly to the relevant records, further streamlining the audit process.
How are they now?
The MYOB Advanced Payroll module has also profoundly impacted World Challenge. They now cater for various employee payment scenarios. The live data can be manipulated to cover any special reporting needs. With so many seasonal and casual workers, the ability to streamline the handling of employee records has also been vital. This guarantees the employee will be costed correctly. MYOB Advanced provides scope for future growth and can continue to scale upwards with World Challenge.
How do I achieve a successful implementation?
A successful MYOB Advanced Implementation depends on 3 critical risk:
Software Risk
Implementer risk
Self-Inflicted Risk
You can reduce your risk by selecting the right implementation partner. Although there are many different partners to choose from, you need the one that will work with you every step of the way. Managing risk is an important part of an implementation, selecting a low-risk partner is critical to a lifetime of success with your Business Management system.
Kilimanjaro Consulting ticks all the boxes when it comes to choosing the right partner:
Kilimanjaro Consulting is the largest and most experienced implementer of MYOB's Enterprise-level business management, accounting, payroll, and workforce management solutions: MYOB Advanced and MYOB Exo. We are experienced, low-risk implementers, helping organisations improve efficiency in their businesses through the use of clever, innovative, and proven technology.
Free resources to help you further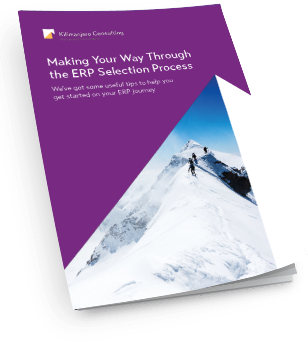 If you are ready to start your Business Management System journey, choose Kilimanjaro Consulting as your trusted implementation partner. If you don't know where to start, download our free E-Book that will take you through everything you need to consider and what to be wary of during this process.
Kilimanjaro Consulting is the largest implementer of MYOB's Business Management Software across Australia and New Zealand. We take the time to understand your business and only recommend the products that can meet your needs. To start a conversation about how MYOB Exo can improve efficiency in your organisation, email sales@kilimanjaro-consulting.com, or call 1300 857 464 (AU) or 0800 436 774 (NZ).