Living My Way
Kilimanjaro Consulting successfully implement MYOB Advanced Business and MYOB Advanced Payroll for Living My Way
Living My Way makes it their business to support people with disabilities to live independent, self-driven lives. So, we made sure that their MYOB Advanced platform could support them, focusing on building their core Business and Payroll modules to automate processes so that they could focus on their members.
Who is Living My Way?
Living My Way is a Not-For-Profit (NFP) organisation supporting those with disabilities since 1992. They enable their members to live self-directed, independent lives by empowering them to find support workers to fit their needs – so they can live their way. Living My Way operates across NSW, ACT, and QLD with approximately 370 members. Their future looks bright in this evolving and changing disability landscape, and with the support of MYOB Advanced, they look forward to continuing to support their members for many more years.
What catalysed the switch to MYOB Advanced?
It had become clear that Living My Way's old MYOB AccountRight software was no longer suitable for their needs. With multiple sources of funding, the organisation needed to be able to filter and report on many different revenue streams – a process that had previously been done manually. The introduction of the National Disability Insurance Scheme (NDIS) added even more complexity to their systems and processes.
Living My Way's Trusted Implementation partner
Kilimanjaro Consulting is ANZ's largest, most experienced, and most skilled team. When Living My Way decided to implement MYOB Advanced, they chose Kilimanjaro Consulting as their partner of choice. We worked to understand Living My Way's workflows and customise the software to meet their specific needs. We follow a structured implementation methodology, and combined with the skills, knowledge and support of our team; we are able to guide you through the implementation process. At Kilimanjaro Consulting, we pride ourselves on being technology Sherpas, focused on building long-term relationships with clients and maintaining that partnership as their business grows. We take pride in Living My Way's success and look forward to our continued partnership.
What changes followed the decision?
MYOB Advanced was the platform of choice for Living My Way. It was able to meet their reporting requirements and give them flexibility and scalability to foster future growth. MYOB Advanced was also cost-effective compared to other solutions on the market, an essential criterion in the NFP space. They engaged Kilimanjaro Consulting as their implementation partner of choice. Living My Way needed a partner who was experienced in their industry and could implement both MYOB Advanced Business and MYOB Advanced Payroll.
How are they now?
MYOB Advanced Business allows the finance team to bulk-process invoices – a process that they previously completed manually. Almost immediately following implementation, the team was able to save 1.5FTE and reallocate these resources to other parts of the organisation. The implementation of MYOB Advanced Payroll has also improved its efficiency. Claims to the NDIS are processed automatically with no manual input from the payroll team. Our skilled team created a detailed integration between Living My Way's timesheet software and the NDIS.
Kilimanjaro Consulting went above and beyond for Living My Way to make sure their system would support them in the same way that they support their members. By automating their manual processes and integrating systems to improve efficiency, Kilimanjaro Consulting and MYOB Advanced have allowed Living My Way the freedom and flexibility to run their organisation their way.
To learn more about how MYOB Advanced has helped Living My Way to make their complex company work more efficiently, download the PDF from the panel to the right. To learn more about the MYOB Advanced product, visit the page here.
How do I achieve a successful MYOB Advanced implementation?
A successful MYOB Advanced Implementation depends on 3 critical risk:
Software Risk
Implementer risk
Self-Inflicted Risk
You can reduce your risk by selecting the right implementation partner. Although there are many different partners to choose from, you need the one that will work with you every step of the way. Managing risk is an important part of an implementation; selecting a low-risk partner is critical to a lifetime of success with your Business Management system.
Kilimanjaro Consulting ticks all the boxes when it comes to choosing the right partner:
Kilimanjaro Consulting is the largest and most experienced implementer of MYOB's Enterprise-level business management, accounting, payroll, and workforce management solutions: MYOB Advanced and MYOB Exo. We are experienced, low-risk implementers, helping organisations improve efficiency in their businesses through the use of clever, innovative, and proven technology.
Free resources to help you further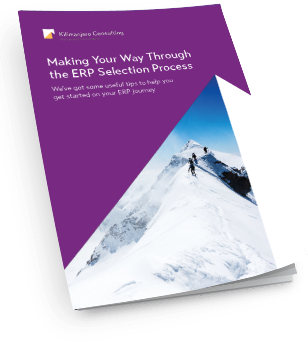 If you are ready to start your Business Management System journey, choose Kilimanjaro Consulting as your trusted implementation partner. If you don't know where to start, download our free E-Book that will take you through everything you need to consider and what to be wary of during this process.
To learn more about how MYOB Advanced Payroll has helped Living My Way to improve visibility and remove manual processes, download the PDF from the panel to the right. To learn more about the MYOB Advanced product, visit the page here. Contact our team at sales@kilimanjaro-consulting.com or call 1300 857 464 (AU) or 0800 436 774 (NZ) to discuss your unique requirements.