MYOB Exo 2020.1 is here
to 2020 and beyond
MYOB Exo is an integrated range of business applications that gives you visibility of all your information in one place. It is a multi-user system that is built on the most robust, industry-standard technologies available. It can support over a hundred concurrent users. For almost two decades, MYOB Exo has been one of the most popular ERP solutions on the Australian market. As you would expect, with mature software comes updates and new releases. The most recent version of MYOB Exo, Version 2020.1, future-proofs the software and response to the user's changing needs and adds long-awaited functionality. To keep up with MYOB Exo's regular updates, visit our Version History page here.
Leverage your investment in MYOB Exo
Work environments are constantly changing, as your needs and those of your customers evolve. Your business must be dynamic and flexible to succeed. MYOB Exo Version 2020.1 will help you respond to those changes.
This release brings several new features and functionality, but most importantly the modern new user interface will change the user experience forever.
What you can expect – New features of 2020.1
Updated User Interface
MYOB Exo 2020.1 offers an array of enhancements focusing on the user experience, providing users with a system that will allow your team to use the software more efficiently than ever before. If you are running an older version of MYOB Exo, here are some features you might find new and exciting:
New Functions in 2020.1
A new level of technology in the back end
New spelling checker
Greater security and privacy
Invoice search on debtor and creditor payment screens
Greater control over automatic period locking at EOM
Reviewing blocked automatic reversal
Handling extra search fields and extra fields
Clean screens
Simplified interface
Improved scaling for modern monitors.
Spell check on character fields
Foreign characters
New User Interface in 2020.1
A modern and fresh new look
Toolbar and Menu Icons
Dropdown Menu
Shortcut Icons
Shading of table rows
Overdue account indicator
Now let us take you through some of the most significant features:
Larger range of shading and characters
Alternate shading on multiple transaction and data lines: improving readability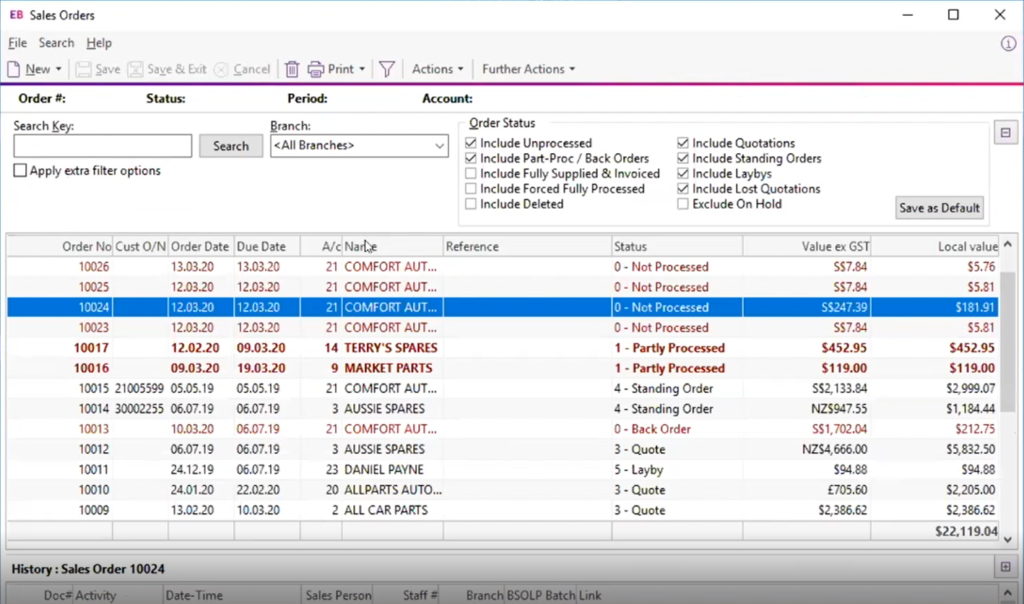 Foreign characters on key fields (ie stock description)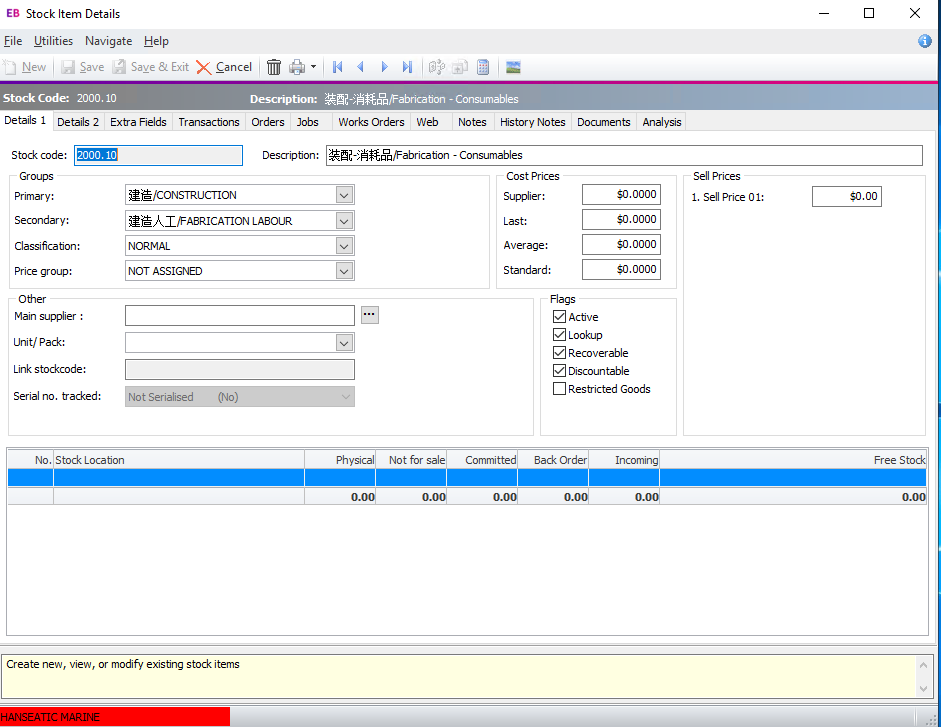 Importing into the stock movement screen
Bulk stock uploads used to be relatively painful as users had to key the items and quantities in one by one on the stock item adjustments screen. Now you can import from a separate file or copy and paste from your clipboard, enabling data aggregation before loading into MYOB Exo.

Spell check on memo fields
Don't you hate spelling errors on your sales order confirmations or invoices? Exo's in-built spell-check function provides users with the support they need to get it right the first time.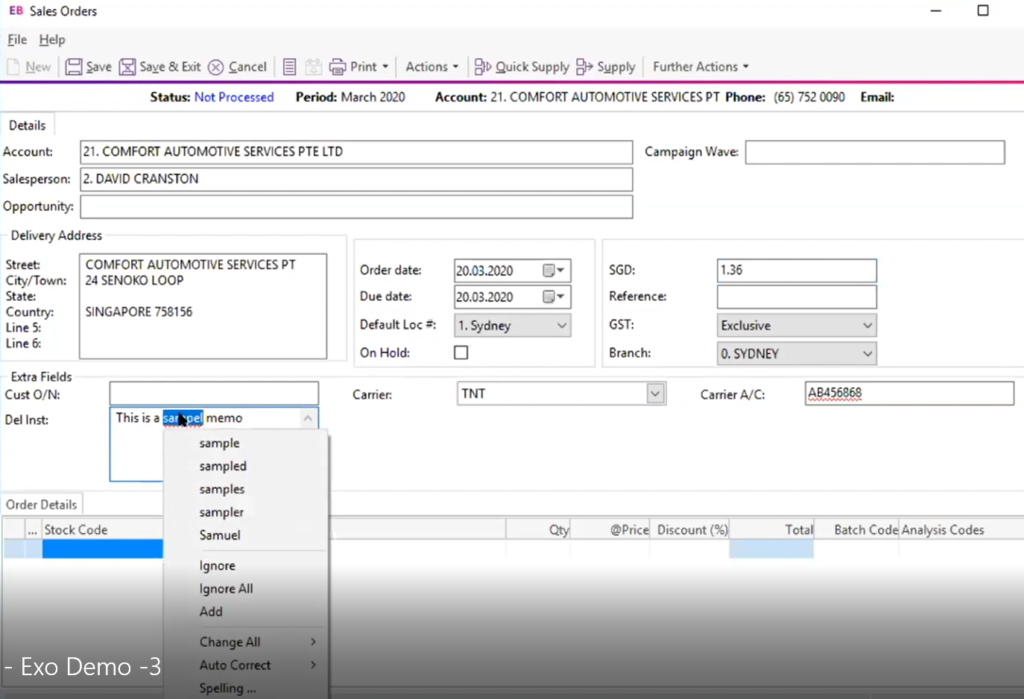 Invoice Search on the debtor payments screen
This feature now allows you to search invoice numbers regardless of the current debtor selection, making it quick and easy!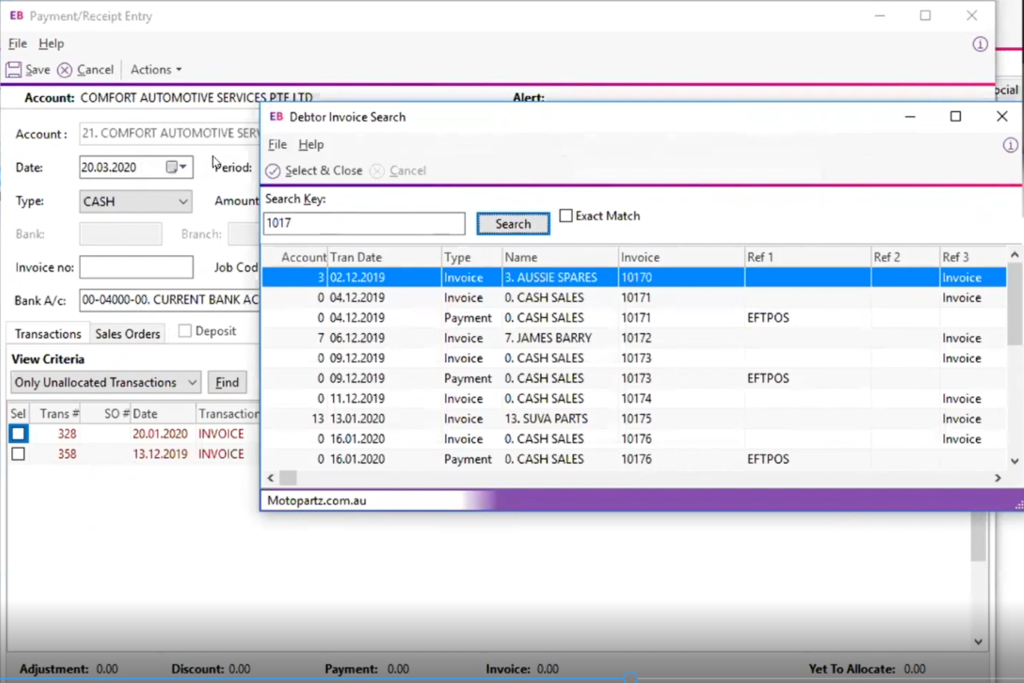 Foreign Characters FAQ
In the past, we could only show foreign characters in a printed report or on invoices. With Unicode built into the new infrastructure, we can have foreign characters on the screen which helps usability.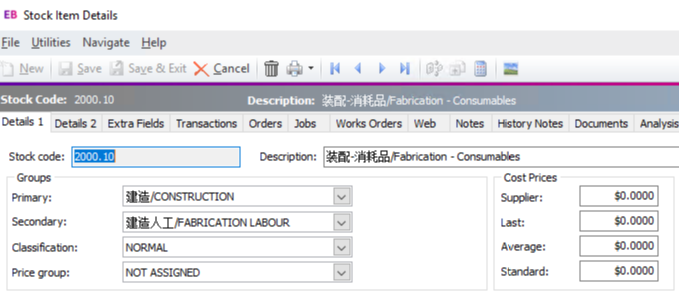 Business Alerts
During times of increased data security awareness, we thought it would be useful to remind everyone of business alerts and how to provide additional protection for your data.
Business alerts tend to be created by advanced users that have at least completed Business Tools training. To see how the business alert function works, watch the demonstration of all the new features of Exo 2020.1 here.
Please note you should have some training in the use of Business Alerts prior to attempting this. Call our friendly MYOB Exo consultant team for assistance if required on 1300 857 464.
If you are interested in upgrading to the latest version of MYOB Exo, email us at sales@kilimanjaro-consulting.com, or give us a call at 1300 857 464 (AU) or 0800 436 774 (NZ), or contact your account manager.