Leverage Extra Fields in MYOB Exo
MYOB Exo Tips and Tricks #2
MYOB Exo is a Business Management Solution designed for businesses with growing complexities. It collects data across your different operations to provide a central, single source of truth. Because every business is unique, it is a common requirement for companies to want to capture specific, non-standard data. This is where utilising Extra Fields comes in. You are able to customise specific screens so that your team has the information they need in the places they need it. Collecting this extra information helps you to better understand your customers, speeds up internal processes and helps you use MYOB Exo effectively.
Extra Field customisations have seen continuous improvement over the journey of MYOB Exo. These additions, including the most recent in version 2023.1, will give you the flexibility to efficiently collect the data your team needs.
MYOB Exo Extra Fields now more customisable
Extra fields in MYOB Exo can now be viewed and edited with greater control, following the latest update. A new Permissions window has been added to the Extra Fields Editor screen. Extra field permissions can be defined by Menu Collection or down to the individual user account assigned to that Menu.
Field Permission options include Visible, Read Only, and Mandatory. If you would like to know more about setting Extra Field permissions contact our expert team at support@kilimanjaro-consulting.com.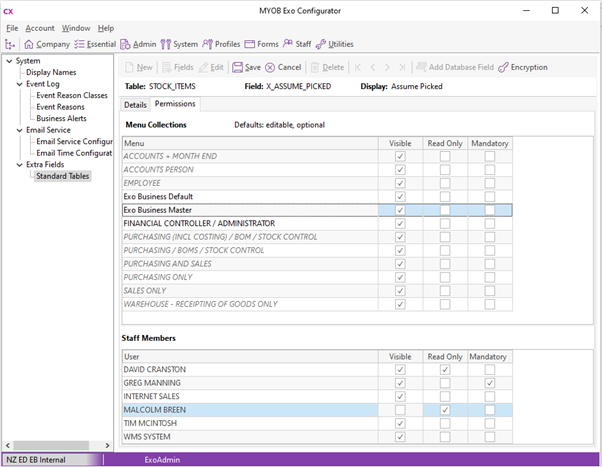 New Screen Layout in the MYOB Exo Configurator
The extra fields screen in the Exo Configurator has been improved. It now lists all the tables you can add an Extra Field to, as well the extra fields that exist on the selected screen. This improved visibility makes it simpler and faster to alter fields as your organisations needs change.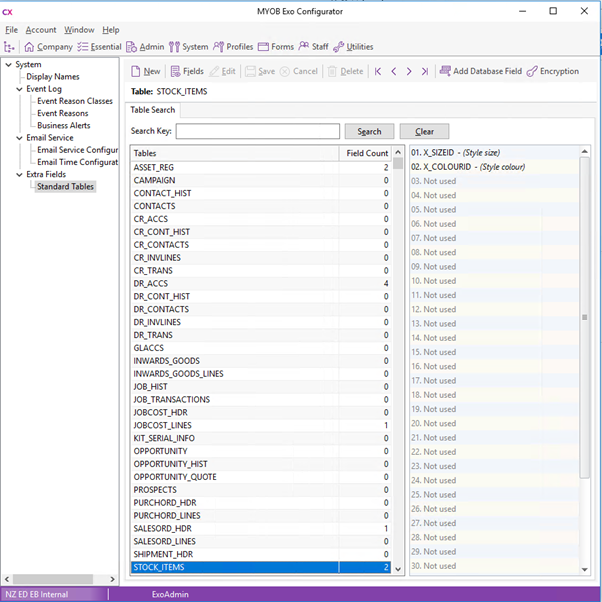 ---
Drag and Drop Extra Field Re-alignment
Varchar and NVarchar fields are now known as Character and Unicode Character fields. These field types allow for a custom field length to be set. This also makes it easier to re-arrange your extra fields.

You are able to re-align these within your Exo screens by simply dragging and dropping in the Field Editor window.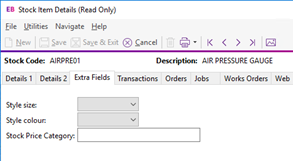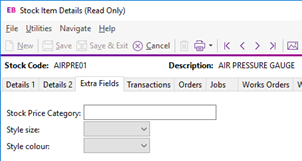 ---
Configure Extra Fields Sales Order by Order Type
Extra fields can now also be configured specifically for each different type of Sales Order. You can access this via the additional checkbox on the Field Editor window which allows you to determine if the extra field is visible for an Order, Quotation, Standing Order or Layby.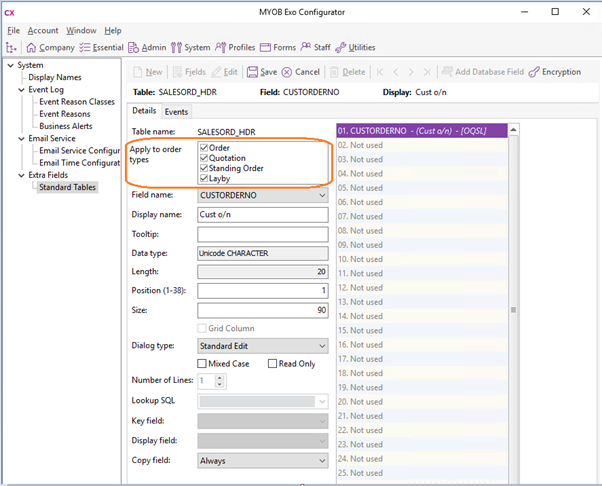 The Extra Fields customisations also allow you to manage your system as your company grows and changes. You can always add or remove fields as you need them. Visit our training portal to learn more about MYOB Exo Configurator and how you can become confident in making minor changes to your system.
Interested in other ways to optimise MYOB Exo?
Check out our handy MYOB Exo Tips and Tricks blogs here:
Leverage Extra Fields in MYOB Exo
Are you using the latest version of MYOB Exo?
MYOB Exo has a long and rich history, from its early days as ExoNet to the latest releases. Each version adds new features and functions to your already robust system. The newest update to the software will always give you benefits over the older versions. Added functionality may be as simple as an improved workflow, a new widget, a tidier report, or more complex functionality like Bank Feeds. Access to these features is included in your Annual Licence Fee (ALF), so you are missing out on added value by not keeping your system current. Regularly updating your software ensures your team maintains a reliable, powerful platform to suit your organisation for years to come.
Using the latest version of MYOB Exo gives you access to these new features and many others. Contact our team to discuss your options if you would like to upgrade your MYOB Exo software. Please send an email to our friendly team at samacs@kilimanjaro-consulting.com or call 1300 857 464 (AU) or 0800 436 774 (NZ).