2020 Annual Village News
As life in business adapts to a new post COVID-19 world, we will be guided by the changing needs of our clients.
The Year of COVID-19
It was almost a year ago, on December 31st, 2019, when the World Health Organisation said it had been alerted to a "cluster of cases of pneumonia of unknown cause" in Wuhan, China. In the following months, Governments dispersed advice to their citizens, borders were closed, social distancing rules were imposed, and "non-essential" services shut down. The impact on people and families was devastating, and we will no doubt be living with the profound effects of this virus on politics, economies, and culture for the rest of our lives.
As life in business adapts to a new post COVID-19 world, we will be guided by the changing needs of our clients.
Internal changes at Kilimanjaro and Enprise
On 1st January 2020, the "engagement" became a marriage, and Kilimanjaro/Enprise merged into a single entity. A new Enterprise Division was formed with a new management team. The team-based culture was re-enforced through the creation of the New Zealand Tribal Council (the Hui-a-Iwi) to mirror the Australian Tribal Council. Additional Team Leaders were appointed, responsibilities defined, and a plan to grow the business was approved by the Board. A unified phone system from our sister company, Vadacom, has been deployed, and the implementation of TimeTrak across both entities will improve efficiency.
2020 has also seen the development of new teams and structures across both Kilimanjaro and Enprise. The new names represent the collaborative and mutually reinforcing nature of the cross-company teams, and further enhance our strategy to best position ourselves to meet our clients' needs.
The Development Team > INNOVATE
MYOB Exo Implementations Team > IMPRESS Projects
MYOB Exo Projects Team > IMPRESS Solutions
MYOB Advanced Support > ACCESS
One company, two brands: Enprise and Kilimanjaro
The Enprise Group is an NZX listed company (ENS), with investments in a number of technology companies. A new division, the Enterprise Division, was formed to merge the Australian and New Zealand operations as a specialist implementer of MYOB Enterprise solutions. On 1 July our strategy of 'One company, two brands' went live as the company began operating in Australia under its wholly-owned Kilimanjaro Consulting brand, and in New Zealand under its wholly-owned Enprise Solutions brand. Enprise Solutions is MYOB's number one partner in New Zealand. Kilimanjaro Consulting is MYOB's number one partner in Australia. Together, we have the largest and most experienced pool of MYOB Advanced and MYOB Exo consultants and support teams across Australasia.
#ClientFirst Initiative
Our innovative #ClientFirst initiative set a target of a Net Promoter Score (NPS) of at least 30 across every department. The NPS system is a harsh measure of our clients' satisfaction with our services. We have diligently listened to our clients' feedback and are constantly working and implementing new strategies to make sure we deliver the best experience in the market. We are proud to announce that we have reached and exceeded this goal across almost every department in 2020, with our overall, year to date NPS score being 41.2 in Kilimanjaro Our NPS in New Zealand will become a focus early in the New Year, as we get our systems aligned to manage more regular surveys.
Big changes at MYOB
In the year and a half since KKR acquired MYOB, we have seen huge changes in both company structure and product focus. Kilimanjaro/Enprise are strategic partners of MYOB and continue to work together with them to collaboratively cover existing products, new product development, and marketing. There is, additionally, a definite focus on listening and reacting to the needs of clients by continuously upgrading and modifying the features available within the software to increase efficiencies.
The Acumatica connection with MYOB is strong. The new Exo team at MYOB (who also look after Greentree) is committed to the Exo product as it is still a mainstay in the MYOB ERP stable, and will be with us for many years to come. MYOB will provide businesses with a clear and easy pathway to the cloud as the MYOB Advanced product and Industry Editions expand.
Project Evo becomes Phoenix
In early 2018, MYOB approached Kilimanjaro seeking an expression of interest for the consulting work to transition MYOB's Enterprise Division from Archie (their old Siebel based system) to MYOB Advanced. MYOB was very keen on showcasing the capability of Advanced to the broader MYOB teams, and felt that "drinking your own champagne" was essential for MYOB to gain credibility in the market. We commenced a feasibility study in June 2018, and proceeded through Phase 1, Phase 2, Phase 3 and finally Phase 4 of the implementation. The result was the astonishingly successful system, Phoenix, named as such as it arose from the ashes of Archie.
After 28 months, the 31st of October 2020 brought us to the end of Project Evo/Phoenix, the largest and most successful project that Kilimanjaro/Enprise have ever undertaken. We must acknowledge the hard work of Jason and Adrian, as well as everyone else who was involved throughout this extraordinary journey.
MYOB Enterprise Partner Awards
At MYOB's 2020 Awards Ceremony, Enprise Solutions won '2019 Excellence in Business Development – Exo' for New Zealand – recognising excellence across sales, client services and ongoing support. Enprise was further named number one in sales for both MYOB Exo and MYOB Advanced in New Zealand for the third year running. Kilimanjaro Consulting made it a double gold, winning 'Excellence in Business Development – Exo' for Australia, additionally maintaining their status as an MYOB Diamond Partner. This is an unbroken run of 5 years as a Diamond Partner, having become MYOB's first Diamond Partner in 2015.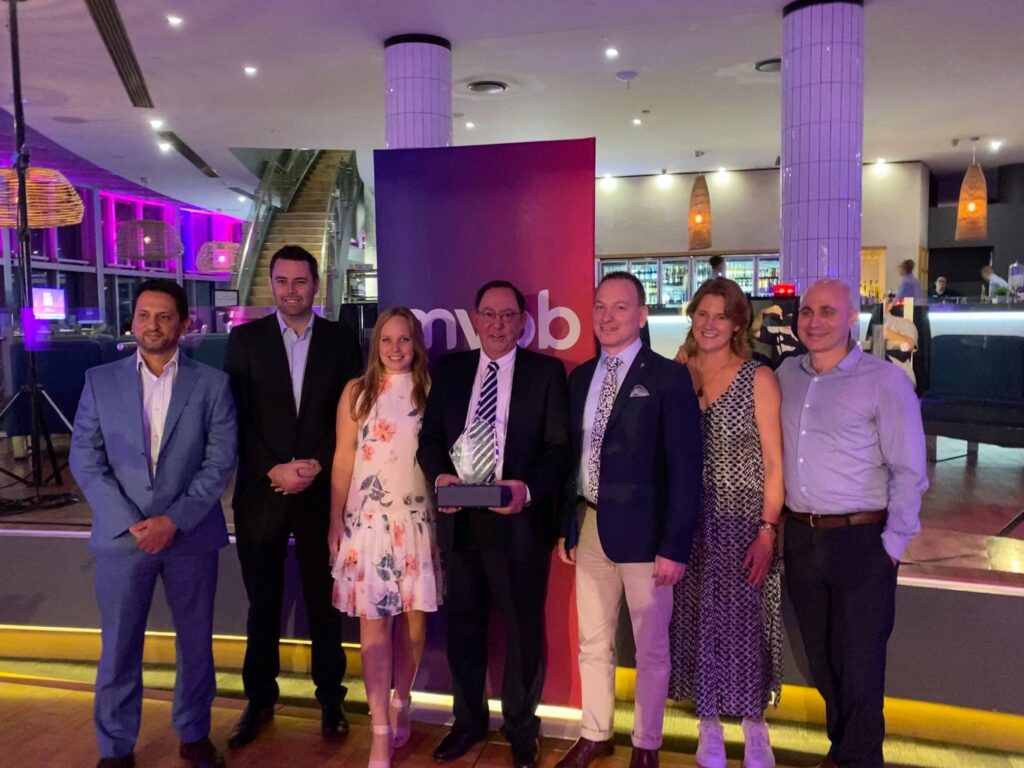 MYOB technology partner purchased JAMS
MYOB technology partner, Acumatica, acquired JAAS systems – a developer of JAAS Advanced Manufacturing Software (JAMS). JAMS is a powerful manufacturing solution, and has been a part of the MYOB Advanced Independent Software Vendors (ISV) ecosystem since the beginning. In 2020, JAMS became an integrated suite within MYOB Advanced. As the source of power behind MYOB Advanced, Acumatica's acquisition of the leading manufacturing add-on solution for MYOB Advanced will greatly enhance the manufacturing capabilities of the platform.
Specialist Editions + MYOB Advanced Field Service Management module
This year saw the launch of MYOB Advanced Field Services and the Construction Edition. MYOB continues to deliver to an ever-changing market with industry-specific solutions. and our Sales Teams are constantly identifying new market verticals. The management team evaluates these in terms of market potential, fit with our strategy, and our skill set. Keep an eye out for more industry-vertical solutions over the coming year.
The Field Service Management module saw MYOB Advanced launching greater access to and control over field service operations. MYOB Advanced users can use this module to streamline dispatching, reduce response times and minimise costs. Encompassing service and equipment management capabilities, it has been designed to bring valuable and measurable benefits to businesses with field service operations. Watch the video overview for more information.
Goodbye to Windows 7
After 10 years, Microsoft ended support for Windows 7.
Case studies
We are committed to the long-term success and satisfaction of our clients. Through sharing our clients' story and their journey with a new MYOB Enterprise solution, we are celebrating their achievements and approval of our methodologies.
We have worked with a handful of companies throughout 2020 creating case studies to detail their implementation journey. These showcase where they were before MYOB and their experiences transitioning towards improving their business processes. You can read about them here, but a few highlights have been:
Our People
We have the best (and biggest) team in the channel, and are continuing to grow and improve. The focus on incremental improvement is a delight to behold, as the certifications, badges and qualifications keep rolling in. Of course, we sometimes have to say "au revoir" to valued team members. Steve Gillman, known to many as he headed up our Projects team, moved on at the beginning of the year, after 7 years with Kilimanjaro. Chris Timm, our beloved Sales Manager, and Sean Cooper, a Senior Consultant in both MYOB Advanced and Exo, also departed to pursue other challenges and personal interests. Malakeh has decided to stay in Spain after 7 years of excellent technical input. We try to create a career path for every employee. After all, our people are our biggest asset.
Our strong culture attracts the best talent, across all departments and we have welcomed several new members to our team. On the Kilimanjaro side, we welcomed Chris Voukidis, Michelle Lau and Tom Galland into the MYOB Advanced space. Ghazal and Ignus recently joined our Melbourne Advanced team. Furthermore, Ranga De Silva joined the SAMACS team, Andrew Wilkinson joined the Marketing team, Joanna Wu joined our Impress Solutions team in WA, and Wilson Liang and Deon Maritz joined the Kilimanjaro Finance team. To the Enprise Team, Ivon Ram, Mia Dawinan and Chris MacDonald joined the Support Team, and Shailen Jeran and Garth Heuvel made their debut in the Accounts Team.
CSR – RUOK?/MOVEMBER
We take pride in supporting the work done by groups making a difference to our community and the people we work with. With tremendous hardships arising throughout 2020, the tribe took R U OK? Day online to virtually check-in with one another. Additionally, the team took on the inspiring challenge of raising funds and awareness for both The Heart Foundation and Movember, two causes that were particularly close to their hearts. This culture of supporting social causes, communities and other individuals is something that we are incredibly proud of at Kilimanjaro, and we look forward to continuing this support for years to come. Read our complete Corporate Social Responsibility story here.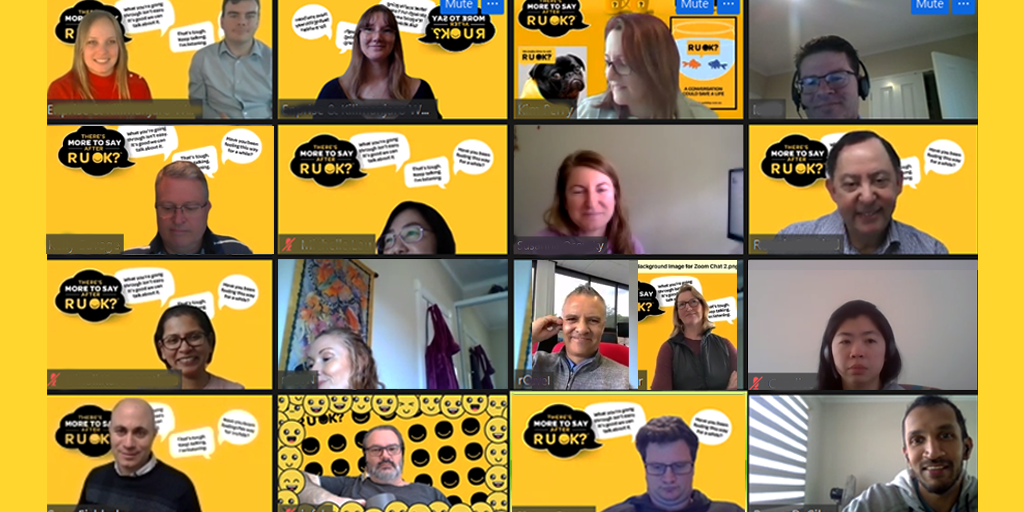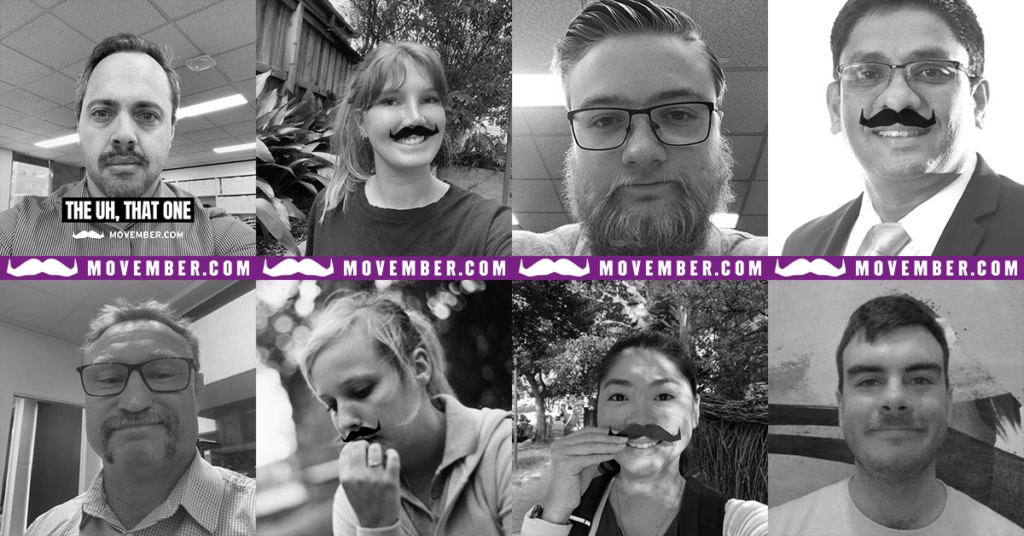 SAMACS success
Our Strategic Account Management and Connected Services (SAMACS) team continues to thrive. Our portfolio of "Connected Services" continues to grow, as does our relationship with the software houses responsible for these products. For the past 5 years, the SAMACS team have adopted a connected services approach to plug the gaps in MYOB Exo and extend its functionality, and this strategy has worked wonders. It has now evolved into a strategy where clients on Exo plus a Connected Service can transition to MYOB Advanced with ease, as they can retain their existing connected services.
Furthermore, the development of new integrations is always on our radar. Our newest self-developed tool, Synkit, facilitates integration between MYOB Exo and a number of 3rd Party software services, including HubSpot, SalesForce, Smart Freight, Magento, and more.
Payroll
Exo Employer Services has been a stalwart product, having emerged from Comacc in 2006. Built on a FoxPro database, this product has dominated the market for more than a decade. Advanced People has now reached functional equivalence with MYOB Employer Services, and this year will see a big push into the payroll and HCM space. Kilimanjaro and Enprise are both regarded as the premier partners for payroll implementation and support.
New Sales
2020 will be remembered as the Year of COVID-19. Business confidence was smashed as the economy ground almost to a halt. Despite this, we were still able to deliver modest success in new sales across Australia and New Zealand – a testament to our pedigree in the field and the tenacity of our sales team. We are certain that the New Year will bring renewed business confidence, as we know that is a strong driver of our new sales.
Customers flock to hosting
The COVID-19 lockdowns caused a spike in demand for business continuity solutions, a spike which continues to remain ever-present. 80 percent of new systems being delivered to our customers are now 'clouded'. MYOB ExoHosted and MYOB Advanced both provide customers with the benefits of the cloud, with two very different technologies. Furthermore, interest in Enprise's hosted cloud services including Microsoft 365, Microsoft Teams, Microsoft Exchange online and VoIP phone systems reached an all-time high in 2020. Customers want cloud business and ERP systems to enable remote working and collaboration, and they want their staff to be online and accessible from wherever they're logging in from. Microsoft Teams is well known as an in-company collaboration tool, but customers are increasingly asking Enprise to configure Microsoft Teams for communicating with customers, suppliers and others outside the business.
Training opportunities at your fingertips
Training took a big leap forwards during 2020 with the development of our online Training Portals. Customers and their team members can enhance their MYOB software skills and knowledge from the comfort of their own desks, with 24/7 online access to the training that will boost their careers. With a separate portal for New Zealand (Enprise) and Australia (Kilimanjaro), we cater for the localisation requirements and deliver more targeted and relevant training materials. Therefore, the new online platforms enable employees to learn the skills they need to work efficiently with MYOB Exo and MYOB Advanced from anywhere, at any time.
MYOB Advanced & MYOB Exo User Group Forums online
With nearly 200 people registered to attend, we were honoured to be the guest speakers at the highly successful MYOB Exo and MYOB Advanced User Group Webinars held over two days in September. Attendees benefited from a thorough and comprehensive exploration of the features of MYOB Exo or MYOB Advanced. Expert panellists representing MYOB, Kilimanjaro Consulting and Enprise Solutions additionally shared insights into current and future market trends, as well as a prediction of five likely technological trends to expect in 2021.
If you missed out or simply want to remind yourself of what was covered in the webinars, we invite you to read the summarised highlights here.