In-app Notifications for MYOB Advanced
Stay up to date with the latest information regarding your MYOB Advanced system.
System maintenance and scheduled upgrades can disrupt your processes and workflows if your team is not properly informed. MYOB has therefore introduced in-app notifications for MYOB Advanced Business and MYOB Advanced Payroll.
These in-app notifications will keep your team informed and working efficiently.

By default, one system administrator is automatically subscribed to receive these notifications.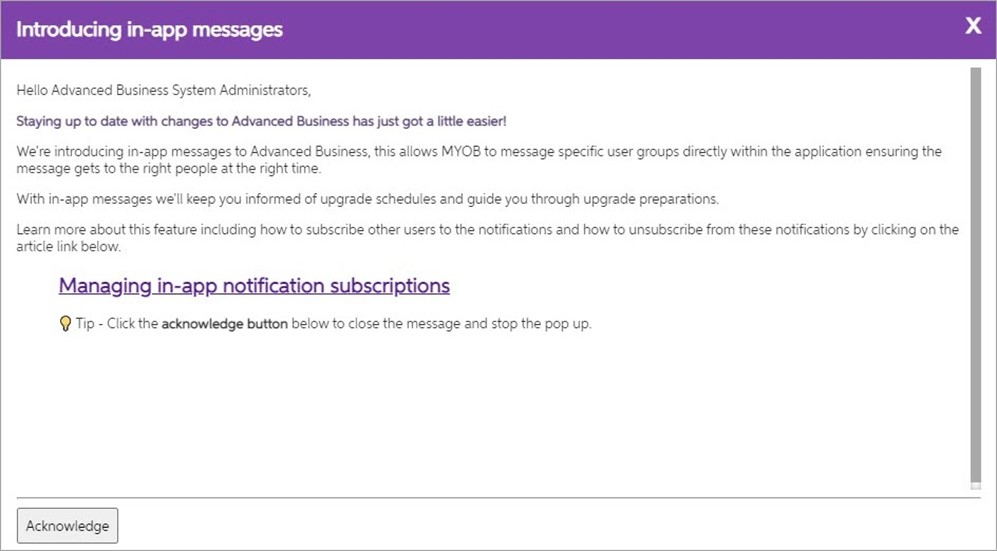 How to Subscribe to notifications in MYOB Advanced
In the top right corner of your MYOB Advanced system, click the dropdown arrow next to your user profile. Then, click My Profile. In your user profile, select the Notification Group tab.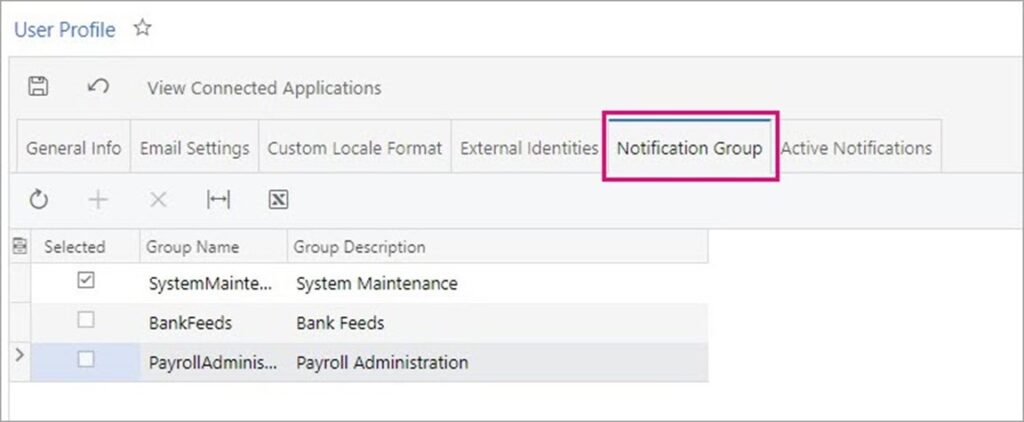 This screen allows you to select your preferred subscription options. You will be subscribed to receive in-app notifications when the checkbox is ticked and unsubscribed when it is unticked. You can customise which notifications you receive, from System Maintenance to Bank Feeds or Payroll Administration.
To receive the latest information regarding system upgrades and maintenance, ensure that you are subscribed to System Maintenance.
Make sure to save your settings changes so that they may take effect.
In-App notification archive in MYOB Advanced
In your user profile, select the Active Notifications tab. You can view previous notifications delivered to your MYOB Advanced system. Click on one of the notifications to view the details.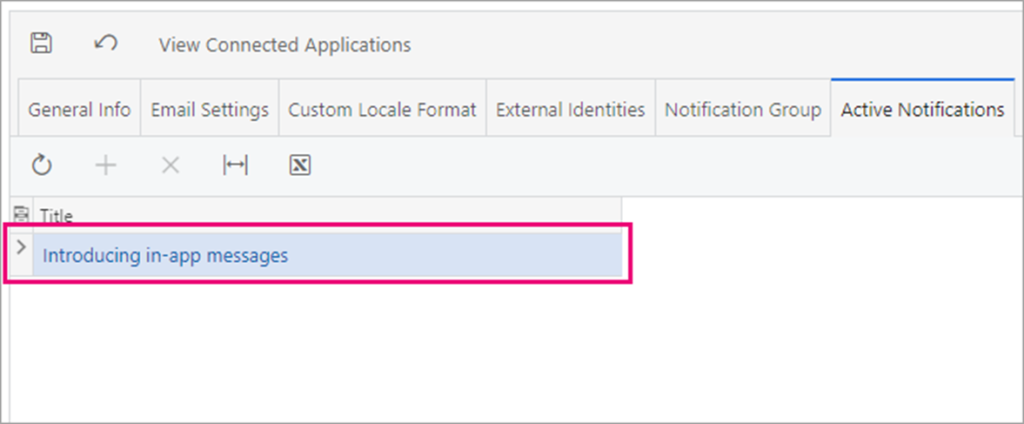 Automate notifications to your customers.
Enhance your business automation capabilities with Business Events in MYOB Advanced. A Business Event monitors specified Generic Inquiries and then processes certain actions based on changes or schedules. These processes can include sending automated notifications, creating tasks, or automatically updating records. Use these powerful features to streamline repetitive processes and improve efficiency.
As your trusted partner, Kilimanjaro Consulting will regularly send notifications informing you of any upgrades or maintenance requirements for your system. Contact your Account Manager and ensure that you are subscribed to our mailing lists to make sure that you receive all the latest information regarding your MYOB system.
If you require assistance with your MYOB Advanced system, please contact our MYOB Advanced support team at advanced.support@kilimanjaro-consulting.com or call us at 1300 857 464 (AU) or 0800 436 774 (NZ).