Learn to Streamline your Intercompany Sales
MYOB Advanced Tips and Tricks #13
The complexity of your organisation may require you to pay dividends, buy and sell assets (e.g., inventory or machinery), or lend money to other entities within your organisation. It may also require central order fulfilment that sources products from different entities based on availability or other product characteristics. Regardless of the requirement, these transactions between your different entities are recorded as an Intercompany sale in MYOB Advanced Business.
Intercompany sales record important information for balancing activity between your entities, such as transaction details, key dates, parties involved, transaction value, and relevant documentation. There are many reasons why you should manage intercompany transactions within MYOB Advanced Business:
You can create consolidated and accurate financial statements and avoid any misrepresentation of your company's financial position,
Transparent, real-time information on your intercompany transactions
Uniform accounting policies and procedures to streamline your reporting capabilities,
Mitigate any potential for disputes between your company and its entities as each transaction is accurately documented,
Maintain compliance with tax norms and regulations, especially if your different companies operate across separate tax regions.
Completing an Intercompany Sale ensures that your financial statements are accurate and transparent. However, when done manually, this process can be clunky and time-consuming. The process requires the creation of both Accounts Receivable (AR) and Accounts Payable (AP) documents, which need to ensure that all information is correct to complete the sale. When ensuring a smooth sale, the manual inputs required can cost your organisation time and can potentially lead to mistakes when tracking your inventory.
With MYOB Advanced Business, the system automatically allows users to generate AP documents needed to complete the sale. Data can be transferred automatically from your AR documents to fill out the required AP fields, saving you time and reducing the hassle around an Intercompany sale.
How to Enable Intercompany Sales
Before you action any intercompany sales with MYOB Advanced Business, you will need to enable Inter Branch Transactions. Following this, when creating an AR Document you will be given the option to auto-generate AP Documents (such as Bills and Adjustments) in the purchasing company. This will be based on the creation of preceding AR documents (such as Invoices and Memos) in the selling companies.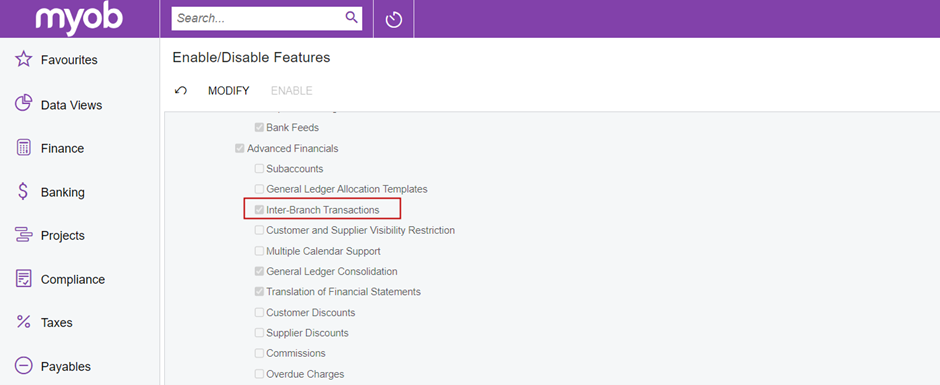 How to create an AR Document
From the Invoices and Memos screen, an AR document can be created against Sales GL or non-stock items. Upon completing the document, an AP document can be generated either by clicking Actions (periscope) > Generate AP Document within AR document or from the Generate Intercompany Documents screen.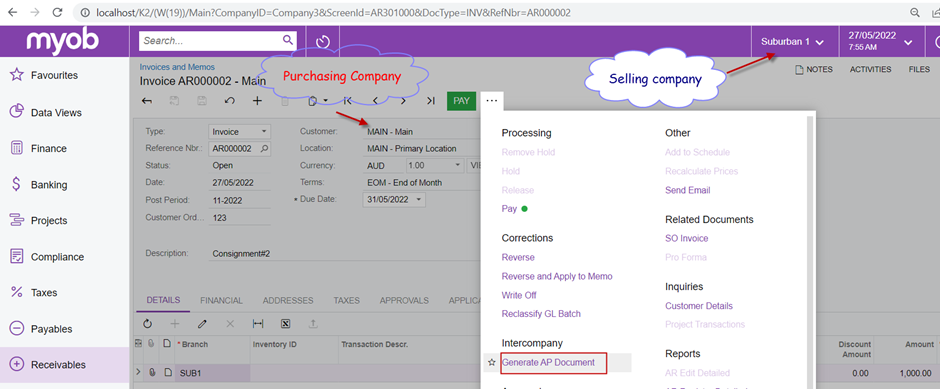 On the Generate Intercompany Documents screen, you can mass select AR documents that can then be immediately auto-generated into AP documents. This saves significant time when completing multiple transactions during the Intercompany sales process.
How to auto-generate an AP Document
An AP document will be created based on the AR Document details and the Intercompany Sales – Mapping Rules. It is important to note that the AP document is subject to certain conditions that need to be fulfilled. This ranges from whether the document has been released or if the Exclude from Intercompany Processing box is not ticked. A complete list is available in the MYOB Advanced Business User Guide or is available upon request when speaking to one of our consultants.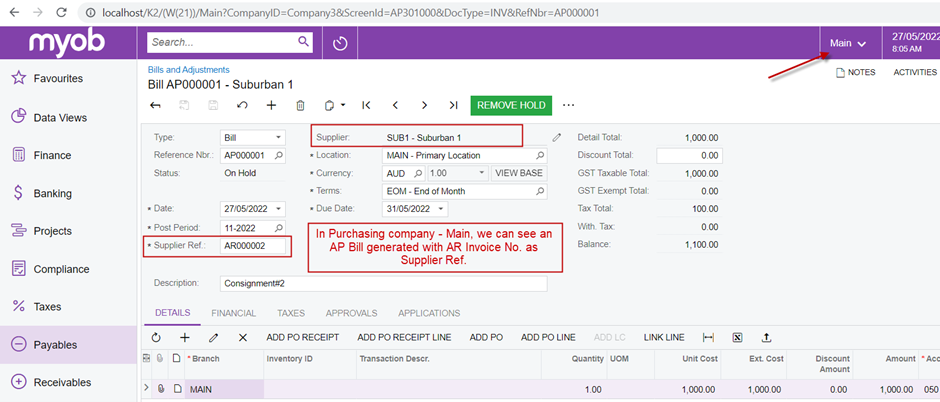 Within MYOB Advanced Business, the Cross-Company Sales Process is also available using a similar concept to Intercompany Sales. However, this process begins at the Purchase Order stage and requires the extension of companies/branches as customers and suppliers.
With these features, the Intercompany sales process becomes significantly more manageable with the automatic creation of AP documents. The process saves you and your business time when completing a transaction and ensures that your goods and services are tracked correctly between companies/branches, reducing the need for manual intervention and the chances that any mistakes arise.
Interested in other ways to optimise MYOB Advanced?
Check out our handy MYOB Advanced Tips and Tricks blogs here:
Learn to Streamline your Intercompany Sales
We hope these tips and tricks were helpful to you! If you have any questions about Intercompany Sales in MYOB Advanced, our friendly team is here to help. Call us on 1300 857 464 (AU) or 0800 436 774 (NZ), or send us an email.