ANZ Pharma
ANZ Pharma are able to increase efficiency and empower customers with MYOB Advanced Business
Wholesale distribution company ANZ Pharma implemented MYOB Advanced Business. They now have a single accounting, inventory management, and CRM system across two countries.
Who are ANZ Pharma
ANZ Pharma Wholesalers Ltd is the leading distributor and wholesaler of pharmaceutical, medical, and healthcare products in the Oceania region. The organisation aspires to provide customers, suppliers, and personnel with various choices at competitive prices.
What catalysed the switch to MYOB Advanced?
ANZ Pharma used different systems for inventory management and accounting – TradeGecko for inventory and Xero for accounting. Company Management knew that any growth plans depended on a unified view of the business. With this overview, they could provide the level of service and operation capacity that their clients demanded. Their current systems lacked the depth of reporting they required. The finance team could not provide management with the vital information the organisation needed to grow.
ANZ Pharma's Trusted Implementation partner

Kilimanjaro Consulting is ANZ's largest, most experienced, and most skilled team. When ANZ Pharma decided to implement MYOB Advanced, they chose Kilimanjaro Consulting as their partner of choice. We worked to understand ANZ Pharma's workflows and customise the software to meet their specific needs.   We follow a structured implementation methodology, and combined with the skills, knowledge and support of our team, we are able to guide you through the implementation process. At Kilimanjaro Consulting, we pride ourselves on being technology Sherpas, focused on building long-term relationships with clients and maintaining that partnership as their business grows. We take pride in ANZ Pharma's success and look forward to our continued partnership. 
What changes followed the decision?
By implementing MYOB Advanced Business, ANZ Pharma now maintains a comprehensive system with e-commerce integration that helps them grow their business. They can now run multiple companies, all maintained in a single system. MYOB Advanced can support Wholesale Distribution organisations to improve efficiency with tailored, industry-specific functionality. The new cloud-based software has provided complete inventory visibility to its sales reps out on the road. But the entire team has mobile MYOB Advanced access, so that information is available anytime, anywhere for those employees who need it.
How are they now?
With local support in both Australia and New Zealand, ANZ Pharma feels confident moving forward and focusing on growth without the stress of unnecessary manual processes. The organisation has reported increased efficiency company-wide, including inventory visibility, order processing, accounts payable and receivable, and complete CRM. Their customers have self-service accounts that let them check orders, download invoices, and make payments. Managers can now automate reports and provide customers with effective and efficient service.
This implementation was completed before Enprise Solutions and Kilimanjaro Consulting merged. The original implementation team was, at that time, a part of Enprise Solutions. After the merger, Kilimanjaro Consulting has become the largest and most experienced implementer of MYOB's Enterprise Solutions across Australia and New Zealand. The Kilimanjaro Consulting team continues to support ANZ Pharma to improve efficiency with the clever use of innovative and proven technology.
How do I achieve a successful MYOB Advanced implementation?
A successful MYOB Advanced Implementation depends on 3 critical risk:
Software Risk
Implementer risk
Self-Inflicted Risk
You can reduce your risk by selecting the right implementation partner. Although there are many different partners to choose from, you need the one that will work with you every step of the way. Managing risk is an important part of an implementation; selecting a low-risk partner is critical to a lifetime of success with your Business Management system.
Kilimanjaro Consulting ticks all the boxes when it comes to choosing the right partner:
Kilimanjaro Consulting is the largest and most experienced implementer of MYOB's Enterprise-level business management, accounting, payroll, and workforce management solutions: MYOB Advanced and MYOB Exo. We are experienced, low-risk implementers, helping organisations improve efficiency in their businesses through the use of clever, innovative, and proven technology.
Free resources to help you further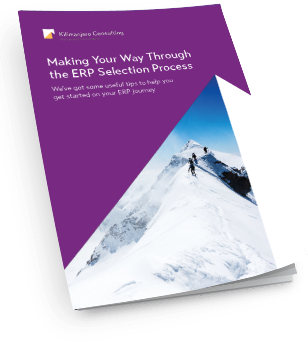 If you are ready to start your Business Management System journey, choose Kilimanjaro Consulting as your trusted implementation partner. If you don't know where to start, download our free E-Book that will take you through everything you need to consider and what to be wary of during this process.
To learn more about how MYOB Advanced has helped ANZ Pharma to make their complex company work more efficiently, download the PDF from the panel to the right. To learn more about the MYOB Advanced product, visit the page here. Contact our team at sales@kilimanjaro-consulting.com or call 1300 857 464 (AU) or 0800 436 774 (NZ) to discuss your unique requirements.