Cotswold Furniture
Coming from a failed implementation attempt with MYOB Exo, Cotswold Furniture were determined to get it right with the help of Kilimanjaro Consulting
Established over 30 years ago, Cotswold Furniture is a NSW-based importer, collector and distributor of international furniture brands. Having undergone significant growth over the years, Cotswold now boasts four outlets and a network of 20 dealers Australia-wide.
Cotswold successfully used MYOB Premier for many years before the system became too limited to handle Cotswold's demands. What Cotswold Furniture needed was a new management system that could share information between locations; provide multi-currency capabilities and show real-time inventory numbers.
With a failed attempt at implementing MYOB Exo, it was necessary for Cotswold to turn to Kilimanjaro Consulting to turn the situation around.
"It's no surprise that larger businesses have inherent complexities within them that need to be supported by an ERP system. In understanding Cotswold's specific business requirements and mapping MYOB Exo to these, we were able to successfully re-implement MYOB Exo for Cotswold", said Kilimanjaro's Director of Operations, Jason Fegan.
Jason continued, "the great thing about implementing MYOB Exo to suit Cotswold's needs was that the system began working for them instead of vice-versa. Exo is so configurable that Cotswold did not have to stick to set functionality- with a bit of customisation they had everything they needed."
What made the implementation a success for Cotswold Furniture was the support and understanding from the Kilimanjaro team. Whenever in need of support or to discuss ideas, the Cotswold team knew the team at Kilimanjaro was only a phone call away.
How do I achieve a successful implementation?
A successful implementation depends on managing 3 critical risks:
Software Risk
Implementer risk
Self-Inflicted Risk
You can reduce your risk by selecting the right implementation partner. Although there are many different partners to choose from, you need the one that will work with you every step of the way. Managing risk is an important part of an implementation, selecting a low-risk partner is critical to a lifetime of success with your Business Management system.
Kilimanjaro Consulting ticks all the boxes when it comes to choosing the right partner:
Kilimanjaro Consulting is the largest and most experienced implementer of MYOB's Enterprise-level business management, accounting, payroll, and workforce management solutions: MYOB Advanced and MYOB Exo. We are experienced, low-risk implementers, helping organisations improve efficiency in their businesses through the use of clever, innovative, and proven technology.
Free resources to help you further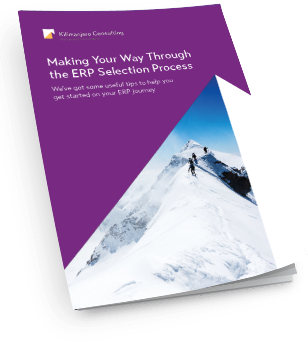 If you are ready to start your Business Management System journey, choose Kilimanjaro Consulting as your trusted implementation partner. If you don't know where to start, download our free E-Book that will take you through everything you need to consider and what to be wary of during this process.
Kilimanjaro Consulting is the largest implementer of MYOB's Business Management Software across Australia and New Zealand. We take the time to understand your business and only recommend the products that can meet your needs. To start a conversation about how MYOB Exo can improve efficiency in your organisation, email sales@kilimanjaro-consulting.com, or call 1300 857 464 (AU) or 0800 436 774 (NZ).